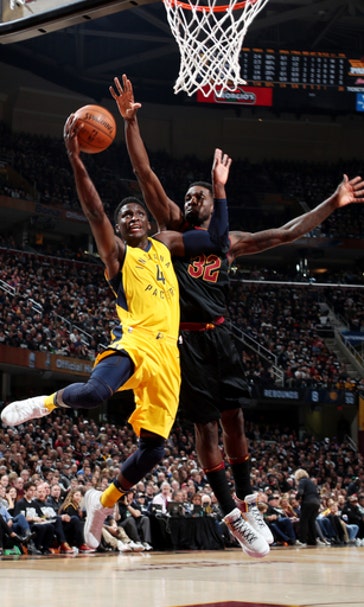 Victor-y: Oladipo scores 32 as Pacers stun LeBron, Cavs
April 15, 2018
CLEVELAND (AP) LeBron James figured he had experienced everything in 12 postseasons.
Turns out, there was something new.
Victor Oladipo scored 32 points and Indiana outplayed Cleveland from the start while pulling off a stunning 98-80 victory Sunday in the series opener, handing James and the Cavaliers' their first loss in the opening round in eight years.
It also was the first playoff-opening loss for James, who came in 12-0 in Game 1s and didn't realize he had been perfect starting the postseason.
''Is it?'' James said. ''I've never lost a game in the first round before in my career?
But while he knows the narrative before Wednesday's Game 2 will be on the struggles of Cleveland's playoff newcomers, James isn't worried.
''I'm down 0-1 in the first round,'' he said. ''I was down 3-1 in the Finals. So, I'm the last guy to ask about how you're going to feel the next couple days.''
The Pacers are feeling confident after beating the Cavs for fourth time this season.
Indiana took control from the outset, opening a 21-point lead in the first quarter and pushing it to 23 in the third. The Cavs got within seven in the fourth, but Oladipo, once a role player who has blossomed into an All-Star in his first season with Indiana, hit a big 3-pointer and Bojan Bogdanovic helped put Cleveland away with a 3 to make it 88-71.
When the final horn sounded, the Pacers didn't celebrate or run around the floor like they had accomplished anything special.
They calmly walked off, business as usual.
''We believe that we can win,'' Oladipo said. ''We came into this game with a mentality that we wanted to attack on both ends of the floor and play the way we've been playing all year, and we did a great job of that. It's only one game, it's only Game 1.''
The Pacers completely outplayed the three-time defending conference champions, whose turbulent regular season has carried over into the playoffs.
James scored 24 with 12 assists and 10 rebounds for his 20th career triple-double. But James got little help as Cleveland's four other starters - Kevin Love, Jeff Green, Rodney Hood and George Hill - combined for 25 points.
''They were more aggressive,'' James said. ''They just played inspired basketball and they just took advantage of everything we wanted to try and do. They were more physical than us at the point of attack, and they were most precise with what they wanted to do and we couldn't score the ball.''
Cleveland went just 8 of 34 on 3-pointers and missed eight of 20 free throws.
The Cavs' playoff theme is: ''Whatever It Takes.''
Well, it's now going to take a first-round comeback.
This is all new to James, who had won 21 consecutive first-round games and lost a postseason for the first time in his 13th playoffs. The 33-year-old is trying to get to his eighth straight Finals, and already the path is tougher than imagined. Cleveland had won 14 straight first-round games, last losing on April 22, 2010, the last season of James' first stint with the Cavs.
Indiana was swept by Cleveland in last year's opening round. Those Pacers, though, didn't have Oladipo or the balance of this Indy squad, which may lack experience but not confidence.
Lance Stephenson, a longtime playoff nemesis for James, helped set the tone in the first quarter with a dunk he punctuated by throwing several punches into the padded basket stanchion
The Pacers took the fight to the Cavs, and Indiana's players are battling critics who say they can't compete with Cleveland.
''We were definitely mad,'' Stephenson said. ''They still don't believe. We're just going to keep proving everyone wrong and play together.''
While some fans are getting their first look at Oladipo, the Pacers have seen this before.
''On this team, we all know what Victor can do when he steps on the court,'' Thaddeus Young said. ''You've got to double-team him because he makes good decisions with the basketball. When you don't, you saw what he's capable of.''
NO RESPECT
Oladipo said Cavaliers owner Dan Gilbert provided him with extra motivation, citing his offseason remark that Indiana should have received better talent from Oklahoma City in return for Paul George. ''You could say it added fuel to the fire,'' Oladipo said. ''I'm aware of what he said. Can't control his opinion.''
BANGED UP
Hill sustained a bruised back when he was hit from behind on a screen by Indiana's Trevor Booker. Cavs coach Tyronn Lue said Hill's back bothered him after halftime and he was forced to play James at the point. Lue expects Hill to be good for Wednesday.
Cavs forward Kyle Korver played just four minutes because of lingering foot soreness.
TIP-INS
Pacers: Indiana has been eliminated by James four times in the past eight seasons. ..... Haven't won a series since beating Washington in six games in the 2014 semifinals. ... Improved to 22-22 in the opening game of a series, including 9-16 on the road.
Cavaliers: James surpassed Michael Jordan (2,188) for the second-most made field goals in playoff history. Kareem Abdul-Jabbar (2,356) tops the list. ... James dropped to 48-8 in first-round games. ... Green was 0 for 7 from the field, 0 for 3 from the line and the Cavs were outscored by 15 when he was on the floor.
UP NEXT
Game 2 is Wednesday night.
---
---