Utah Summer League begins with high expectations for Exum
BY AP • July 3, 2017
SALT LAKE CITY (AP) NBA Summer League rosters are typically composed of rookies getting their first taste of the league or players trying to catch the eye of an organization.
Utah's Dante Exum doesn't quite fit either category.
The Jazz guard was the No. 5 overall pick in the 2014 draft and will be running a summer league team - again. No other lottery pick from 2014 or 2015 currently is on an Orlando or Utah summer league roster. But Exum finds himself in the unusual position of trying to attain a more secure place in the 2017-18 Utah rotation.
''He's not the young guy anymore,'' Jazz summer league coach Alex Jensen said. ''It's time. You've got to stand out.
''I don't think it's any one thing. When you watch the game, he can't blend in. You're too talented and too good to blend in, because a lot of guys are in their first and second year.''
San Antonio, Boston, Philadelphia and Utah begin play in Salt Lake City on Monday; Play started Saturday in the eight-team Orlando summer league.
Exum said he wasn't planning to play summer league after the season ended, but the team would like to see more from him going into his fourth year. Time could be running out for the 21-year-old as the Jazz continue to try to upgrade their roster and build on last season's return to the playoffs. One area of particular focus is point guard. Utah traded into the lottery to draft guard Donovan Mitchell and took Nigel Williams-Goss in the second round. The Jazz also traded for Ricky Rubio over the weekend.
Exum was moved to off guard down the stretch of the season and averaged 6.2 points, 1.7 assists and 2.0 rebounds and shot 42.7 percent from the field. His career progression stalled when he missed all of 2015-16 with a torn ACL. He said he's focused on working on his jumper, his mid-range game, 3-point shot, driving to the basket and facilitating the offense.
The Jazz are hoping to re-sign Gordon Hayward, add depth to the roster and become even more of a threat in the Western Conference after earning the No. 5 playoff seed in 2017. That means the clock is ticking for Exum, who needs to show he's more than just athletically gifted in a 6-foot-6 frame.
''One of the biggest things for me is I just want to play,'' Exum said. ''It was an emphasis this summer just to get out and play.''
Some other things to look for during play in Utah:
SPURS' MURRAY
Second-year guard Dejounte Murray is preparing for an increased role with San Antonio next season. Murray was considered a steal at No. 29 in the 2016 draft, but he still just played 38 games and averaged 8.5 minutes.
Tony Parker is 35 years old, and Patty Mills recently re-signed. But Murray's minutes should see a significant uptick.
''I get to come out here and show the coaching staff that I can lead a group of guys,'' Murray said, ''and I'm ready to accept a new role - whether it's coming off the bench or starting. Whatever coach (Gregg Popovich) needs me to do.''
Murray has plans to work out with MVP finalist Kawhi Leonard in San Diego after summer league.
FULTZ vs. TATUM
The first matchup in Utah on Monday will be the most anticipated game of the three-day session. The 76ers and No. 1 pick Markelle Fultz face the Celtics and No. 3 pick Jayson Tatum .
The teams swapped picks before the draft, and the two are likely to be compared throughout their careers.
BODY PRESENT, MIND ELSEWHERE
The Jazz will be playing summer league games on Monday, but many thoughts will be in San Diego, where general manager Dennis Lindsey, coach Quin Snyder and others are scheduled to meet with Hayward. He met with the Heat on Saturday and the Celtics on Sunday.
Hayward just concluded the most productive season of his career that included his first All-Star selection, career highs in points and rebounds per game. He was one of four players to average at least 21.5 points, five rebounds, 3.5 assists, one steal and two 3-pointers per game this season. The others were the three MVP finalists: Russell Westbrook, James Harden and Leonard.
JAZZ HOSTING, KIND OF
Utah is hosting a four-team summer league in Salt Lake City, but not at its facilities. Vivint SmartHome Arena is in the midst of a $125 million renovation, so summer league games are being played at the University of Utah. Teams are preparing at Utah's new practice facility that opened last year because the Jazz practice facility is also being remodeled.
---
For more AP NBA coverage: https://apnews.com/tag/NBAbasketball
---
---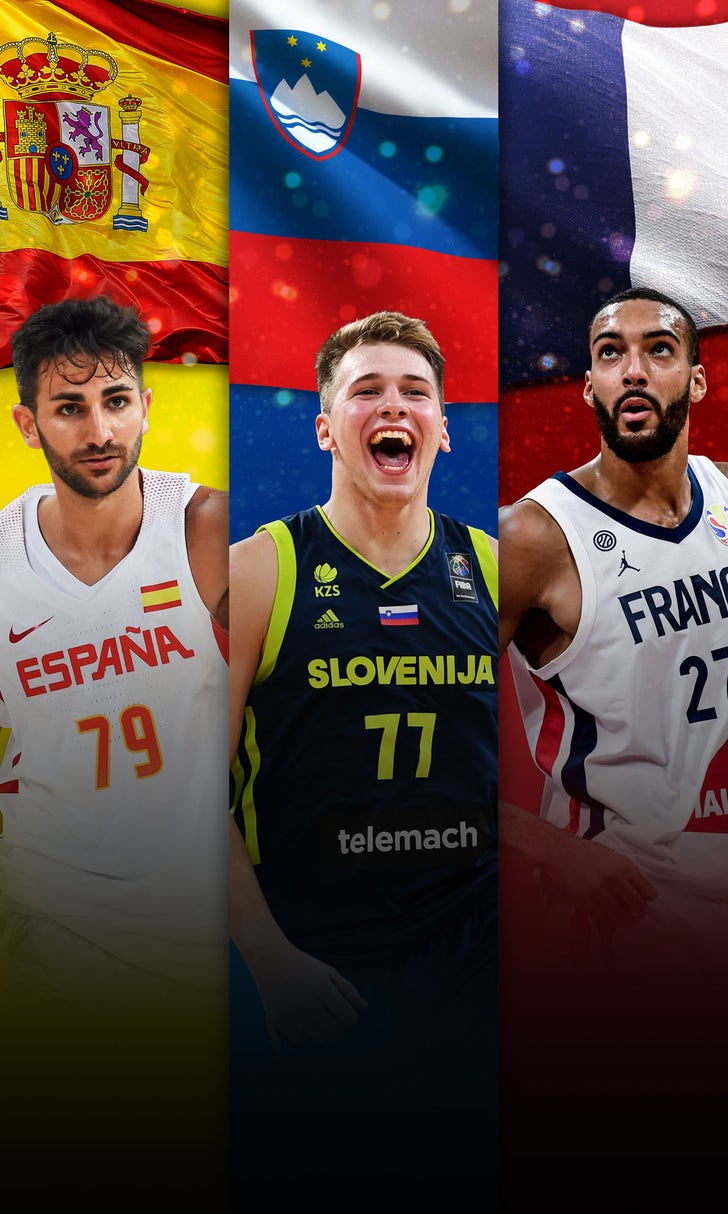 National Basketball Association
The world could provide a test for the U.S. men's basketball team at the Olympics