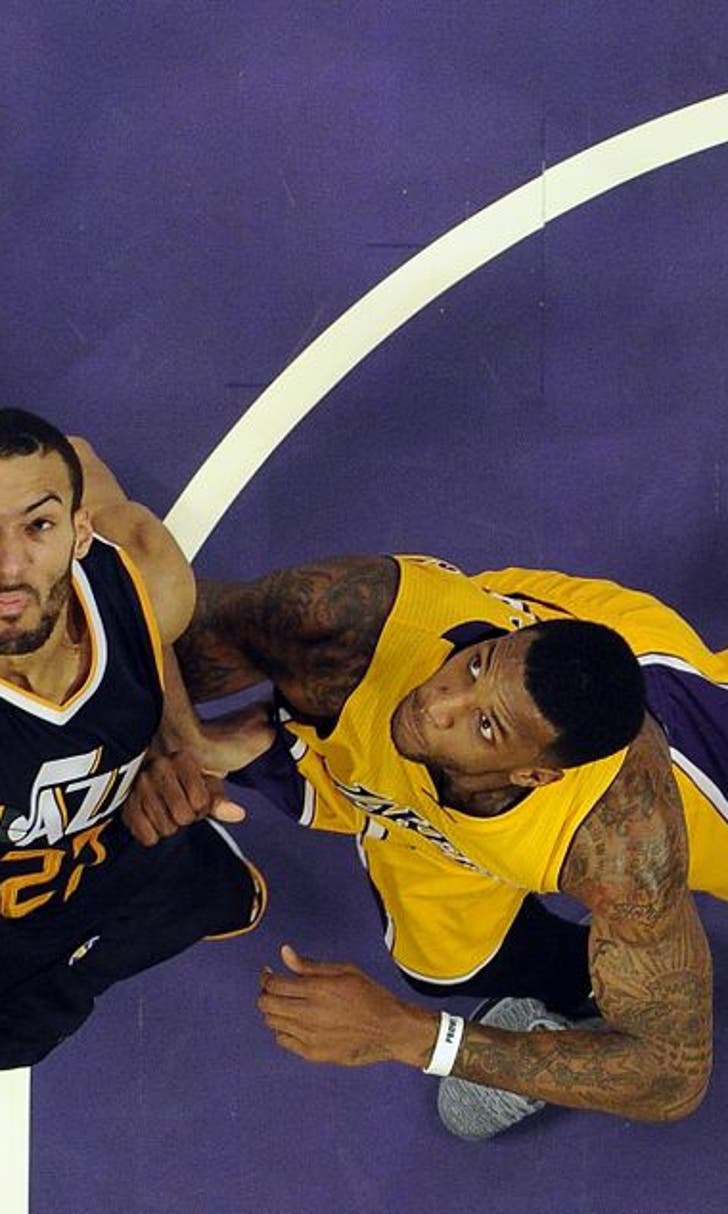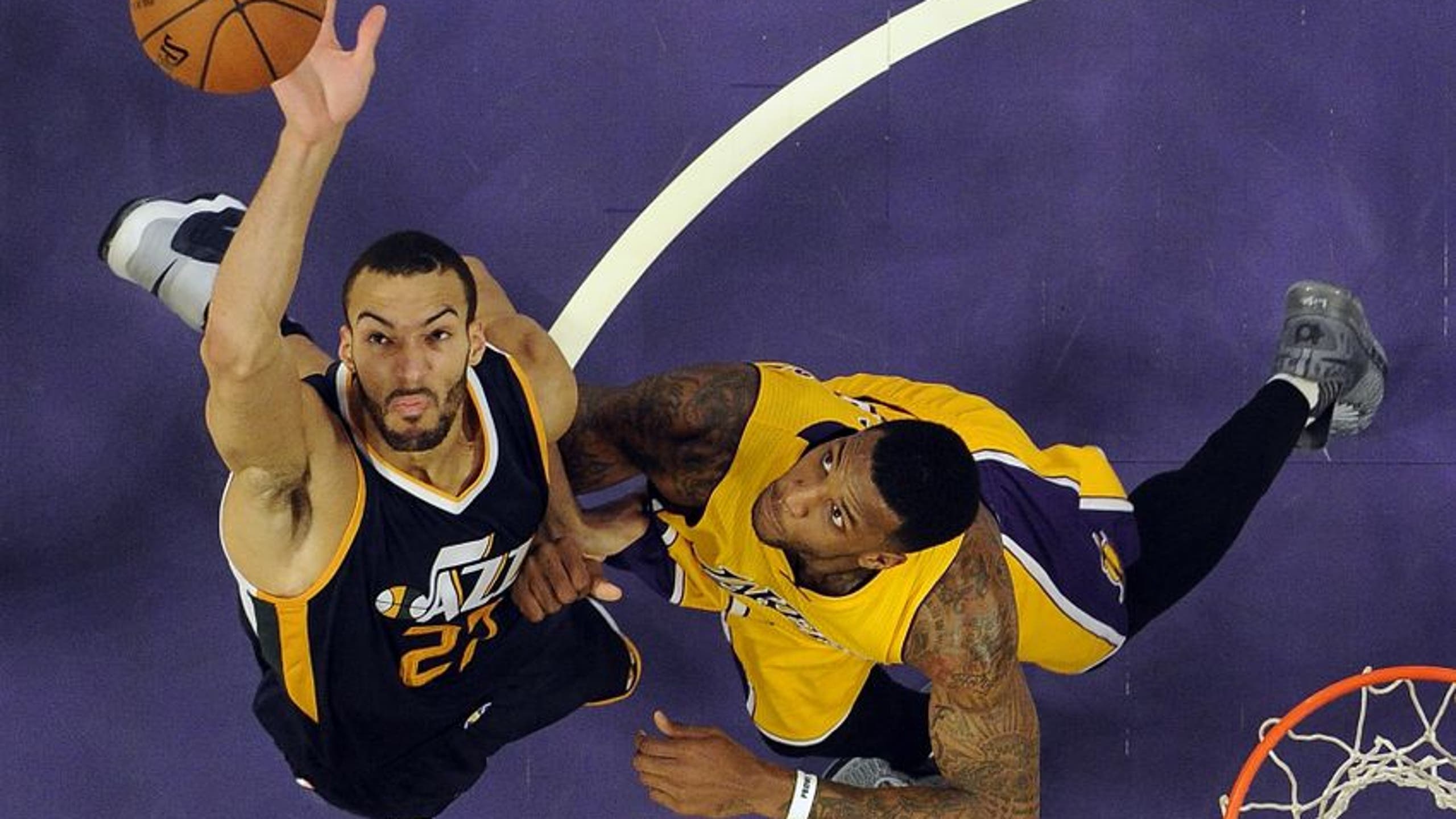 Utah Jazz Week Ten Outlook, Predictions
BY Fansided and Jared Woodcox/FanSided via Purple and Blues • December 27, 2016
Dec 21, 2016; Salt Lake City, UT, USA; Utah Jazz forward Gordon Hayward (20) reacts after missing a basket in the final seconds of the game with teammate center Rudy Gobert (27) against the Sacramento Kings at Vivint Smart Home Arena. The Sacramento Kings defeated the Utah Jazz 94-93. Mandatory Credit: Jeff Swinger-USA TODAY Sports
Despite three discouraging performances in week nine, the Utah Jazz should be able to come away with three wins this week as they'll be playing against a trio of lackluster opponents.
Well, Christmas and the three days off that came with it for the Utah Jazz could not have come at a better time. After winning 11 of 13 contests and looking like they would soar into the holiday at fifth place or better in the West, the Jazz went 0-3 in week nine in extremely disappointing fashion, lowering their season record to 18-13 on the season and falling back into seventh place.
While I hadn't expected the Jazz to keep up with the Warriors, I thought they'd for sure topple the Kings and had a great shot at knocking off the Raptors, but it turns out I was wrong.
However, for the first time in a while, I managed to finish the week with a slightly better record than the Jazz as I went 1-2 in my predictions while they lost three straight. Unfortunately, this wasn't good enough to keep me at .500, so I find myself down to 15-16 on the year.
On the bright side, that would put me at eighth place in the Western Conference, which is honestly a little sad. But enough of this nonsense, let's just forget about last week's dismal showing and everything related to it completely and look ahead to what the Jazz will face in this upcoming week.
In a three-game stretch that features weak opponents in the Lakers, 76ers and Suns, the Jazz really should be able to make up some ground and balance out their three disappointing losses from last week. Doing so would be a great way to close out 2016 and hopefully put them on a positive trajectory for the New Year.
Dec 5, 2016; Los Angeles, CA, USA; Utah Jazz guard Rodney Hood (5) passes the ball against Los Angeles Lakers guard Jordan Clarkson (6) during the fourth quarter at Staples Center. Mandatory Credit: Richard Mackson-USA TODAY Sports
12/27 Utah at Los Angeles Lakers
8:30 pm MT – NBATV/Root Sports
Opponent record: 12-22
Season series: Jazz lead 2-0
The Los Angeles Lakers are the only other team outside of the Dallas Mavericks over which the Jazz currently enjoy a 2-0 series lead at this point. And while both Jazz wins over the Lakers have ended up too close for comfort, Utah has looked like (and undoubtedly is) the more talented team.
The Lakers got off to a hot start that had several wondering if they could indeed contend for a playoff spot this season, but a combination of injuries, youth and cold, hard reality have brought this team back down to earth in a big way as they now sit at 12-22, 3.5 games out of eighth place in the West.
Lou Williams continues to be the team's leading scorer despite coming off the bench, but beyond him they've struggled to find enough consistent contributors to truly make them a threat.
However, they are coming off of a "feel-good" win against the Los Angeles Clippers on Christmas Day as the Lakers managed to end an 11-game losing streak to their stadium-sharing foe albeit in a game in which the Clippers were missing both Chris Paul and Blake Griffin.
So while the Clippers injury woes make the win less impressive, it was likely a huge confidence booster for a young LA team that prior to that had lost 12 of their last 13. Therefore, the Jazz will need to be on their game to not be caught unaware against a Lakers squad that will likely be feeling pretty high.
Nevertheless, despite the Lakers' potential boost in confidence, the Jazz seem to have this Lakers team figured out. And though George Hill, Dante Exum and Alec Burks will still all be sidelined for the contest, Rodney Hood has had plenty of time to recover from his sickness and Utah should be rested enough with the guys they have to be able to come in and pull off the win.
My Prediction: Jazz Win
Final Score: Utah 106, Los Angeles 100
Nov 7, 2016; Philadelphia, PA, USA; Utah Jazz forward Derrick Favors (15) is defended by Philadelphia 76ers center Jahlil Okafor (8) during the second quarter at Wells Fargo Center. Mandatory Credit: Eric Hartline-USA TODAY Sports
12/29 Utah vs. Philadelphia
7:00 pm MT – Root Sports/League Pass
Opponent record: 7-23
Season series: Jazz lead 1-0
The last time the Utah Jazz met up with the Philadelphia 76ers, they were playing in their first game without George Hill, but still managed to roll to an easy 109-84 victory. When a team like Philly is in dead last in their conference, still can't figure out the most effective way to manage their rotations and is near the bottom of the league in several key stats, you expect about as much.
It's no secret that the Sixers have been and continue to be downright bad. Once again they find themselves at the bottom of the Eastern Conference with very little hope on the horizon. Perhaps if Ben Simmons makes a healthy return here soon it could inject life into this Philly team, but beyond that, the Sixers have little to look forward to.
Therefore, I'm fully expecting a repeat of the last time these two squads met. The Sixers are outmatched across the board, particularly against the likes of Gordon Hayward, Rodney Hood, Rudy Gobert and Utah's impressively deep bench.
If the Jazz were able to win by 25 on the road, they should have no problem at least matching that effort on their home court.
My Prediction: Jazz Win
Final Score: Utah 110, Philadelphia 85
Dec 6, 2016; Salt Lake City, UT, USA; Utah Jazz center Rudy Gobert (27) reacts in the final seconds of the game against the Phoenix Suns at Vivint Smart Home Arena. The Utah Jazz defeated the Phoenix Suns 112-105. Mandatory Credit: Jeff Swinger-USA TODAY Sports
12/31 Utah vs. Phoenix
6:00 pm MT – Root Sports/League Pass
Opponent record: 9-22
Season series: Jazz lead 1-0
What better way to cap off 2016 and usher in the New Year than with Jazz basketball, especially considering that as long as Utah takes care of business in the first two contests of the week, as they very well should, this game against Phoenix should be for a three-game winning streak to close out the year.
Doing so and notching a second win against the Suns would be big for the Jazz as they need to get their record back on track after taking a big hit last week.
Utah looked dominant against Phoenix the last time these two teams met, but let the Suns get back in the game with a scary fourth quarter push.
It had appeared earlier in the season that the Jazz had solved their late-game struggles, but several games of late have seen the Jazz blow big fourth quarter leads and closing games has been quite problematic for them. Hopefully George Hill can get back soon as he has been a clutch late-game guy for the Jazz and a steadying force for their offense.
However, whether he's back or not, I fully expect Utah to take it to a Suns team that has lost five of its last six games and seems to be without much direction this season. Their defense has been awful and while Eric Bledsoe and Devin Booker are putting up a decent number of points with 20.1 and 19.2 per game, respectively, they've both been highly inefficient.
Thus as long as Utah can continue to frustrate Phoenix's shooting, get easy looks on a poor defense and avoid another horrible fourth quarter collapse, they should be in great shape.
My Prediction: Jazz Win
Final Score: Utah 107, Phoenix 94
More from Purple and Blues
So, while it feels a little scary to slot the Jazz at 3-0 the week after they went 0-3, the predictions are more a testament to how horrible Utah's upcoming three opponents are and less of a vote of confidence in what the Jazz have done of late.
Two weeks ago, I would have almost guaranteed the Jazz would win these three games, but after seeing the way they've played of late, I have to admit I'm actually a little nervous that they might drop one of these games despite the lackluster competition they'll be facing.
Nevertheless, Utah appears to be getting more and more healthy as both Alec Burks and George Hill finally participated in practice on Monday. There's still probably a ways to go for both of them and no telling if either will make an appearance this week, but hopefully it means Utah is closer to getting the ship righted and that games against lottery teams won't be so nerve-wracking here soon.
Yet no matter what the injury report is this week, there's no excuse for the Jazz to drop a game to any of these teams, especially in the two home contests. Ideally this week will give the likes of Hill and Burks one more week of rest and recovery while Utah logs three easy wins and gets set to sprint out of the gates in 2017 and bust their way back up the standings.
All stats courtesy of NBA.com
---
---