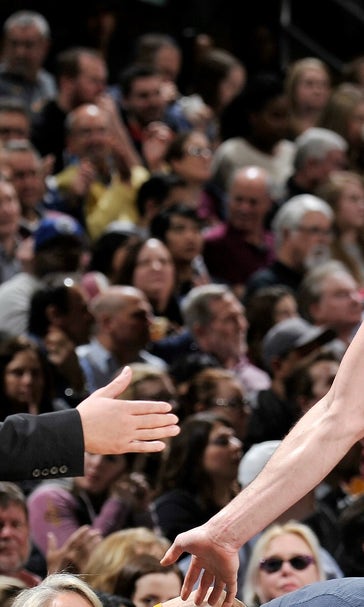 Ty Lue inspired Kevin Love with one simple expletive
May 9, 2016

The Cleveland Cavaliers are absolutely steamrolling the Eastern Conference right now, going undefeated (8-0) thus far and looking like a lock to make their second consecutive NBA Finals appearance.
While it's easy to look at their roster and claim their postseason success was a sure thing, that wasn't always the case. As recently as late Match, there were legitimate questions about how the Cavs -- particularly Kevin Love -- fit together on and off the court.
Following a embarrassing loss to the lowly Brooklyn Nets, Cavs head coach Tyronn Lue lit into his team, focusing on Love. 
According to ESPN, Lue reminded Love of the type of player he used to be, and empowered him to demand the ball from LeBron James and the rest of his teammates when necessary:
The conversation apparently changed Love's -- and thus the Cavs' -- season. Since then, he has been far more engaged in the offense, and while he isn't shooting particularly well from the floor, he has been a game-changer from beyond the arc and on the glass. The perfect third banana behind James and Kyrie Irving.
Given Lue's experience in the NBA -- highlighted by the long list of NBA greats he's played with -- Love said he felt no choice but to listen to and apply his coach's message:
It'd be a stretch to suggest this conversation was the only factor that turned around the Cavs' season. That would be ignoring the impact James, Irving, J.R. Smith and others have had on the team's postseason success.
But the conversation obviously played a huge role in reframing Love's mindset, as he admitted, and that ability to connect and resonate on a deeper level with his players may be the ultimate difference between Lue and former Cavs coach David Blatt.
Now, the Cavs have the necessary chemistry to possibly challenge the Warriors or Spurs or Thunder in the NBA Finals, and it's all because of an expletive-laden tirade from their head coach.
Jovan Buha covers the NBA for FOX Sports. Follow him on Twitter: @jovanbuha.
---
---