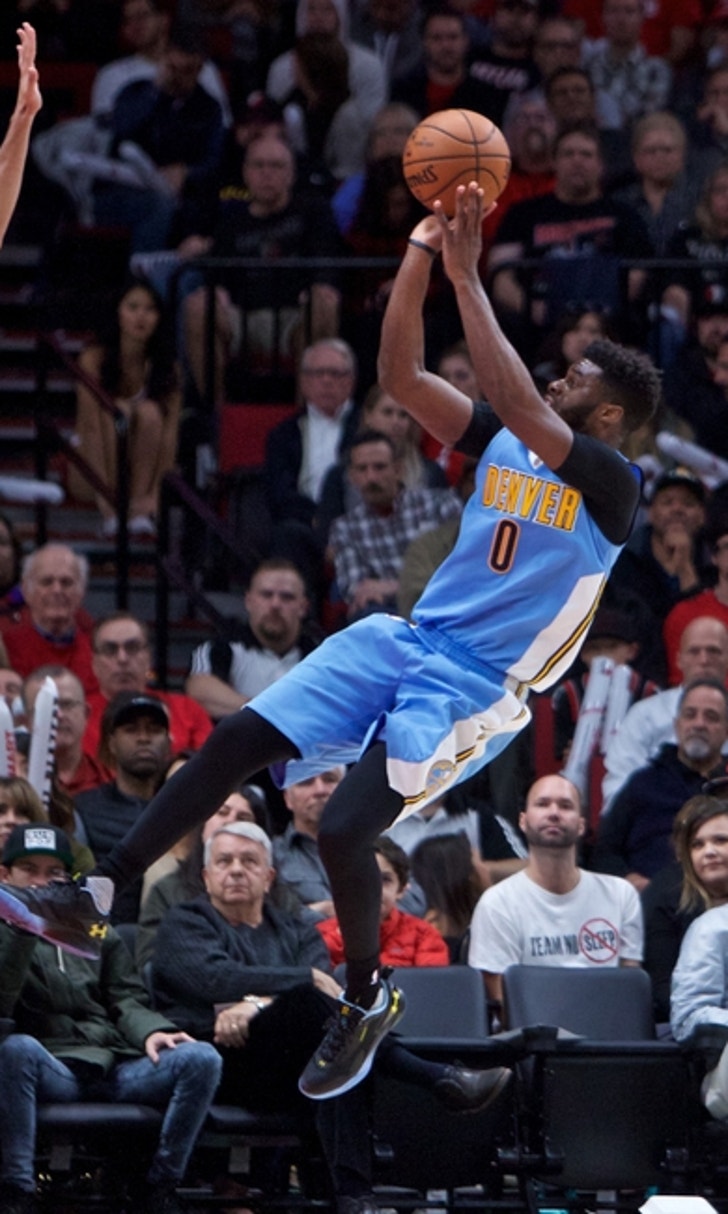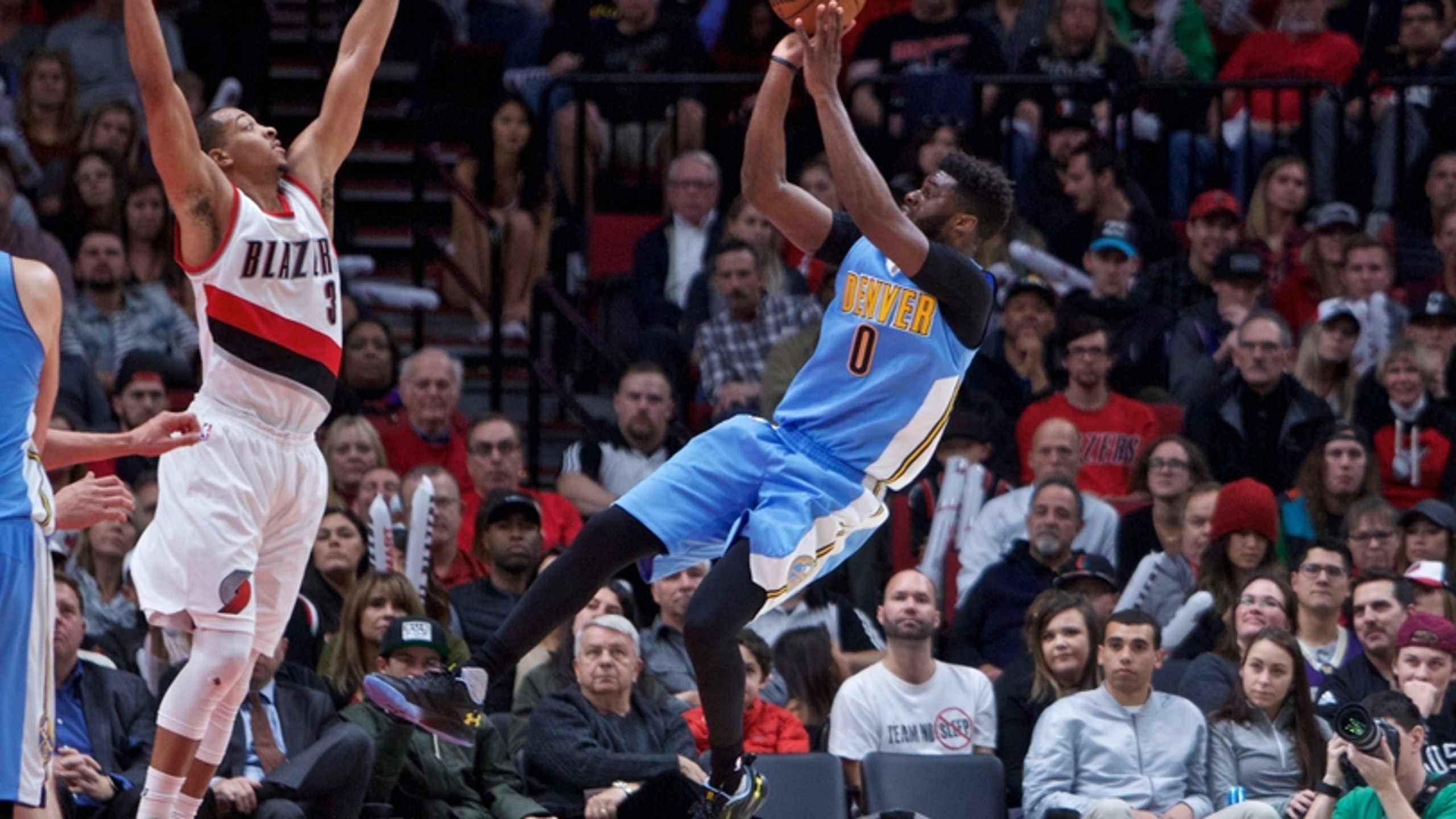 Two Ways for the Nuggets to Beat the Trail Blazers
BY Fansided and Wardell/FanSided via Nugg Love • December 15, 2016
Nov 13, 2016; Portland, OR, USA; Denver Nuggets guard Emmanuel Mudiay (0) shoots over Portland Trail Blazers guard C.J. McCollum (3) during the fourth quarter at the Moda Center. Mandatory Credit: Craig Mitchelldyer-USA TODAY Sports
The Denver Nuggets are only two days removed from a six-game road stretch, in which they came out 2-4. Now they head back home, to take on the Portland Trail Blazers.
The Denver Nuggets are fresh off a six-game road stretch and, to put it lightly, it was a disaster. During the six-game stretch they played the Jazz, 76ers, Nets, Wizards, Magic and Mavericks. To say they were disappointing during this span would an understatement, as they only came out with a 2-4 record over what was mostly sub-par teams to say the least. The last game they played was against the Dallas Mavericks and the Nuggets lost to them by 20 points.
You could tell from the very start of the game that the Nuggets were in for a long night. They finished the first quarter down by 8 points, and they closed out the first half down by 22. It's a miracle that the Nuggets even won a single quarter, in what was a rare blowout for the Mavericks.
The Nuggets were led in scoring and rebound by Nikola Jokic (27 points and 11 boards) and tied in assists by Emmanuel Mudiay, Jamal Murray and Jokic (4 dimes each). You can read more about what to takeaway from that game in a post by Matt Huff, right here.
Next up for the Denver Nuggets is a home game tonight, against Damian Lillard and the Portland Trail Blazers. This game is scheduled to tip-off at 7:00 PM Mountain Time, at the Pepsi Center. It will also be the third game of a four-game season series between these two teams.
The Nuggets are hoping to both take a 2-1 advantage in the series, and start off their three-game home stretch with strong win. In order to do so, here are two things they should be looking to do:
Dec 12, 2016; Dallas, TX, USA; Denver Nuggets forward Nikola Jokic (15) shoots over Dallas Mavericks center Salah Mejri (50) during the second half at the American Airlines Center. The Mavericks defeat the Nuggets 112-92. Mandatory Credit: Jerome Miron-USA TODAY Sports
Start the game, with the Joker in the line-up
First things first, in order for the Denver Nuggets to start winning games then they need to start Nikola Jokic. There's no if, and or but about it, Jokic has proven that he should start. That's not to say that Malone should start the Jurkic duo again, but honestly Jokic is putting up insane numbers as of late.
More from Nugg Love
Over the past five games he leads all qualified NBA players in PER, with a 37.7 (according to Real GM). Seriously, that's so high that it's not even funny. It's flat-out menacing for any opponent.
Not only has Jokic been dominating in terms of advanced analytics, but he's also doing so with his base statistics. In the past five games that he's played in, he's averaged 17.8 points, 10.6 rebounds, 3.4 assists and only 1.6 turnovers per game. The crazy part is that he put up numbers like that, while only averaging around 25 minutes played per game. Like I said, menacing.
So yeah, it's pretty fair to say that Jokic should be starting by now. In no way is that a knack against Jusuf Nurkic, who has also put up solid numbers over the past five games, but Jokic has been displaying above-average numbers for a starting NBA center. Much less a back-up.
Dec 12, 2016; Dallas, TX, USA; Denver Nuggets guard Emmanuel Mudiay (0) warms up before the game against the Dallas Mavericks at American Airlines Center. Mandatory Credit: Jerome Miron-USA TODAY Sports
Keep their faith in Emmanuel Mudiay
Another thing the Denver Nuggets should do if they want to win this one, is to continue their trust in Emmanuel Mudiay. That means that they have to continue to start him.
Look, his numbers have been really bad as a starting NBA point guard, but you have to remember that he's only 20 years old. Now, I realize that's the first thing people bring up when they're making excuses for Mudiay; however, everyone who wants him benched need to realize much more.
Firstly, he's a starting 20-year-old in whose position is easily the deepest in the entire NBA, than any era before. So, his poor play is to be expected considering. Secondly, he's only been the Nuggets' starting point guard for literally 80 games. That's not even an entire season of work yet, so patience is still very much a factor. Thirdly, you have to remember that he was the number one recruit coming out high school, so the potential is clearly there.
Finally, everyone needs to remember that the Nuggets goal is not, nor should it be, a playoff spot. The team is ridiculously young, and they should be focused on the development of their core group of players. The thought of the playoffs is nice, but it's incredibly unrealistic. Even if they did manage to make it, they'd be looking at the eighth-seed at best. Be honest, is a four-game blowout series to the Golden State Warriors even something you want to watch, especially considering the damage that could to this young team's confidence going forward.
Yes, I know that the Nuggets did in fact beat the Warriors last season. But that was last year, and Golden State is a much better team than then. In a playoff series, when the Warriors will be more determined than ever to win the Finals, the Nuggets would get decimated. That's just being realistic.
Also, the front office seems pretty clear on their intentions for Mudiay going forward. He's their future, whether you like it or not. So there's no point in benching him against Portland, especially because it will likely have no effect on the end product.
---
---