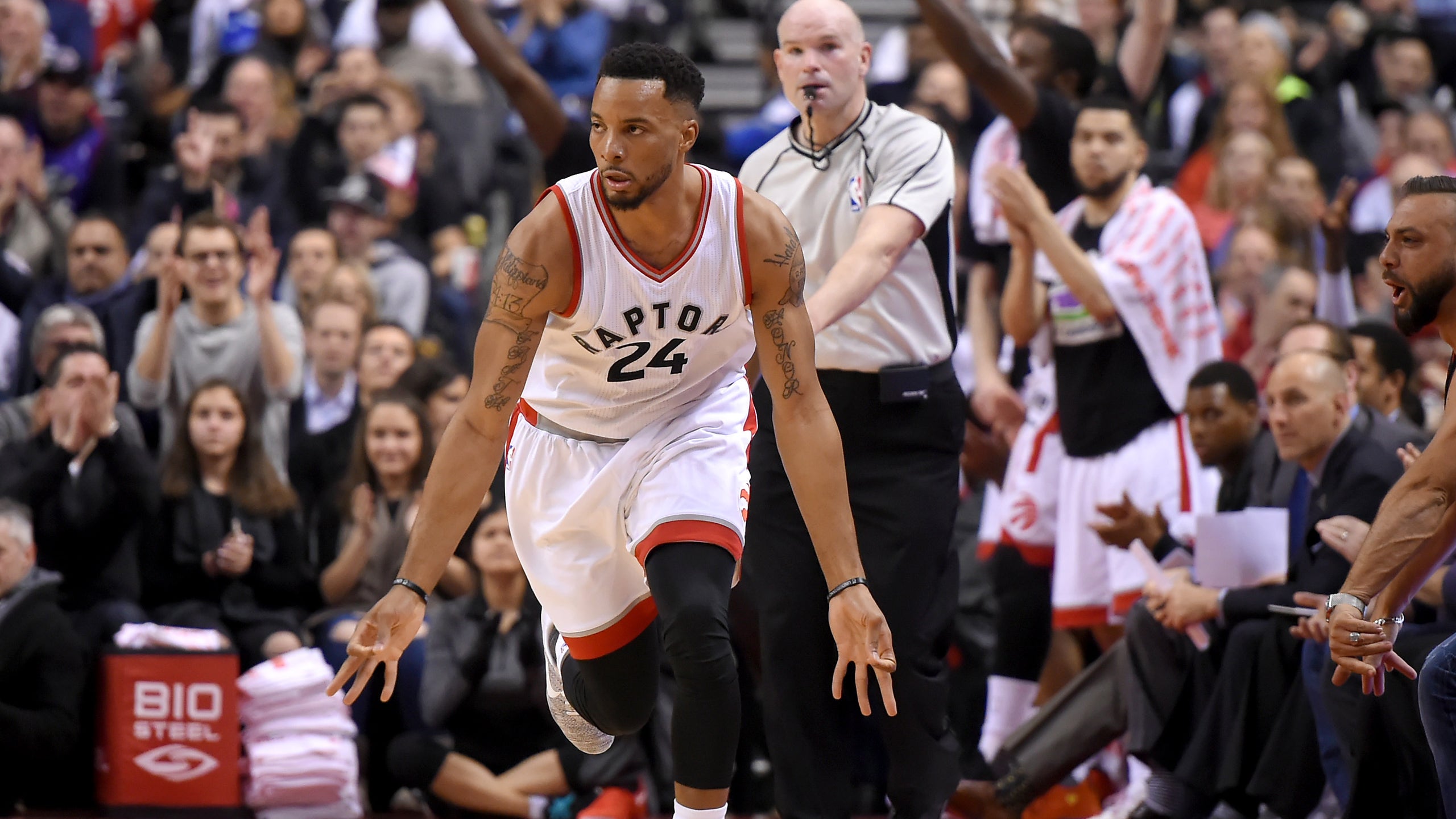 Toronto Raptors: Norman Powell Adjusting To Larger Role
BY Fansided and Justin Rowan/FanSided via Hoops Habit • June 30, 2017
The Toronto Raptors are allowing Norman Powell to have growing pains as he takes on a bigger role.
When the Toronto Raptors traded Terrence Ross and a first-round pick for Serge Ibaka, their primary goal was to help bolster the defense as well as gain a reliable floor spacer. While the move has been a success to this point, it was made possible by the team's trust in Norman Powell.
The promise that he has shown to this point helped make Ross expendable in the team's blockbuster trade.
To this point in his career, Powell has exceeded all expectations. To get a serviceable rotation player in the second round is a coup for any team. In his rookie year, he showed an ability to defend multiple positions, as well as space the floor.
For a team that already has a lot invested on the wing in DeMar DeRozan and DeMarre Carroll, opportunity can be hard to find for a reserve. As a result, Powell's minutes hadn't been consistent prior to this season's All-Star break.
While the minutes weren't consistent, it was clear that Powell had made a strong impression with the team. When Carroll went down, he was often given a spot in the starting lineup, even starting in three playoff games last season.
What he had shown in glimpses gave the team confidence that they could move one of their most consistent shooters in Ross and have a capable replacement already on the team.
Since taking over Ross' minutes, Powell has gone through an adjustment period. Prior to the trade, the hot shooting he had shown in his rookie campaign had already regressed, as his three-point percentage dropped from 40.4 percent in his rookie year to 34.3 percent.
After the trade, that percentage has dropped to 28.8 percent.
While that drop in percentage may be attributed to the larger load he is carrying, there are other factors to consider. The first is that this may just be natural regression that was overdue.
Over Powell's four-year college career at UCLA, he put up a three-point percentage of 31.4 percent. Keep in mind that also came with a much shorter three-point line.
Another factor could be the absence of Kyle Lowry. Lowry has only played one game since Ross was traded, meaning Powell has not had the benefit of playing alongside the team's primary play-maker since assuming a larger role.
While DeRozan has shown growth as a playmaker, things have undoubtedly been more difficult offensively without Lowry.
raptors
Hoops Habit 23hToronto Raptors Defense Key To Potential Finals Run
More headlines around FanSided:
1 d - Hornets 110 - Raptors 106: What just happened?2d - Hornets (33-41) at Raptors (44-29): Preview2d - 5 NBA Teams Approaching Critical 2017 Playoff Runs2d - Terrence Ross given hero's welcome during return to Toronto2d - The Raptors should re-sign and keep Kyle Lowry this off-seasonMore News at Raptors Rapture

Powell has also played in more games than at any point in his career. In college, he never played more than 36 games in a season, while in his rookie campaign, he only played 49 regular season games with the Raptors.
Already this year, Powell has exceeded that total with 71 games played. While he's 23 years old, it's easy to forget that he is still just getting his feet wet in the association.
In addition to the drop-off in three-point percentage, Powell's efficiency overall has slipped recently. Since the All-Star break, his field goal percentage has dropped from 45.4 percent to 43.1 percent.
These drop-offs may be alarming to some, but they are all part of the process as Powell adjusts to a larger role. One encouraging sign is that despite his drop-off in efficiency, his effectiveness overall has held steady.
Per basketball reference, Powell's plus minus has gone from plus-3.5 prior to the break to plus-3.6 since.
This is largely as a result of the energy Powell brings to the game. While he likely will never be a pure scorer, he provides a consistent boost when his name is called. Like all young players, consistency is an issue.
But he has shown a willingness to try and make mistakes, rather than play in fear.
While for the season opponents are shooting 3.6 percent better than expected when guarded by Powell, he has shown the physical tools to develop into a strong defender. The discrepancy between the eye-test defensively and actual effectiveness is usually large for young players.
It takes experience to be able to make the right rotations and fully understand team defense, experience Powell is now starting to gain.
More from Hoops Habit
Ultimately how you feel about Norman Powell comes down to expectations. If you expected a former second-round pick to be a dead-eye shooter and lockdown defender in his second year, you're probably disappointed.
If you look at process over results, you can see a talented young player that is learning the game.
It's possible that Powell doesn't evolve much further than where he is currently. But it was clear that Ross wasn't going to grow beyond who he already was in Toronto. With Powell, his approach to the game is reminiscent of another Raptors second-round pick in P.J. Tucker.
Tucker needed time to grow into the player that he is today and now can serve as a mentor to Powell.
The hard-nosed attitude Powell brings to the game fits with the identity of this Raptors team. Some growing pains were inevitable, but his play earned him the opportunity to go through this process and find out what he can become as a player.
Now with a consistent role and more significant minutes, he has the opportunity to show what he can become as an NBA player.
---
---