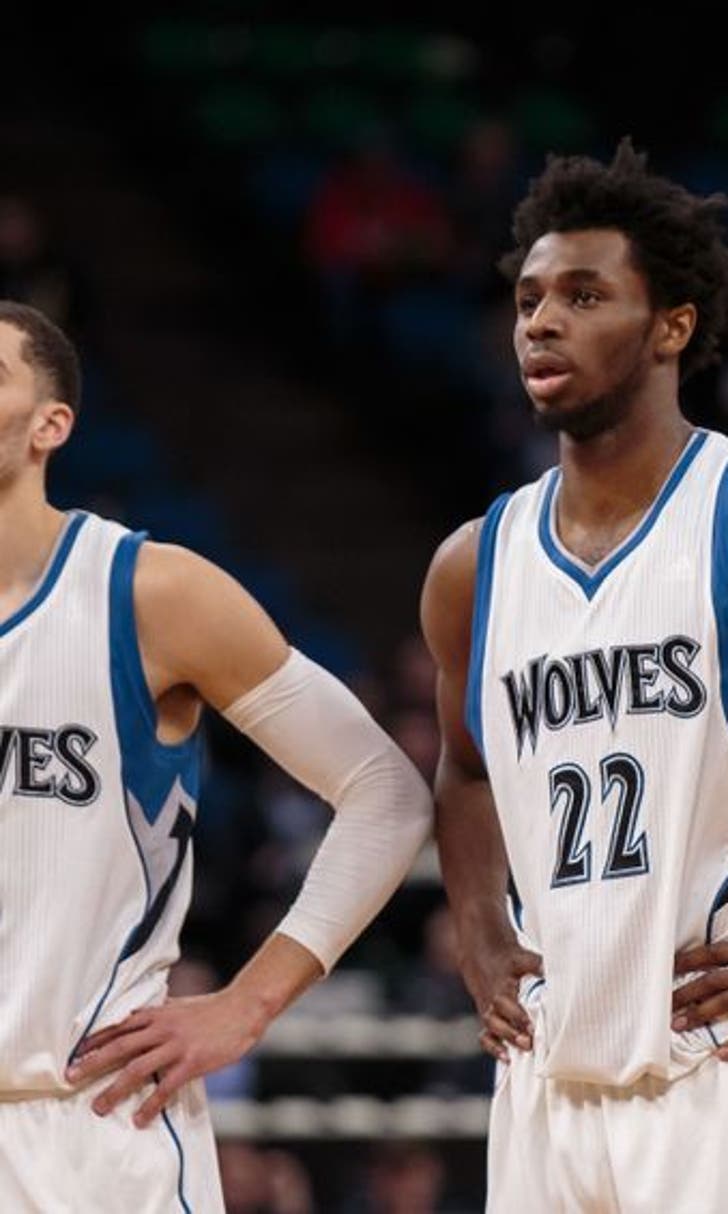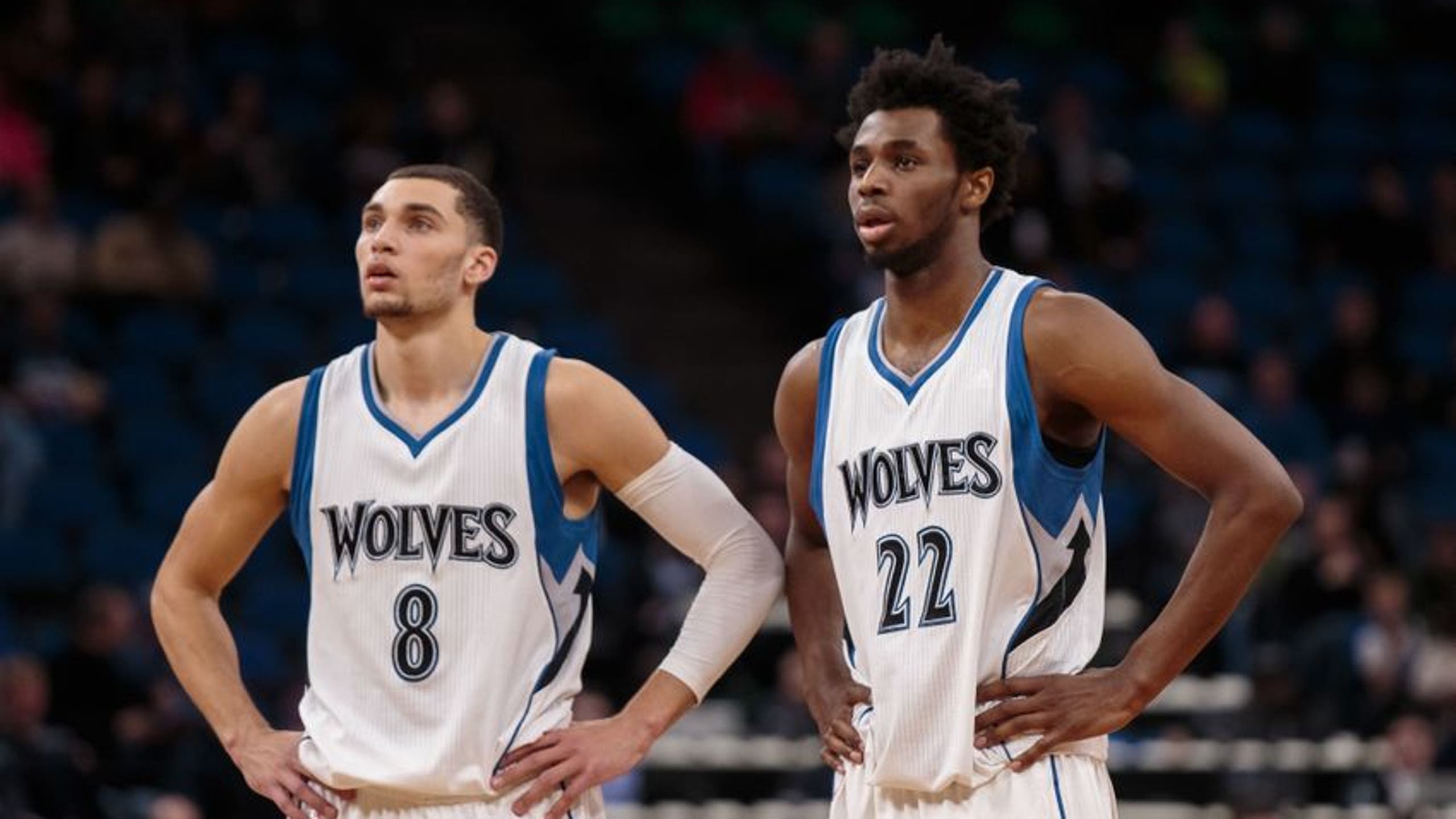 Timberwolves to increase pace of play?
BY Fansided and Ben Beecken/FanSided via Dunking with Wolves • December 28, 2016
It only makes sense that the Timberwolves should be playing at a fast pace this season given the athletes on the team, but that hasn't always been the case.
The Timberwolves starting lineup features a pair of athletic wing players that have yet to turn 22 years of age in Andrew Wiggins and Zach LaVine, plus an above-average seven-footer with the handles of a guard in Karl-Anthony Towns. Playing fast makes sense, to say the least.
But through the initial 31 games of the season, the Wolves stand at just 22nd in pace, according to Basketball-Reference.com. It's a bit surprising, although it does seem to be shifting some of late.
New head coach Tom Thibodeau is still feeling out his personnel, and the players are finally getting accustomed to a new system. Of course, the Wolves still have a decent offense: they rank middle-of-the-pack in terms of effective field goal percentage, in the top-third in offensive rating, and in the top-five in free throw attempts per field goal attempt. Their scoring lags a bit behind that, but it's always felt like there has been some fluky bad luck affecting this season's slow start.
Jace Frederick of TwinCities.com and the Pioneer Press wrote a column discussing the team's offensive pace, and included quotes from Thibodeau about the importance of tailoring the Wolves' style of play to the players on the team.
More from Dunking with Wolves
Fast pace is often thought of as the best pace, but that isn't always necessarily true.

Thibodeau points to last year's four conference finalists — Golden State, Oklahoma City, Cleveland and Toronto — and the fact that only Golden State played at a fast pace; the other three did not.

"The thing is to play to your strengths, and sometimes it's medium pace," Thibodeau said. "Ideally, you want as many easy baskets as you can."

…

"I think, if you're young and athletic, trying to get into the open floor is critical," Thibodeau said.

Thus, it's critical for the Timberwolves.

But Minnesota hasn't done enough of it this season. Heading into Tuesday's games, the Timberwolves ranked 22nd in the NBA in pace, averaging 97.3 possessions a game, and tied for 17th in the league with 12.4 fastbreak points a game.
Not coincidentally, Ricky Rubio's assist totals have risen and turnovers have dropped of late as the Wolves have gotten out in transition more often. He's simply much better in the open floor than in the half court, and obviously, shot attempts in transition are generally of a higher percentage than any other attempts, whether they're in the paint or beyond the arc.
It only makes sense to ramp up the intensity, and Thibodeau correctly identifies that the best transition opportunities come off of misses from the other team — caused by great defense.
"If you're taking the ball out of the net, it's slowing you down," Thibodeau said. "You still want to run and try to get it up as fast as you can, but it's different if you make them take a tough, long, contested two and it's a long rebound and now you bust out and everyone's flying up the floor, and that's where we can take advantage of our athleticism.

"I want to take advantage of that athleticism with our defensive rebounding, as well," Thibodeau said. "I think it's one of our strengths. And then get into the open floor and try to attack that way. I know one thing: If Zach and Wigg or Karl is coming at you with the ball and you're backpedaling, I like our chances."
Indeed, it only seems like a matter of time before this offense is (finally) clicking on all cylinders. And it will start on the defensive end of the floor.
The upcoming schedule is favorable, too: at Denver, home against the Bucks and Portland, and road contests against the 76ers and Wizards. Of that grouping of teams, only the Trail Blazers should be expected to handle the Timberwolves with ease.
A strong end to the calendar year of 2016 would be wonderful, and there's a solid chance that the positive vibes continue into early January of 2017.
---
---