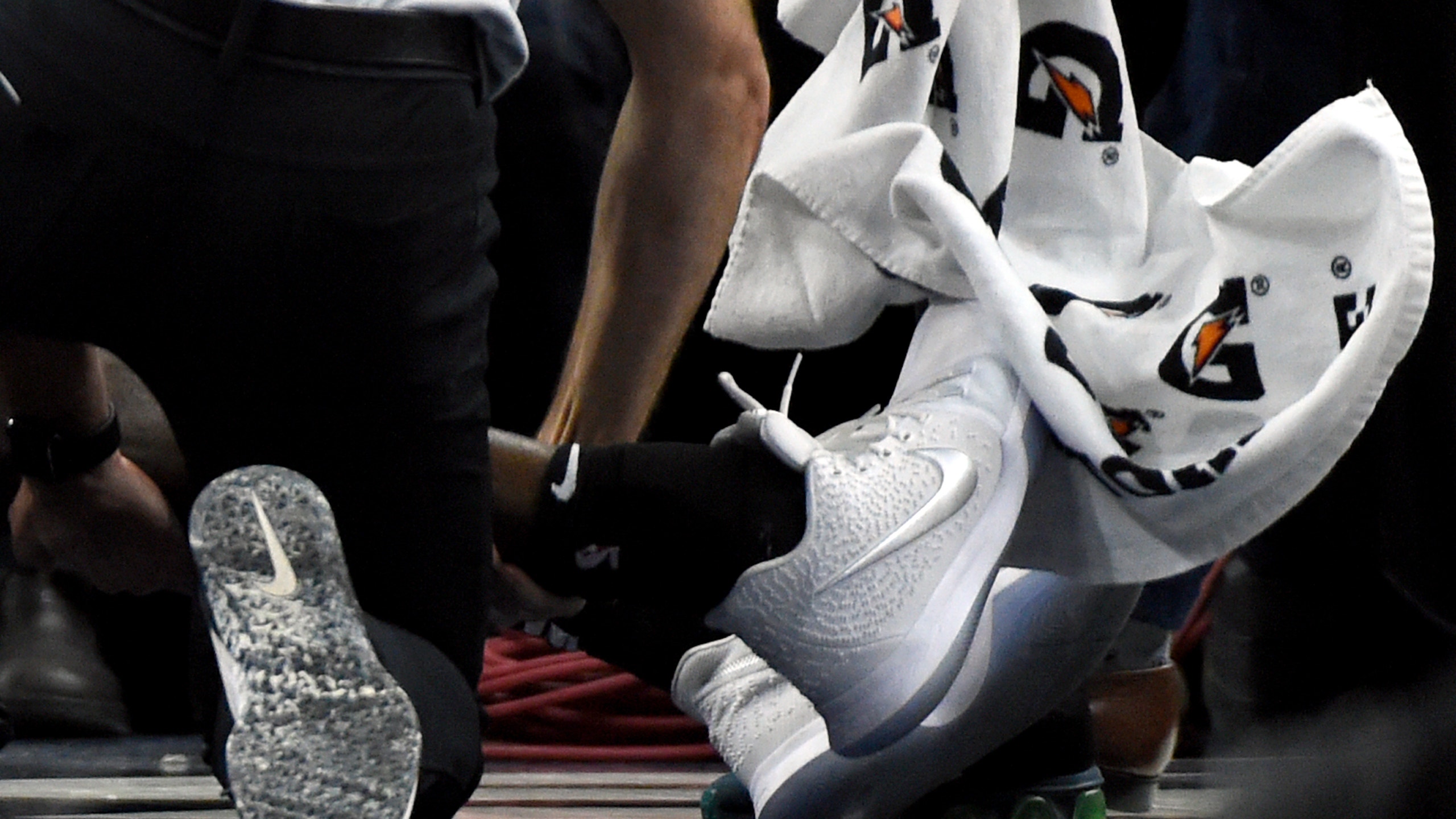 Timberwolves beat Nets after LeVert's gruesome injury
November 13, 2018
MINNEAPOLIS (AP) — Karl-Anthony Towns had 25 points and a season-high 21 rebounds, and the Minnesota Timberwolves beat the Brooklyn Nets 120-113 on Monday after finally trading Jimmy Butler.
The Nets lost leading scorer Caris LeVert to what appeared to be a severe right leg injury late in the first half.
Jeff Teague returned from a six-game absence to score 24 points for Minnesota, which snapped a five-game losing streak.
The Timberwolves officially dealt Butler to the Philadelphia 76ers on Monday, along with big man Justin Patton. The Wolves received Robert Covington, Dario Saric, Jerryd Bayless and a 2022 second-round pick in the trade.
LeVert's gruesome injury brought the entire crowd at Target Center to a silence. LeVert spent several minutes on the court being attended by medical personnel. Timberwolves players huddled in prayer while Nets players surrounded their injured teammate before he was wheeled off the court.
D'Angelo Russell made a career-high nine 3-pointers and scored 31 points for the Nets, who shot a season-worst 39.6 percent from the field.
TORONTO (AP) — Anthony Davis had 25 points and a season-high 20 rebounds, E'Twaun Moore scored a season-high 30 points and New Orleans snapped Toronto's six-game winning streak.
Jrue Holiday had 29 points and matched a season high with 14 assists, and Julius Randle added 17 points and 12 rebounds as New Orleans won its third straight following a six-game losing streak.
The Pelicans outscored the Raptors 72-42 in the paint and snapped a six-game losing streak against Toronto.
Pascal Siakam scored 22 points, Kawhi Leonard had 20 and Serge Ibaka had 19 points and 14 rebounds as the Raptors lost for the first time in eight home games this season. Toronto entered with an NBA-best 12-1 record.
CLIPPERS 121, WARRIORS 116, OT
LOS ANGELES (AP) — Lou Williams scored 10 of his 25 points in overtime after the Clippers blew a 14-point lead in the fourth quarter, and Los Angeles hung to beat Golden State at home for the first time in nearly four years.
Williams rallied after missing shots in the closing minutes of regulation, when the Warriors ran off 11 straight points to force overtime tied at 106-all.
Montrezl Harrell added 23 points off the bench and rookie Shai Gilgeous-Alexander had 18.
The Clippers snapped a seven-game skid against the Warriors at Staples Center, where they last won on Dec. 25, 2014.
Kevin Durant had 33 points, 11 rebounds and 10 assists for the Warriors before fouling out with 3:46 left in the extra session. Klay Thompson added 31 points, but was just 5 of 16 on 3-pointers on a night without injured fellow Splash Brother Stephen Curry.
76ERS 124, HEAT 114
MIAMI (AP) — Joel Embiid scored 35 points and grabbed 18 rebounds, and Philadelphia added to Miami's early-season struggles.
The win came hours after the 76ers finalized a trade with Minnesota to land four-time All-Star Jimmy Butler, who was in Philadelphia and not with the club in Miami. Butler will be introduced at the 76ers' facility in Camden, New Jersey, on Tuesday, before he flies to Orlando and makes his debut with Philly on Wednesday night against the Magic.
JJ Redick scored 25 points, Furkan Korkmaz scored 16 and Ben Simmons and Mike Muscala each had 13 for Philadelphia.
Goran Dragic scored 22 points for Miami, which got 17 from Josh Richardson and 14 from Wayne Ellington. The Heat have dropped three straight, all of them at home.
MEMPHIS, Tenn. (AP) — Joe Ingles scored 19 points, Rudy Gobert added 15 points and 16 rebounds and Utah won its third straight.
The Jazz broke open a close game in the final six minutes with a 14-5 run. Gobert had eight points in the stretch as Utah built its lead to 11 points in the late stages.
Derrick Favors and Donovan Mitchell finished with 12 points apiece for Utah.
Mike Conley led Memphis with 24 points, while Marc Gasol added 16. Jaren Jackson Jr. and MarShon Brooks finished with 10 points each, and Jackson had 11 rebounds.
The loss was the first at home for Memphis this season.
OKLAHOMA CITY (AP) — Paul George matched his season high with 32 points and went 6 of 10 from 3-point range, Dennis Schroder added 20 points and nine assists, and Oklahoma City beat Phoenix.
The Thunder have won eight of their last nine games after a 0-4 start while the Suns have lost four straight and 11 of their last 12. Two of those losses have come in Oklahoma City.
Oklahoma City scored 22 straight points in the first quarter, holding the Suns scoreless for nearly seven minutes, to take a 24-5 lead. The Thunder never trailed again and led by as many as 28 points in the second quarter before settling for a 64-40 halftime lead.
T.J. Warren led the Suns with 21 points while Devin Booker had 19 points and six assists.
SACRAMENTO, Calif. (AP) — Iman Shumpert made a tiebreaking jumper with 4:05 remaining, De'Aaron Fox and Nemanja Bjelica followed with 3-pointers and Sacramento pulled away to end a 14-game losing streak to San Antonio.
Fox finished with 19 points and seven assists. Willie Cauley-Stein had 13 points and 13 rebounds, and Bogdan Bogdanovic scored 22 points for the Kings.
Sacramento led the entire third quarter but didn't shake San Antonio until late in the fourth.
LaMarcus Aldridge had 14 points and 18 rebounds. DeMar DeRozan scored 23 points with eight assists, and Rudy Gay added 14 points and nine rebounds in his return to the Spurs lineup.
WASHINGTON (AP) — John Wall had 25 points and 10 assists, Bradley Beal added 21 points and Washington won consecutive games for the first time this season, beating Orlando.
Jeff Green added 18 points off the bench on 6-of-7 shooting for Washington, which lost at Orlando on Friday night to fall to 2-9 before winning at Miami.
The Wizards made 24 free throws on 33 attempts, 22 more than the Magic earned, and out-rebounded the visitors 41-34.
Terrence Ross scored 21 points off the bench to lead Orlando, which saw a two-game winning streak snapped.
CHICAGO (AP) — Harrison Barnes scored a season-high 23 points and Dallas overcame a sluggish performance by prized rookie Luka Doncic to beat Chicago.
Doncic, the leading scorers among NBA rookies, shot 3 for 12 and finished with 11 points as Dallas won for the third time in four games after a six-game skid. J.J. Barea added 14 points, five rebounds and five assists.
Zach LaVine led Chicago with 26 points. Jabari Parker scored all but two of his 16 points in the second half.
---
---