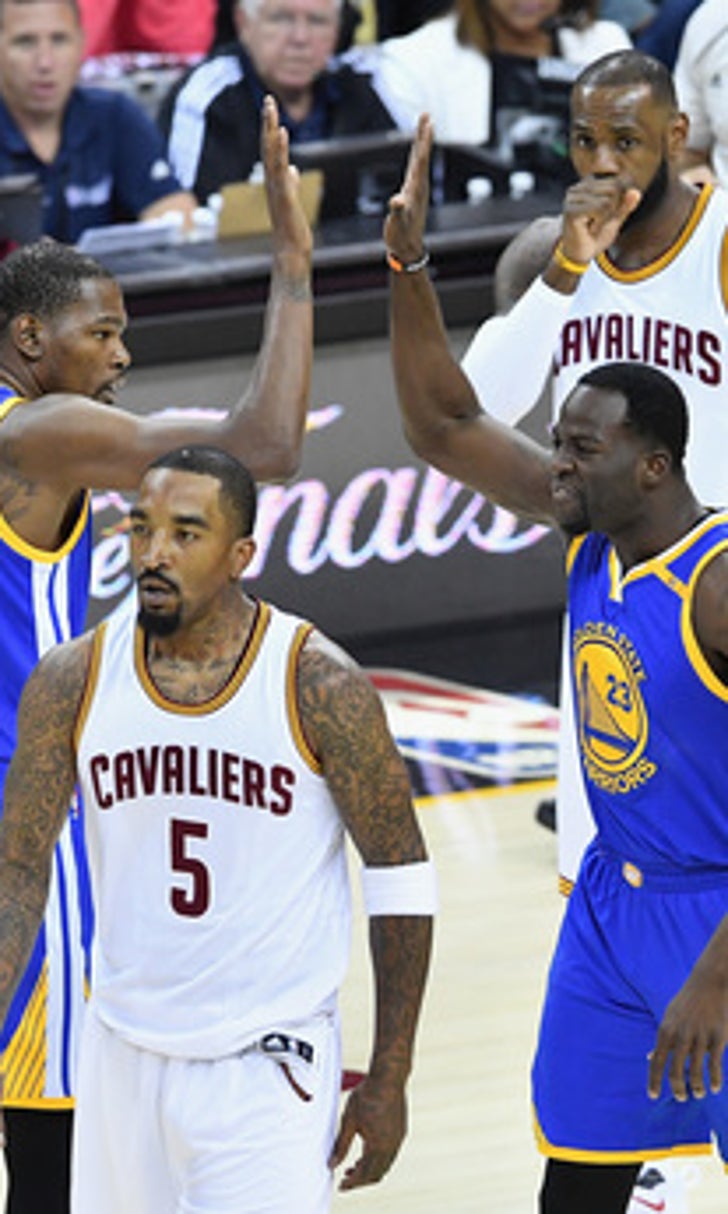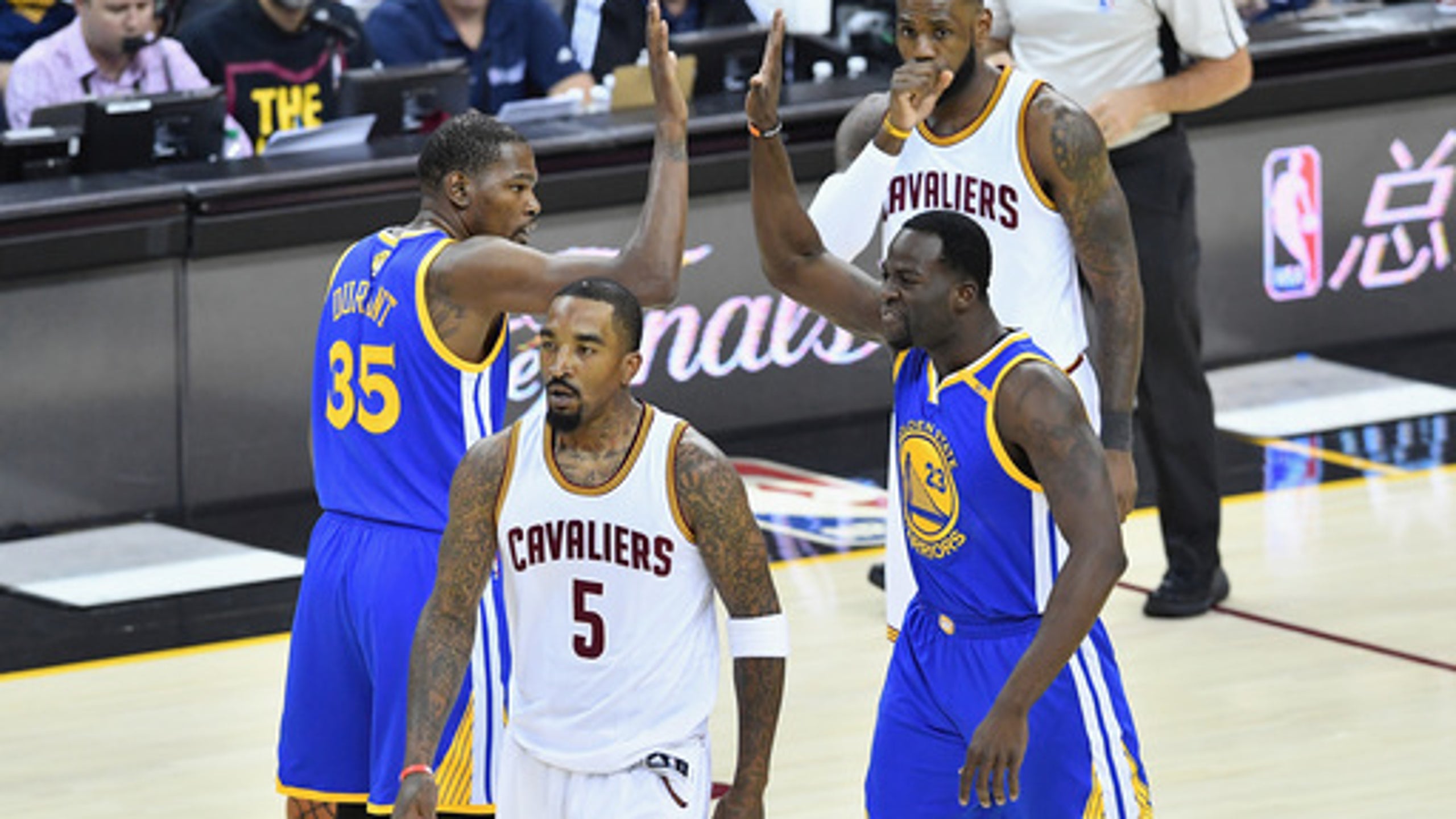 The Latest: Durant, Warriors rally to beat Cavs 118-113
BY AP • June 7, 2017
CLEVELAND (AP) The Latest on Game 3 of the NBA Finals (all times local):
11:50 p.m.
Kevin Durant made a go-ahead 3-pointer with 45 seconds left and the Golden State Warriors took a 3-0 in the NBA Finals by beating the Cleveland Cavaliers 118-113 on Wednesday night.
Durant scored 31 points and Klay Thompson had 30 for the Warriors, who improved to 15-0 in the postseason and are on the brink of the first undefeated finish in the NBA. Stephen Curry had 26 points, 13 rebounds and six assists.
LeBron James had 39 points, 11 rebounds and nine assists for the Cavaliers, and Kyrie Irving added 38 points. Blown out in the first two games, the Cavaliers were much better in Game 3, but just not good enough to beat a team that could go down as one of the best ever.
Game 4 is here Friday night.
---
11:35 p.m.
LeBron James is two rebounds and two assists shy of his ninth career NBA Finals triple-double. And the Cleveland Cavaliers are six minutes away from their first win of the series.
James has 37 points and Kyrie Irving has 38 as the Cavs cling to a 108-107 lead over the Warriors midway through the fourth quarter of Game 3 on Wednesday night.
Klay Thompson has 30 points, Kevin Durant has 24 and Steph Curry has 22 for the Warriors. Draymond Green has five fouls and the Warriors have turned it over 18 times.
Kevin Love has had a difficult shooting night, but has 12 rebounds and six steals to give James and Irving some much-needed help.
A ninth triple-double would be a finals record for James.
---
11:10 p.m.
The Cleveland Cavaliers have survived the third quarter in the NBA Finals.
After getting blown out in that period in the first two games of the series, Cleveland won the third quarter of Game 3 Wednesday night and takes a 94-89 lead into the fourth quarter.
LeBron James has 32 points, seven assists and six rebounds, Kyrie Irving has 33 points and the Cavaliers are hanging on for dear life in a game they know they cannot afford to lose. Irving's incredible driving layup through four Warriors whipped Quicken Loans Arena into a frenzy and gave Cleveland a seven-point lead late in the quarter.
The Warriors have hit 13 3-pointers, but Draymond Green has four fouls and Golden State has turned the ball over 17 times to let Cleveland hang around.
It's the first truly competitive game of the Finals, a welcome sight for the NBA after an entire playoffs filled with blowouts.
---
10:55 p.m.
A glimmer of hope for the Cleveland Cavaliers in the NBA Finals.
Last year's Finals turned with Draymond Green's suspension. Now Green has four fouls midway through the third quarter of Game 3 Wednesday night.
Cleveland leads 80-79 and Green's foul trouble has to be a little unnerving for the Warriors in their first road game of the Finals.
The volatile Green has been under control for the most part throughout these playoffs. But he lost his cool in the first half, picking up a technical foul late in the second quarter after arguing for a foul call on Kyrie Irving. The defensive wizard picked up his fourth foul early in the third quarter, but he is so important to what these Warriors do that coach Steve Kerr kept him in the game.
Kevin Love snapped an 0-for-5 start with a 3-pointer that gave Cleveland a 71-69 lead with nine minutes to play in the quarter, the first time they've held a lead in a quarter other than the first in this series.
Irving is up to 27 points and LeBron James has 27.
Steph Curry has 20 points and has hit 5 of 7 3s for Golden State.
---
10:25 p.m.
It's a shootout in Cleveland at the NBA Finals, which is just fine with Golden State.
The Warriors lead the Cavaliers 67-61 at halftime of Game 3 on Wednesday night. Both teams are shooting over 50 percent from the field in another high-scoring affair.
Klay Thompson has 21 points, Kevin Durant has 16 and Steph Curry has 14 for the Warriors, who hit 12 3-pointers in the first two quarters.
LeBron James has been sensational again for Cleveland, scoring 27 points on 11-for-14 shooting. In doing so, he passed Elgin Baylor and Bill Russell on the career finals scoring list.
Kyrie Irving got going in the second quarter and has 17 points, but he made a critical mistake on defense late in the quarter that gave the Warriors an edge.
Irving left Thompson open behind the 3-point line to try to swipe a steal from Zaza Pachulia in the post and Thompson buried the 3 to give Golden State an eight-point lead.
---
10:05 p.m.
Kyle Korver is dunking, LeBron James is hitting everything in sight and Cleveland has forced nine turnovers in the first 18 minutes of Game 3. And yet, the Warriors still lead.
Golden State holds a 46-45 advantage midway through the second quarter, thanks to some timely baskets from David West and 16 assists on 17 made baskets.
James has 23 points on 10-for-11 shooting and the Cavaliers are shooting 50 percent from the field. So many things are going right for them in their first home game of the series. But the margin for error is so small against a Warriors machine that has steamrolled through the playoffs.
Korver brought the crowd to its feet with a dunk - just his second of the season - and James scored on a spectacular left-handed reverse layup to win a one-on-one matchup with Kevin Durant.
Klay Thompson has 18 points for the Warriors.
---
9:45 p.m.
The Warriors are making it rain in Cleveland.
Golden State hit an NBA Finals record nine 3-pointers in the first quarter to take a 39-32 lead over the Cavaliers in Game 3 on Wednesday night. The shooting barrage comes one game after they hit a finals record 18 from long range in Game 2.
Klay Thompson scored 16 points in the quarter and hit 4 of 5 shots from deep. Steph Curry and Kevin Durant each hit two 3s and Andre Iguodala added one as well. The great shooting has helped Golden State absorb quite a punch from LeBron James in the opening 12 minutes.
James scored 15 points on 7-of-8 shooting in the first quarter, including a vicious dunk over Durant and JaVale McGee.
J.R. Smith has added a pair of 3s for Cleveland, but James is going to need a lot more help if Cleveland is going to take its first game of the series.
---
9:30 p.m.
J.R. Smith reporting for duty in the NBA Finals.
After hitting his first shot of Game 1, the Cavaliers sharpshooter had not made a shot in only five attempts over the next 95 minutes of game action. But Smith has shown up early in Game 3 Wednesday night, hitting his first two 3-pointers to help the Cavaliers take an early 21-19 lead in the first quarter.
LeBron James is off to a fast start as well, which is nothing new. He has 11 points on 5-for-6 shooting. James was shaken up when teammate Tristan Thompson inadvertently hit him with a shoulder to the chest, but hopped up and didn't miss any action after the collision.
Kevin Durant has hit his first three shots, including two 3s, for the Warriors.
---
9:10 p.m.
Game 3 of the NBA Finals is underway and there are no surprises.
Despite speculation that the Cleveland Cavaliers could make some changes to their starting lineup after two straight wipeouts in the Bay Area, coach Tyronn Lue stuck with the same five - LeBron James, Kevin Love, Tristan Thompson, Kyrie Irving and J.R. Smith on Wednesday night.
Lue declared on Tuesday that he wasn't making any changes to his lineup, but Warriors coach Steve Kerr quipped before the game that he wouldn't be surprised if his counterpart wasn't being completely honest with the media.
The Warriors, of course, are making no changes to the machine that has reeled off 14 straight wins in these playoffs. It's Steph Curry, Klay Thompson, Kevin Durant, Draymond Green and Zaza Pachulia.
Prior to the game, the NBA held a moment of silence for vice president of broadcasting Todd Harris, who died on Tuesday at the age of 47.
---
8:45 p.m.
There hasn't been a Rihanna sighting at Game 3 of the NBA Finals.
But there are a few celebrities in the building, including Usher and the Rev. Jesse Jackson. Golfers Bubba Watson and Jason Day were also among the celebs mingling courtside before Wednesday night's matchup. They posed for several photographs with Ohio State football coach Urban Meyer, who is from nearby Ashtabula and has attended Cavs games in the past.
When the Warriors arrived, Stephen Curry and Steve Kerr were greeted at the security checkpoint by former pro wrestler Ric ''The Nature Boy'' Flair.
But actor Michael Rapaport, a die-hard Warriors, may have made the biggest impression on Cavs' fans. He came in carrying a broom and exchanged some words with one fan who wasn't happy about his brash gesture.
---
8:25
Having already shoved aside the Showtime Lakers, Stephen Curry the Golden State Warriors are trying to move past one of hockey's powerhouses.
A victory in Game 3 of the NBA Finals would be the Warriors' 15th straight in the postseason and give them the longest winning streak in the major professional sports.
Golden State is currently tied with the Pittsburgh Penguins, who won 14 straight across the 1992-93 Stanley Cup playoffs, according to information provided to the Warriors by Elias.
The previous NBA record of 13 straight wins had been set by Los Angeles in 1988-89 and matched by the Cleveland Cavaliers in 2016-17.
A victory would also be the Warriors' 30th in their last 31 games, dating to the regular season. Five NBA teams didn't win 30 games all season.
---
8:05 p.m.
Cleveland's Kyle Korver doesn't mind long shots. Long breaks are another matter.
Playing in his first NBA Finals, the Cavaliers' sharpshooter has struggled with his shot through the first two games, going 2 of 7 from the field - 1 of 6 3-pointers. Korver's struggles have contributed to the Cavs being down 2-0 to the Golden State Warriors, who are keeping a close eye on the 14-year veteran whenever he's on the floor.
Korver, who was traded to the Cavs from Atlanta in January, says the break following the Eastern Conference finals has affected his timing.
''For me personally we've had these long breaks in between series and I haven't been very good in any series in Game 1 and 2 as far as making shots,'' he said before Wednesday night's Game 3. ''You know, it's a rhythm thing. I'm hoping as the series goes on for me, get some more looks and be able knock `em down.''
---
7:40 p.m.
Golden State is playing to be No. 1 this season.
The Warriors also have a chance to be No. 2 in ANY season.
If Golden State wins these NBA Finals over Cleveland in four or five games, the Warriors - 81-15 this season going into Wednesday night - would finish with the second-best single-season winning percentage in league history (including all games, regular season and playoffs).
Chicago's 87-13 mark in the 1995-96 season cannot be topped this year.
For now, the No. 2 record is owned by the 1971-72 Los Angeles Lakers, who went 81-16.
Last year's Warriors had the best regular-season record ever, 73-9. They then went 15-9 in the playoffs, and their 88-18 total-season record wound up fourth-best in league history coming into this season.
---
7:15 p.m.
Basketball season. Football weather.
Cavaliers' fans swapped T-shirts and shorts for long sleeves and sweat shirts as unusually cool spring weather had Cleveland feeling fall-like on Wednesday night hours before Game 3 of the NBA Finals. But despite the chilly weather, Clevelanders were fired up to see if the Cavs can climb back into the series after losing Games 1 and 2 on the road to Golden State by a combined 41 points.
Cleveland was in the same spot a year ago, but that was before the Warriors added Kevin Durant to a 73-win team.
Bars and restaurants were overflowing with patrons along East Fourth Street about three basketball courts distance away from Quicken Loans Arena, which will be filled with 20,000 screaming fans looking for the Cavs to take their first step toward another comeback.
Security was extremely tight outside the arena as fans were required to pass through metal detectors in order to take part in events on the plaza between the Q and Progressive Field, home of the Cleveland Indians. Once inside, some fans launched jump shots on outdoor courts while others positioned themselves for prime seats to watch the game on a giant screen.
---
More AP NBA: apnews.com/tag/NBAbasketball
---
---