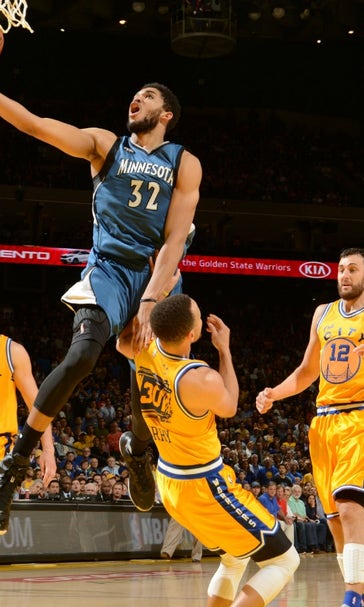 The 6 scariest moments from Karl-Anthony Towns' incredible rookie year
May 16, 2016

The Minnesota Timberwolves are virtually guaranteed at least one appearance in the NBA Finals at some point over the next five years because Karl-Anthony Towns, the NBA's unanimous 2015-16 Rookie of the Year, is on their team. 
Towns is seven feet tall, 20 years old and basically perfect. The flaws in his game today are few and far between, and his strengths make some wonder if he's already the best center in the league. It's possible. 
Towns is 5th plyr in last 32 years to win ROY in unanimous vote (D. Lillard, B. Griffin, D. Robinson and R. Sampson). #Back2Back

— Timberwolves PR (@Twolves_PR) May 16, 2016
Appearing in all 82 games this season, Towns averaged 18.3 points and 10.4 rebounds, shot 54.3 percent from the floor and finished sixth in blocks. He was a menace on both ends who also displayed touch around the basket and creative passing. Here's a look at the six scariest moments from a rookie year that had about 200 of them. 
This shouldn't be physically possible. 
Moments after Damian Lillard converted a four-point play to give the Portland Trail Blazers a one-point lead, Towns calmly strode down the floor, smoothly knocked down a jump hook and gave his team the victory. On the year, Towns shot 53 percent in clutch situations (with his team ahead or trailing by five or fewer points with under five minutes left in the game).
Here, in Portland, he made one of the hardest things in basketball look easier than cracking an egg. 
As the Rookie of the Year and the award's runner up, there's a chance Kristaps Porzingis and Towns develop a nice little rivalry over the years. Of course, there's an even better chance Towns destroys the New York Knicks prodigy every time they see each other for the rest of their careers.
Towns shot 34.1 percent behind the three-point line this year, but he "only" recorded 88 attempts. Imagine how impossible he'll be to defend as a dual threat on the pick-and-roll: he can either pop out for an open three or dive towards the basket and force defenders from the weak side to suck in and help. 
His outside shot is probably the most terrifying part of a skill-set that's overflowing with talent.
Towns already has 72 dunks in his career. Instead of looking back at them all, which we definitely considered doing, here's a handful of only the most vicious. 
How do you stop the best player alive? It's an unsolvable riddle. Basically, you need a seven footer who's light on his feet and active with great instincts. He can't be afraid to step out on an island and maintain aggressiveness while Curry tries to dance free for the sliver of space he needs to get a shot off.
If we were in a laboratory trying to build the perfect answer, Towns would be it. This is fantastic news for a Timberwolves team that could very well be next in line once the Golden State Warriors are finished sitting on the throne.
---
---