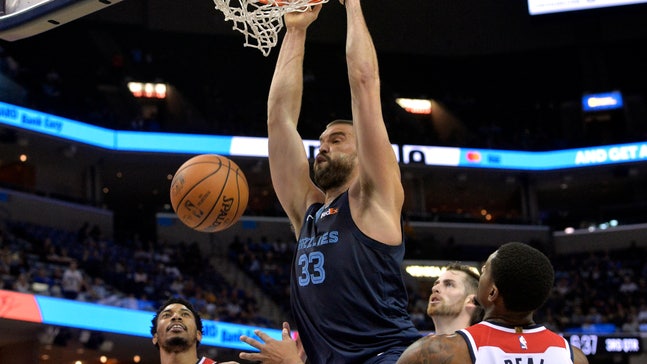 Temple, Gasol, Conley lead Grizzlies past Wizards 107-95
Updated
Mar. 4, 2020 9:55 p.m. ET
MEMPHIS, Tenn. (AP) — The road trip was really long and not very forgiving for the Washington Wizards, all the way through the closing game in Memphis.
With Washington on fumes to close out a five-game trip, the Grizzlies used 20 points from Garrett Temple to send the Wizards to their fourth straight loss with a 107-95 victory on Tuesday night.
"We need to get off the road as fast as possible," said guard Bradley Beal, who finished with 17 points on 5-of-16 shooting.
Marc Gasol and Mike Conley added 19 points apiece for Memphis, Conley also finishing with seven assists. Shelvin Mack scored 14 points as the Grizzlies won their second straight and opened the season 3-0 at home.
John Wall led Washington with 22 points, while Kelly Oubre Jr. finished with 16 points and Otto Porter Jr. contributed 15.
An 18-1 run by Memphis to open the second half spelled the demise for Washington. Although there were times the Wizards made it interesting, even cutting the Memphis advantage to four points twice before the midway point of the fourth quarter, they could never overtake the Grizzlies.
Memphis maintained the lead with 3-point shooting down the stretch, converting four of their first five in the final frame.
"We didn't want to let (the Wizards) get their mojo back against us," said Temple, who scored five straight points after Washington got within four points the last time. "They've been struggling. We wanted to keep it like that and continue this streak that we've built at home."
Both teams shot well from outside the arc: Memphis converting 13 of 28; Washington 14 of 35. Memphis outscored Washington in the paint 44-30.
"We feel like we have guys that can contribute up and down our lineup," Memphis coach J.B. Bickerstaff said. "It's a long season and, at some point in time, everybody is going to get a shot at it."
But the unsuccessful road trip is weighing on the Wizards. There were indications that players are losing patience with each other.
"There's a little frustration," Wall said. "This isn't the point where we wanted to be."
"It's not pretty. It's not perfect. Everyone is antsy and frustrated, and nobody is more frustrated than we are in this locker room," Beal added.
Washington coach Scott Brooks agreed that things are tense, but that it's too early to panic.
"We just started seven games ago. We've got 75 more games," he said. "They say it's a marathon, and it is. We all know that if you've been in this league for a long time. It's a grinding season."
TIP-INS
Wizards: Starting F Markieff Morris sat out the game while in concussion protocol. Dwight Howard continued to rehab gluteal soreness. ... Washington's five-game road trip stretched over nine days. The five games are the longest stretch of the season away from home. ... Washington had lost its previous three games by an average of 19.2 points. ... Beal was held under 20 points for the first time this season. ... Were held under 100 points for the first time this season. Wall, who entered the game shooting 12 percent (3 of 25) from outside the arc, was 4 of 7 from 3-point range.
Grizzlies: Hold a 24-20 series record over the Wizards — one of only four teams in which Memphis holds a winning advantage (Clippers, Magic, Raptors). Memphis currently is 22-22 all-time against Philadelphia. ... The 3-0 home start is the third straight year Memphis won its opening three home games. . Kyle Anderson had 11 rebounds.
FOR THE DEFENSE
Memphis, which entered the game near the top of the league in steals at 9.8, had 16 against the Wizards, including five by Gasol and four by Anderson. Meanwhile, the Grizzlies committed 17 turnovers compared to 20 for the Wizards. Memphis has had fewer turnovers than its opponents in every game this season.
UP NEXT
Wizards: Return home to play Oklahoma City on Friday
Grizzlies: Travel to Utah to face the Jazz on Friday
---
---