Robert Covington
Robert Covington
Spurs-76ers Preview
Published
Dec. 7, 2015 4:44 p.m. ET

Boris Diaw says that the San Antonio Spurs' bench is capable of producing based on the matchup.
Such an opportunity figures to be present Monday night with Kawhi Leonard sitting out for the Spurs as they visit the league-worst Philadelphia 76ers, who could welcome back Jahlil Okafor from his suspension.
The Spurs have said via their Twitter account that Leonard will not play due to gastroenteritis. The only other game he's missed was a 92-83 home win over the 76ers (1-20) on Nov. 14, when the team's leading scorer was rested along with Manu Ginobili.
San Antonio (17-4) scored a season-high 54 bench points in Saturday's 108-105 home win over Boston. Diaw scored a season-best 16 and Ginobili chipped in with 15 in the Spurs' seventh win in eight games.
"Sometimes scoring is going to come from the bench, sometimes more from the starters, most likely more from the starters," Diaw said. "There are some nights where the bench get a mismatch or the bench is feeling good offensively."
San Antonio's bench averages 34.4 points.
The Spurs have won nine straight in this series that pits coach Gregg Popovich against former San Antonio assistant and Philadelphia coach Brett Brown.
It's entirely possible Popovich may take it easy on his friend by resting key players besides Leonard. Tony Parker has sat out two of the last four meetings, and Tim Duncan has not played in San Antonio's last two visits to Philadelphia.
There's not much buzz to see the league's second-best team face the worst, with tickets on the resale market selling online for as low as $9 on Sunday. Any intrigue for home fans will be about Okafor's potential return.
The rookie center is eligible to return after his two-game club ban in the wake of the release of a second video provided details of his fight in Boston he hadn't revealed to the team. But he missed practice Sunday with an upper respiratory infection - as did guard Isaiah Canaan with a right ankle injury - and both are listed as questionable to face the Spurs.
Okafor leads all rookies with 17.2 points per game while Canaan is Philadelphia's third-leading scorer with an average of 11.7.
The 76ers posted their only victory in Okafor's last game, beating the Los Angeles Lakers 103-91 on Tuesday. They dropped both games since, getting outscored 12-4 over the final 3:12 of Saturday's 108-105 home defeat to Denver.
"This one definitely hurts, like most of them do,'' Noel said. "I think we definitely did have control the whole game. It's just the last 3, 4, 5 minutes that are the most crucial."
Philadelphia will present a different opponent from the last time it faced San Antonio since Robert Covington and Tony Wroten will play.
Covington was out with a knee injury for the November meeting. He is averaging 18.2 points in his last five games, with 18 and 10 rebounds Saturday.
Wroten had four points in 13 minutes in his first game since Jan. 13 after being out with a knee injury. The Sixers are limiting his playing time.
"You can see he adds a whole new burst to our program," Brown said. "How frustrating is that, you want to play him more but medically you can't."
Philadelphia averages a league-high 37.4 drives that contribute to its 18.7 turnovers per game for the league's worst mark.
San Antonio averages 352.9 passes for the league's highest mark.
---
---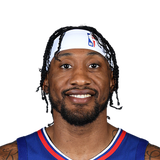 Get more from Robert Covington
Follow your favorites to get information about games, news and more
---