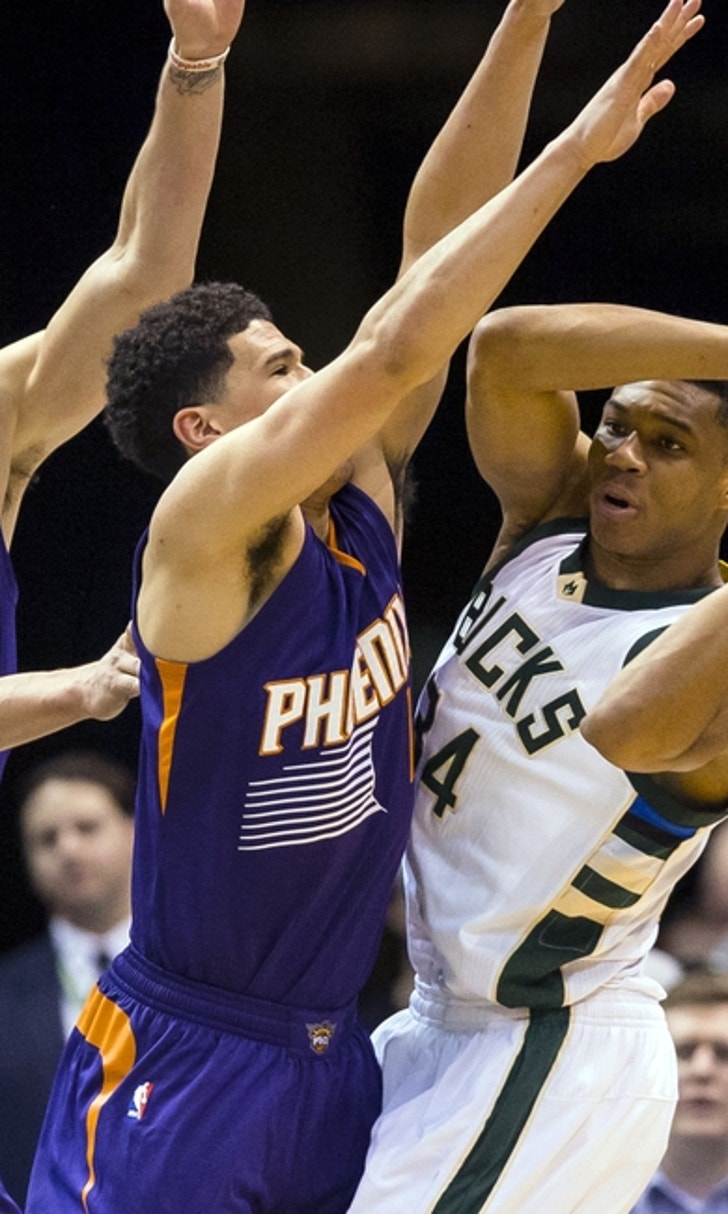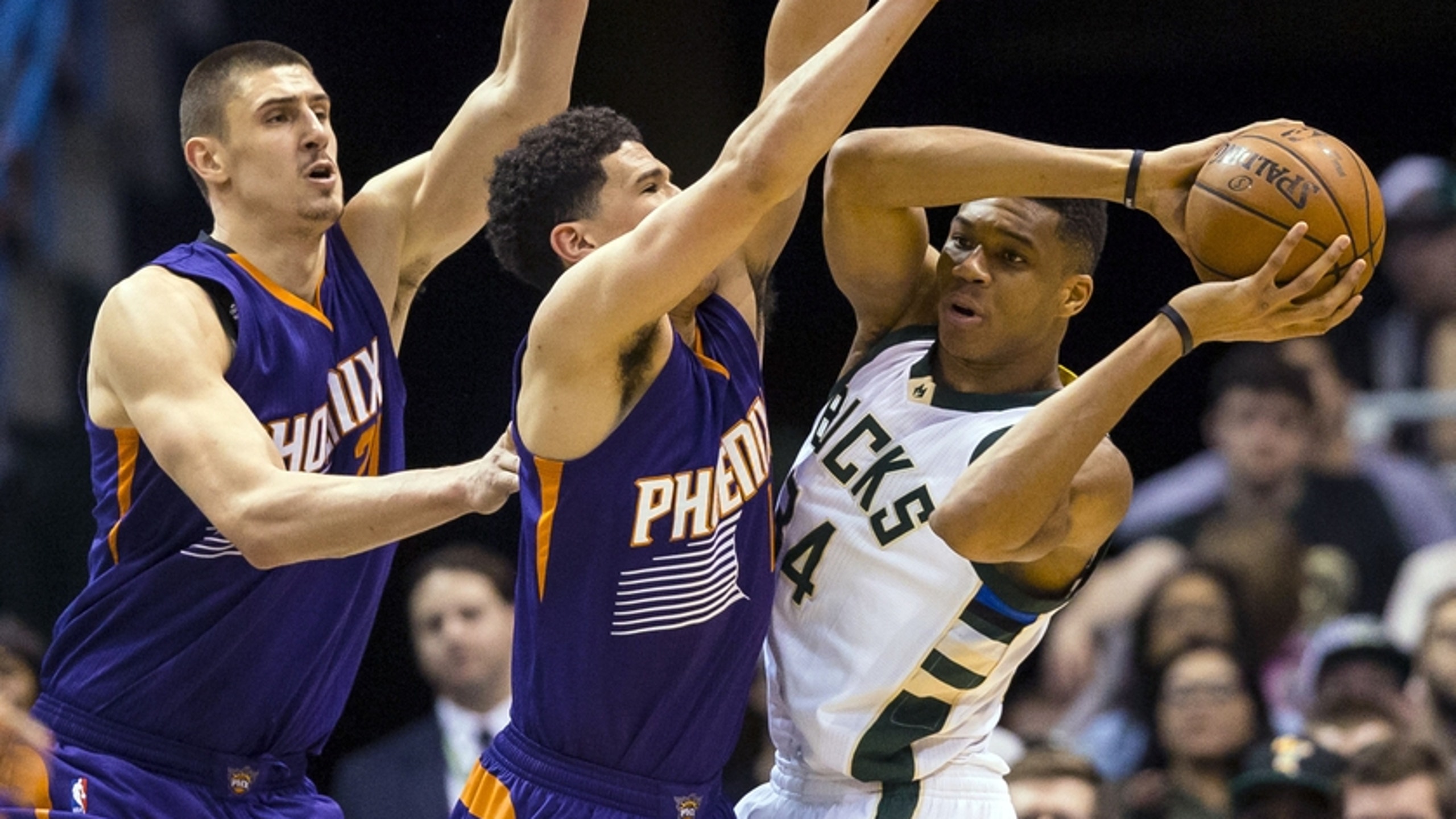 Six Stats About the 2016-17 Phoenix Suns You Won't Believe - Part One
BY Fansided and Adam Maynes/FanSided via Valley of the Suns • December 16, 2016
Dec 30, 2015; San Antonio, TX, USA; Phoenix Suns center Tyson Chandler (4) goes up for the dunk but is unable to finish against the San Antonio Spurs during the first half at AT&T Center. Mandatory Credit: Soobum Im-USA TODAY Sports
The Suns are Playing with their Quickest Pace Since 1990-91
According to Basketball-Reference, the Suns are currently 2nd in the NBA in Pace with 101.0 possessions per game equating to approximately 2.1 possessions per minute. The 2016-16 Phoenix Suns are the first Suns team to average over 100 in pace since Cotton Fitzsimmons's third season in his second stint as Suns head coach.
Today, the Suns scoring average of 106.5 points isn't bad, but a below average shooting percentage is holding Phoenix back from keeping up the scoring pace with the higher scoring teams in the league (more on that later).
What is so interesting about this particular statistics is that in 2016-17, the Suns are playing at a faster pace than even the Mike D'Antoni and Alvin Gentry Suns ever did, and they D'Antoni is often credited with revitalization of the league bringing a quick pace and high scoring back into a lackadaisical game.
For a statistical comparison, here is a look at those seasons pace stats:
Season – Poss. – Rank
2004-05 – 95.9 – 1
2005-06 – 95.8 – 1
2006-07 – 95.6 – 3
2007-08 – 96.7 – 4
2009-10 – 95.3 – 4
2010-11 – 94.4 – 7
2011-12 – 92.6 – 8
2016-17 – 101.0 – 2
Even at the height of the seven seconds of less era, with Steve Nash running the show and regularly leading the league in assists and the Suns regularly shooting at a torrid rate and for the most part leading the league in scoring and field goal percentage, those teams were never technically as quick as the current Suns team.
Granted, the opponent's pace plays a large role in the pace of any given offensive team as games against teams that regularly walk the ball up court are going to inherently slow the pace down even if the Suns wanted to push it.
Yet still imagine what Mike D'Antoni and Steve Nash could accomplish if they had had an extra six possessions every game.
Or, imagine if the 2016-17 Suns shot a better eFG%.
November 13, 2016; Oakland, CA, USA; Golden State Warriors guard Stephen Curry (30) is fouled by Phoenix Suns center Alex Len (21) during the second quarter at Oracle Arena. Mandatory Credit: Kyle Terada-USA TODAY Sports
The Suns are Allowing the Most Points Per Game Since 1985-86
The Mike D'Antoni-era has been much maligned as one with below average defense. Everyone knows that D'Antonio did not preach defense. Everyone knows that Steve Nash was about as effective a defender as a wet paper towel. Everybody knows that the short-lived Terry Porter experiment was to help add a strong defensive component to the Suns' high flying offensive capabilities.
Yet even those teams were not as bad as the current Suns, and these Suns are on pace to set franchise records that haven't been approached in nearly fifty years.
Entering training camp Earl Watson wanted to maintain a focus on defense this season. During camp he preached defense, defense, defense, and "not just the word defense. It's how to defend, how to attack with your hands and your forearms and your legs."
"We know for us to achieve something special, which we will, we have to be a really solid defensive team," Watson said.
So far in 2016-17, the defensive going has been tough and these Suns are on pace to set one of the top-5 worst defense scoring allowed marks in franchise history.
To date, the team's with the highest opponent scoring average are:
1. 1969-70 – 121.1
2. 1968-69 – 120.5
3. 1986-87 – 113.5
T-4. 1985-86 – 113.0
T-4. 1987-88 – 113.0 – (This is fascinating because 85-86 and 87-88 allowed the exact number of points, 9,268, on defense to give them each a 113.0 defensive scoring average).
5. 1972-73 – 112.9
For historical clarity, under the D'Antoni regime, the Suns allowed only:
2004-05 – 103.3
2005-06 – 102.8
2006-07 – 102.9
2007-08 – 105.0
Now as was discussed in the previous unbelievable fact about the 2016-17 Suns, the pace of the Suns is faster than they have been in years, and by contrast the pace of the league is faster as well. So, while looking at average points allowed in a game is a decent representation of defense, there are statistics that are equalizers for different eras in history. In this case, Defensive Rating or DRtg.
DRtg is the points allowed per 100 possessions, so for the sake of statistical enumeration it balances out incredibly high pace, with very low pace (thus potentially skewing the defensive points allowed) and focuses on scoring on a more level plain.
Here are the bottom ten DRtg teams in franchise history, plus the D'Antoni years for further recent reference.
1. 2008-09 – 111.6
2. 1987-88 – 111.4
3. 2010-11 – 110.4
4. 1994-95 – 110.4
5. 2009-10 – 110.2
6. 1995-96 – 110.0
7. 1986-87 – 110.3
8. 2016-17 – 109.7*
9. 1996-97 – 108.6
10. 1983-84 – 108.0
2004-05 – 107.1
2005-06 – 105.8
2006-07 – 106.4
2007-08 – 108.1
Once again, for all of the negative press that seven seconds or less received for their porous defense, even in regards to DRtg they are not even in the bottom ten in the franchise's history.
The big picture regarding the 2016-17 Suns is similar to the 2008-09 Suns who (at least for the first half of the season) were heavily focused on defense. The 08-09 team ended up having the worst DRtg in franchise history even with that original push towards defense, and the 2016-17 Suns are suffering a similar fate in that regard, currently sitting 8th in franchise history, less than two points per 100 possessions off of the 08-09 pace.
WHAT ARE YOUR THOUGHTS, VALLEY OF THE SUNS FANS?
LEAVE YOUR COMMENTS BELOW!
CHECK BACK TOMORROW FOR SIX STATS ABOUT THE 2016-17 SUNS YOU WON'T BELIEVE – PART 2
*All Statistics are courtesy of Basketball-Reference.com
More from Valley of the Suns
This article originally appeared on
---
---