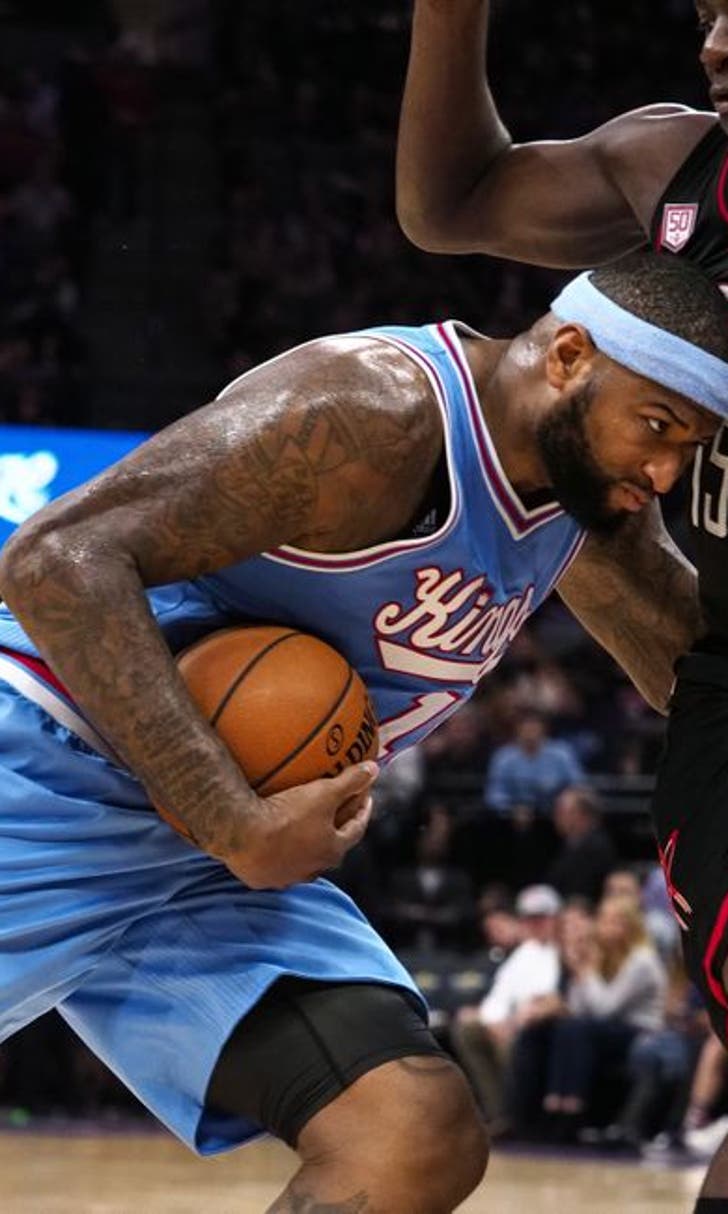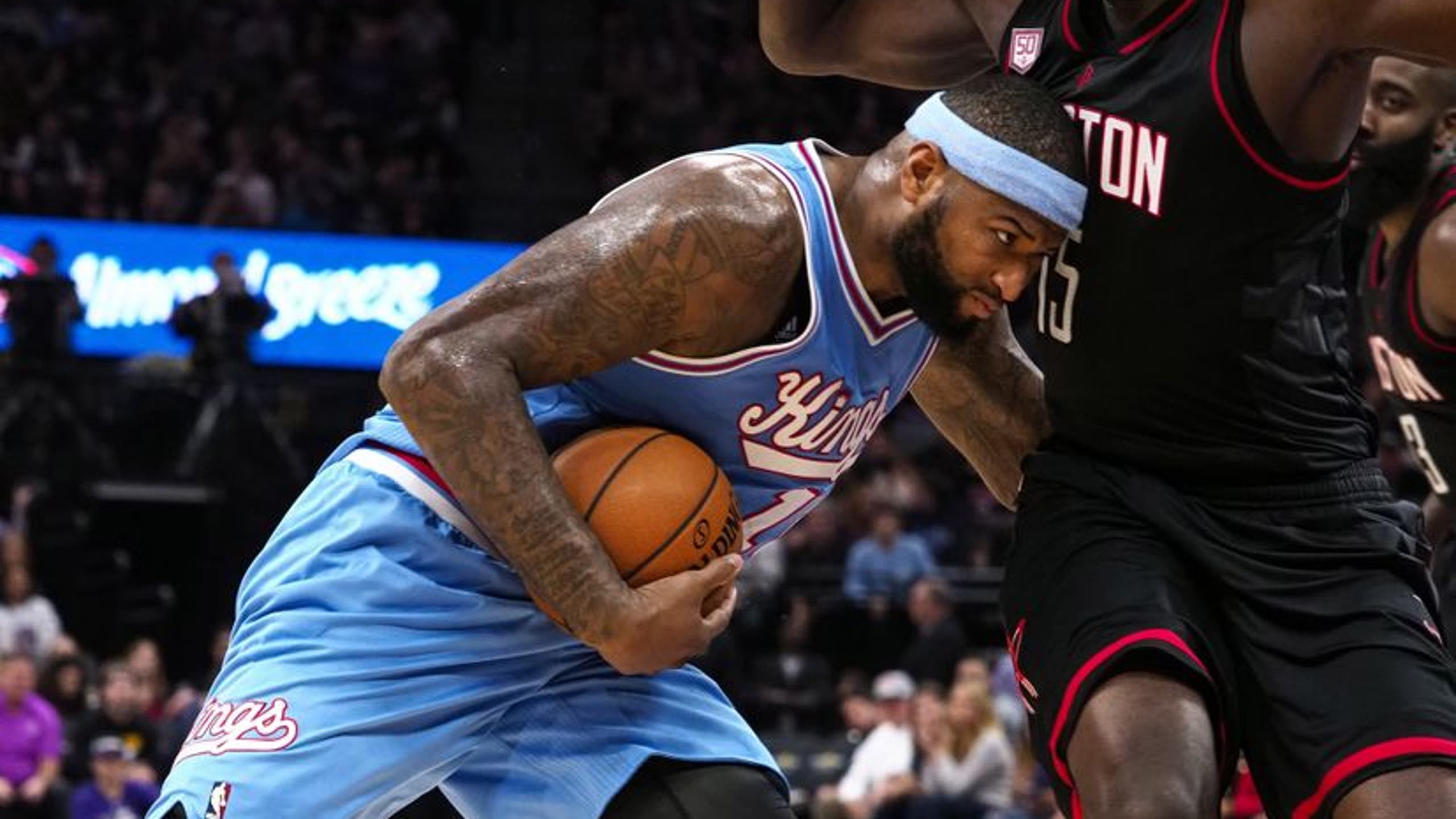 Sacramento Kings: Game 25 Preview at Houston Rockets
BY Fansided and Tyler Watts/FanSided via A Royal Pain • December 14, 2016
Nov 25, 2016; Sacramento, CA, USA; Sacramento Kings center DeMarcus Cousins (15) drives in against Houston Rockets center Clint Capela (15) during the fourth quarter at Golden 1 Center. The Rockets defeated the Kings 117-104. Mandatory Credit: Kelley L Cox-USA TODAY Sports
The Sacramento Kings head on the road for a contest against the Houston Rockets on December 14, 2016.  This article provides a preview of that contest for Sacramento Kings' fans.
The Houston Rockets and the Toyota Center play host to the Sacramento Kings tonight.  This is the second meeting between the two teams this season.  On November 25th, the Rockets came to Sacramento and defeated the Kings 117-104.  Below is a highlight video from that game to refresh your memory on the contest's happenings.
Without further ado, let us move on to the preview of tonight's contest between the Sacramento Kings and the Houston Rockets.
Nov 6, 2015; Sacramento, CA, USA; Sacramento Kings guard Ben McLemore (23) fouls Houston Rockets guard James Harden (13) on a double team with Sacramento Kings forward Rudy Gay (8) during the fourth quarter at Sleep Train Arena. The Houston Rockets defeated the Sacramento Kings 116-110. Mandatory Credit: Kelley L Cox-USA TODAY Sports
Injuries
The Sacramento Kings picked up two injuries in Monday's game against the Los Angeles Lakers.  Starters Rudy Gay and Ben McLemore both went down with injuries.  As of this writing, both players are listed as doubtful for tonight's contest.  Rudy Gay has a hip flexor strain and Ben McLemore is dealing with a quad contusion.  Let us hope both men have a speedy recovery before tipoff.
The Rockets have no reported injuries heading into tonight's contest.
Be sure to check twitter or watch the pregame show to see if the Kings have healed up or any late breaking news you need to know before tonight's game tips off.
Nov 25, 2016; Sacramento, CA, USA; Houston Rockets guard James Harden (13) controls the ball against the Sacramento Kings during the first quarter at Golden 1 Center. Mandatory Credit: Kelley L Cox-USA TODAY Sports
Houston Rockets' Scouting Report
The Houston Rockets have been one of the Western Conference's premier teams so far this season.  They have a record of 18 wins and 7 losses.  If the season ended today, Houston would have home-court advantage in their first-round playoff series.
The Rockets have been dynamite at home this season.  They have won 8 out of 10 home contests.   They have the NBA's 5th highest plus/minus at home.
The Rockets are led by the bearded wonder himself, James Harden.  Harden leads the NBA in assists averaging 11.6 per game and is 4th in scoring at 28.1 points per game.  He has started the season on pace to win the Most Valuable Player award.  He is the leader of the offense and will have the ball in his hands a ton, so be prepared to get your fill of Mister Harden tonight.
Last time out, the Rockets defeated the Brooklyn Nets 122-118 in Houston.  Below is a highlight video from that game so you can see the Rockets' current form.
Now, let us move on to what to watch for in tonight's game from a Kings' perspective.
Apr 1, 2015; Houston, TX, USA; Houston Rockets center Clint Capela (15) defends Sacramento Kings center DeMarcus Cousins (15) in the second half at Toyota Center. Rockets won 115 to 111. Mandatory Credit: Thomas B. Shea-USA TODAY Sports
What to Watch for?
Boogie-man Attacks
DeMarcus Cousins is averaging 21.5 field goal attempts per game so far this season.  Rudy Gay averages 14.6 and Ben McLemore averages 5.7, respectively.  That means 20.3 field goal attempts are available for the taking tonight and I bet DeMarcus Cousins is licking his chops to take his fair share.
I would not be surprised to see Cousins shoot the ball 30 times tonight and play 35 minutes or more.  You know that big minutes and high volume shooting leads to a big statistical line.  Expect Boogie to come to Houston with his knife and fork out ready to eat.
If you want to see the stat line I predicted for DeMarcus Cousins tonight or any other Kings' player, please check out my predicting the box score column found here.  It is a fast and easy read that I hope you will enjoy.  Thank you.
Rotation
More from A Royal Pain
If you have followed the Kings or my work this season you will know that Coach Joerger loves to throw us off his scent of who is going to play on any given night.  Now, he has the opportunity to really mess with the rotations with two current starters potentially sidelined with injuries.
My attention is drawn to Matt Barnes first.  He has "rested" in 2 of the last 3 Kings' games.  Now, he is 36 years young, so maybe he needs the rest, but there is more to this story.  Matt Barnes is potentially facing assault charges in New York.  I won't dive too deep into that topic other than to say that I am interested to see if Barnes is in the rotation tonight in Houston.
More minutes are still open and the Kings three rookies (Malachi Richardson, Georgios Papagiannis, and Skal Labissiere) were just recalled from the D-League.  I will be interested to see who gets the minutes tonight and how they perform in tonight's game.
Building a Winning Streak
The Sacramento Kings have not won two straight games since November 20th and 23rd.  They have not won more than two straight games all season long.  The Kings need a winning streak in the worst way and they have a chance to build it up to two consecutive wins tonight.
To make that happen, they are going to need to slow down James Harden and run the rest of the Rockets off the three-point line.  The Rockets are not a spectacular defensive team, so the Kings should score.  The game will be won on the defensive end of the floor for the Kings, but they need to come through in that area.
Nov 25, 2016; Sacramento, CA, USA; Houston Rockets guard James Harden (13) fouls Sacramento Kings guard Garrett Temple (17) on a loose ball foul during the fourth quarter at Golden 1 Center. The Rockets defeated the Kings 117-104. Mandatory Credit: Kelley L Cox-USA TODAY Sports
Summary
There you have it, my preview of tonight's Sacramento King's game against the Houston Rockets.  The Rockets play a fun high scoring brand of offense and struggle on the defensive end.  The recipe for a fan-friendly shootout game is all there.
Please tune in and root on the Kings tonight.  They played very well on Monday and need to build on that victory.  Here is to hoping, they come out victorious in tonight's contest.
Be sure to check back to A Royal Pain for postgame content and everything you need to know about the Kings this season.  Thank you for reading.
---
---