James Harden
James Harden
Rockets-Knicks Preview
Published
Nov. 28, 2015 4:36 p.m. ET

James Harden is coming off the NBA's highest-scoring performance of November, and it led to a rare Houston Rockets win. The total was more than double what he had last week against the New York Knicks, and not surprisingly, his team lost.
The Knicks were riding a lot of momentum after that matchup but have failed to post a victory since, so they'll certainly want to keep Harden in check again Sunday night when he brings the Rockets into Madison Square Garden.
Only Stephen Curry's 53-point outburst on Halloween has been better this season than what Harden produced Friday, when he scored 50 to come within one of a career high. Still, Houston only narrowly avoided an embarrassing defeat, dropping Philadelphia to 0-17 with a 116-114 victory.
The disappointing Rockets (6-10) have won all four games this season when Harden has surpassed 40 points. They're 6-2 when he scores at least 28, compared to 0-8 when he doesn't.
"He's gotta be aggressive, and he's gotta take what's there, but we can't count on him to score 50 points every night and win," coach J.B. Bickerstaff said. "That's just not sustainable. So we gotta do some things to help him. ... We have to do more to get everyone else involved as well."
It was the second win in nine games for Houston, and though it came against the woeful 76ers, Bickerstaff was encouraged his team didn't fold after blowing an 11-point lead in the fourth quarter.
"In past situations this year, we didn't handle those situations well," said Bickerstaff, who is 2-3 since taking over for the fired Kevin McHale. "There's a growing belief in that locker room that they can do the things that they need to do to win."
Still, they've yet to prove they can win without Harden having a big night. He was limited to 24 points in last Saturday's 107-102 home loss to New York (8-9), which sent him to the free-throw line only five times. Harden leads the NBA with 11.7 attempts per game and is near the top in accuracy at 88.2 percent.
Rookie Kristaps Porzingis also scored 24 that night while grabbing 14 rebounds and blocking seven shots, leading New York to a fourth consecutive victory. A three-game losing streak has followed, with the No. 4 overall pick failing to be as effective offensively. He shot 10 of 31 from the field in the first two defeats, then was limited to 24 minutes due to foul trouble Friday and scored only 11.
Carmelo Anthony also was held to 11, and no other Knick scored that many in their 97-78 home loss to Miami.
"I don't know what's missing, but we need to figure it out," Anthony said. "To drop three after we've been playing so well, we got a reality check and we gotta figure it out on our own. Nobody else is gonna help us figure it out."
New York ranks last in the NBA in shooting at 41.1 percent after hitting 35.7 during the skid, including top reserve Langston Galloway going 4 for 23.
The Knicks halted an 11-game losing streak in the series last week, and it was just their second victory in the past 21 meetings. The other came at MSG on Jan. 26, 2009, and Houston has since won five straight there.
Anthony has totaled 28 points in his last two matchups with the Rockets.
"This should be a must-win for us coming in on Sunday," Anthony said. "... We just gotta do a collective effort to stop (Harden)."
---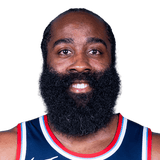 Get more from James Harden
Follow your favorites to get information about games, news and more
---