James Harden
James Harden
Rockets aim for season sweep of Mavs (Dec 27, 2016)
Published
Dec. 27, 2016 3:14 a.m. ET

The last time the Houston Rockets swept a season series from the Dallas Mavericks, Dirk Nowitzki was 19 years old and playing for DJK Wurzburg in Germany.
The first three times Houston beat Dallas this season, Nowitzki did not play.
It is uncertain if Nowitzki will play Tuesday when the Rockets visit the Mavericks and attempt their first season sweep of their divisional rivals since the 1997-98 season.
"I don't know," Dallas coach Rick Carlisle said Monday of Nowitzki's status. "We'll know (Tuesday). That's all I can tell you right now."
Nowitzki has appeared in only seven games this season due to a strained right Achilles strain. He missed eight games with the injury Nov. 6-21 before playing a combined 47 minutes Nov. 23 and Nov. 25. Nowitzki then missed 14 more games before returning Friday for Dallas' 90-88 win against the Los Angeles Clippers.
The 38-year-old scored 16 points Friday while playing only in the first half. On Monday in New Orleans, Nowitzki scored 10 points in 17 minutes and also only played the first half in a 111-104 loss.
With or without Nowitzki, the Tuesday meeting is the 16th game against a team over .500 for the Mavericks, who dropped their first 14 games against winning teams before Friday. After Tuesday, nine of the Mavericks' next 10 games will be against losing teams
"Our schedule between November and December has been a beast," Nowitzki said. "We've had the toughest schedule, I'm sure. The good thing is, once you get through the stretch, January is probably the easiest month out of all of them. We have multiple two-day breaks ... so we just have to get through (this) stretch. We'll fight through it."
Houston's attempt to get its first season sweep of the Mavericks since the tail end of the Hakeem Olajuwon and Charles Barkley era is part of its recent momentum swing in the series. The Rockets are 9-3 in their past 12 meetings with Dallas after losing 16 of 19 meetings.
In the first meeting this season, James Harden scored 26 points in a 106-98 win at Dallas on Oct. 28 when Nowitzki sat out with a stomach ailment. On Oct. 30, Harden made a free throw with 0.1 seconds left and scored 28 points in a 93-92 win when Nowitzki was sidelined due to the lingering effects of the stomach ailment and a sore Achilles tendon that became more significant than Dallas anticipated.
The teams last met Dec. 10 in Houston. Harden scored 18 points and handed out 16 assists in a 109-87 rout, which was the sixth win in Houston's recent 10-game winning streak. It also was the fifth straight time Houston held Dallas under 100 points, something it had not done since the last three meetings of the 1997-98 season and the first two of the lockout-shortened 1999 campaign.
Overall Houston is 12-2 in its past 14 games. The Rockets (23-9) saw their 10-game winning streak end on Dec. 20 with a 102-100 home loss to the San Antonio Spurs and are 2-1 since.
The Rockets' two most recent wins were against the Phoenix Suns. On Monday, Harden posted his 24th double-double of the season with 32 points and 12 assists in a 131-115 home win over Phoenix. The Rockets never trailed and led by as many as 34 points.
It was Harden's ninth game with 30 points and 10 assists, and it came on a night when the Rockets shot at least 50 percent for the ninth time, reached 120 points for the 11th time and made at least 15 3-pointers for the 18th time.
Although the Rockets wound up allowing 115 points, most of the comments about their latest win centered on a defense that held the Suns to 42.6 percent shooting and forced 19 turnovers.
"Defense led to some easy buckets offensively," Harden said. "That's every game, so it's a matter if we can get stops. If we do (and) rebound the basketball, our shots become easier."
Houston forward Trevor Ariza said, "When we put effort and energy into both sides of the ball, we can be a really good team. It showed tonight, and we've just got to continue to do those things."
Montrezl Harrell started at center while the Rockets wait for Clint Capela to return from a fractured left fibula. Harrell scored 14 points and is averaging 15 points on 20-of-28 shooting in three starts for Capela, who is due to be back in action sometime in January.
The Rockets were without Patrick Beverley for the first two meetings with the Mavericks and may be without him Tuesday. Beverley exited the Monday game with a bruised left thigh and is considered a game-time decision. He will make the trip to Dallas.
---
---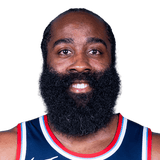 Get more from James Harden
Follow your favorites to get information about games, news and more
---