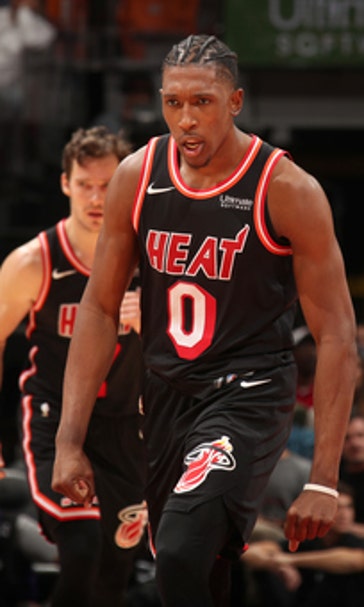 Richardson's career night lifts Heat past Hornets, 105-100 (Dec 01, 2017)
BY AP • December 2, 2017
MIAMI (AP) Miami erased a brutal start was by a big finish.
Josh Richardson scored a career-high 27 points, Dion Waiters added 19 and the Heat shook off a horrendous opening few minutes to beat the Charlotte Hornets 105-100 on Friday night.
The Heat went on a 9-0 run in the final moments to decide things, keyed by a 3-pointer from Waiters with 1:09 left for a 102-96 lead.
''We got the win, that's most important,'' Waiters said. ''But once we really figure this thing out, we know how good we can be - especially defensively.''
Miami missed its first 11 shots, six of them coming from 4 feet or closer, and got into a 16-1 deficit before the game was 5 1/2 minutes old. They outscored the Hornets by 20 the rest of the way, shooting 57 percent in the final 42 minutes.
Wayne Ellington scored 14 points, Tyler Johnson added 12 and Kelly Olynyk had 10 for Miami, which snapped a two-game slide.
Richardson was 11 for 14 from the field, which the Heat hope was a breakout. He's shot 20 percent or worse in six games this season, and was shooting 33 percent in his last eight games.
''You do have to credit J-Rich for his character, his competitiveness,'' Heat coach Erik Spoelstra said. ''Even while he's been struggling from the field, he's been an all-NBA defender. You can ask anybody that we've played. They would agree with that.''
Marvin Williams scored 16 points for Charlotte, which lost despite having seven players in double figures. Nicolas Batum had 13, while Michael Carter-Williams, Jeremy Lamb and Cody Zeller each had 12.
Charlotte fell to 1-10 on the road. The Hornets were 5 for 20 from 3-point range, while the Heat were 14 for 35.
''I thought our energy was good the whole game,'' Charlotte coach Steve Clifford said. ''I was pleased with that. When the other team makes nine more 3s it's going to be very hard to win.''
Both teams were missing key players. Charlotte's Kemba Walker sat for a second straight game with a left shoulder contusion, and Miami's Hassan Whiteside is expected to miss two weeks or more with his second left knee bone bruise of the season.
Goran Dragic's basket with 2:30 left put the Heat up for good at 97-96, and the Heat pulled just far enough away after a drive by James Johnson, the Waiters 3-pointer from near the Charlotte bench and Richardson's final field goal of the night.
''We got off to a hot start,'' Zeller said. ''We covered them for most of the game but just didn't make enough plays down the stretch.''
Richardson's steal and dunk gave Miami its first lead, 44-43 with 2:43 left in the first half. From there, neither team led by more than four until Miami's burst in the last 2 minutes.
TIP-INS
Hornets: Charlotte had all five starters in double figures for the third time this season. ... The Hornets have led after six first quarters on the road this season. They're 0-6 in those games. ... Dwight Howard and Michael Kidd-Gilchrist each scored 10 for Charlotte.
Heat: Richardson's previous career-best was 22. ... Shaquille O'Neal sat courtside. ... Miami has faced a double-digit deficit in three straight games. ... Miami is now .500 in many ways - 11-11 overall, 5-5 at home, 6-6 on the road, 7-7 vs. the East, 4-4 vs. the West.
HOWARD'S FOULS
It was the fifth time this season that Howard had at least five fouls - and he got them Friday in 17 minutes. No. 5 came four minutes into the third quarter, and he sat the rest of the way.
FOOTBALL TALK
Spoelstra was close with former Tennessee coach Butch Jones, and with coaching-change season in full swing he's watched the college football circuses at Florida State, Texas A&M and other places. He also confessed that he's enjoyed the comments of a certain first-year coach at nearby Florida Atlantic. ''It's hard not to follow Lane Kiffin,'' Spoelstra said. ''I wish I could be like that.''
UP NEXT
Hornets: Host Orlando on Monday, opening a four-game homestand.
Heat: Host Golden State on Sunday, looking to beat the Warriors in Miami for a second straight year.
---
For more NBA coverage: https://apnews.com/tag/NBAbasketball
---
---