Raptors-Wizards Preview
BY foxsports • January 7, 2016
A four-game win streak had the Washington Wizards at .500 and looking to climb out of the cellar in the Southeast Division before a few of the NBA's top defensive clubs stopped them in their tracks.
After one of their strongest efforts of the season still resulted in a loss against one of those teams, the Wizards get no respite from lockdown defenses Friday night in their second meeting with the Toronto Raptors in just over a week.
The Raptors (22-15), Miami and Cleveland each rank in the top four in fewest points allowed per game, and Washington (15-18) has lost to all three over its last four games - though two of the defeats are hard to comprehend in that context.
The string began with a 94-91 loss at Toronto on Dec. 30 in which the Wizards made 35 shots to the Raptors' 28 but were done in by 32 points they gave up on free throws.
Sunday's 97-75 loss to the Heat was easy to explain since Washington scored its season low, eclipsing an 84-82 home loss to Toronto on Nov. 28, and shot a season-worst 13.8 percent (4 for 29) from 3-point range. The Wizards then bounced back with an outstanding effort against the Cavaliers that was wasted in a 121-115 loss Wednesday.
They did everything right on offense against a team surrendering an average of 95.3 points, posting season bests in field-goal (55.3) and 3-point (58.3) percentage, assisting on 31 of 42 field goals and setting the tempo with a 22-5 edge on the break.
Garret Temple had 21 points to lead six players in double figures and John Wall added 20 with 12 assists after snapping his eight-game streak of at least 11 assists with five against Miami. In the end, though, Washington had no answer for Kyrie Irving, who scored 21 of his season-high 32 points in the fourth quarter.
"We did a bad job of knowing personnel in certain spots of who we wanted to shoot the ball," forward Jared Dudley said. "I thought we scored enough to win the game. ... Overall, not enough stops to win."
Poor play in the second quarter was again a major factor. Cleveland had a 38-24 scoring edge in the period and Toronto's was 24-14, but Miami's was the worst at 25-7 - which didn't even mark the fewest points Washington has scored in a quarter this season. It had six in the fourth of a 101-87 loss at Charlotte on Nov. 25.
The good news is that Nene returned from a 19-game absence because of a strained left calf and Gary Neal was back after missing five with a strained right quadriceps. Kris Humphries sat out with a sore knee but should face the Raptors.
Having Nene and Humphries should help after Toronto owned a 55-44 rebounding edge Dec. 30, including 15 on the offensive glass that contributed to a 21-6 advantage in second-chance points.
The Raptors had allowed an average of 118.5 points in losses to Chicago and Cleveland before bouncing back with a 91-74 win at Brooklyn on Wednesday that marked their season low for points allowed.
Despite shooting 4 for 22 from 3-point range, they won their first game without DeMarre Carroll, who will be out a while after having arthroscopic right knee surgery.
"We're going to have games where we're not going to be able to score," said guard DeMar DeRozan, who had 15 points. "We've got to understand we've got to be able to win games in the 80s and keep teams, like tonight, in the low-70s, high-70s."
---
---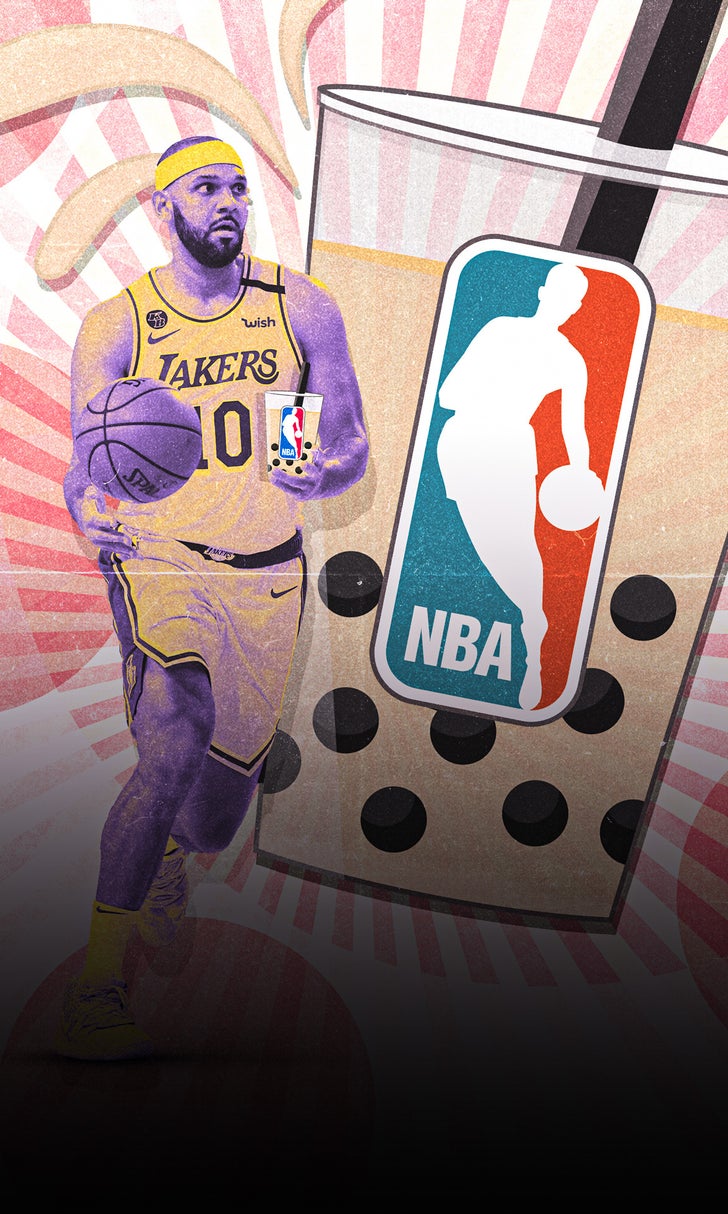 National Basketball Association
Bubble Tea
Bubble Tea
In his new book, Jared Dudley revealed that the Lakers took some extra motivation from Paul George's comments in the bubble.