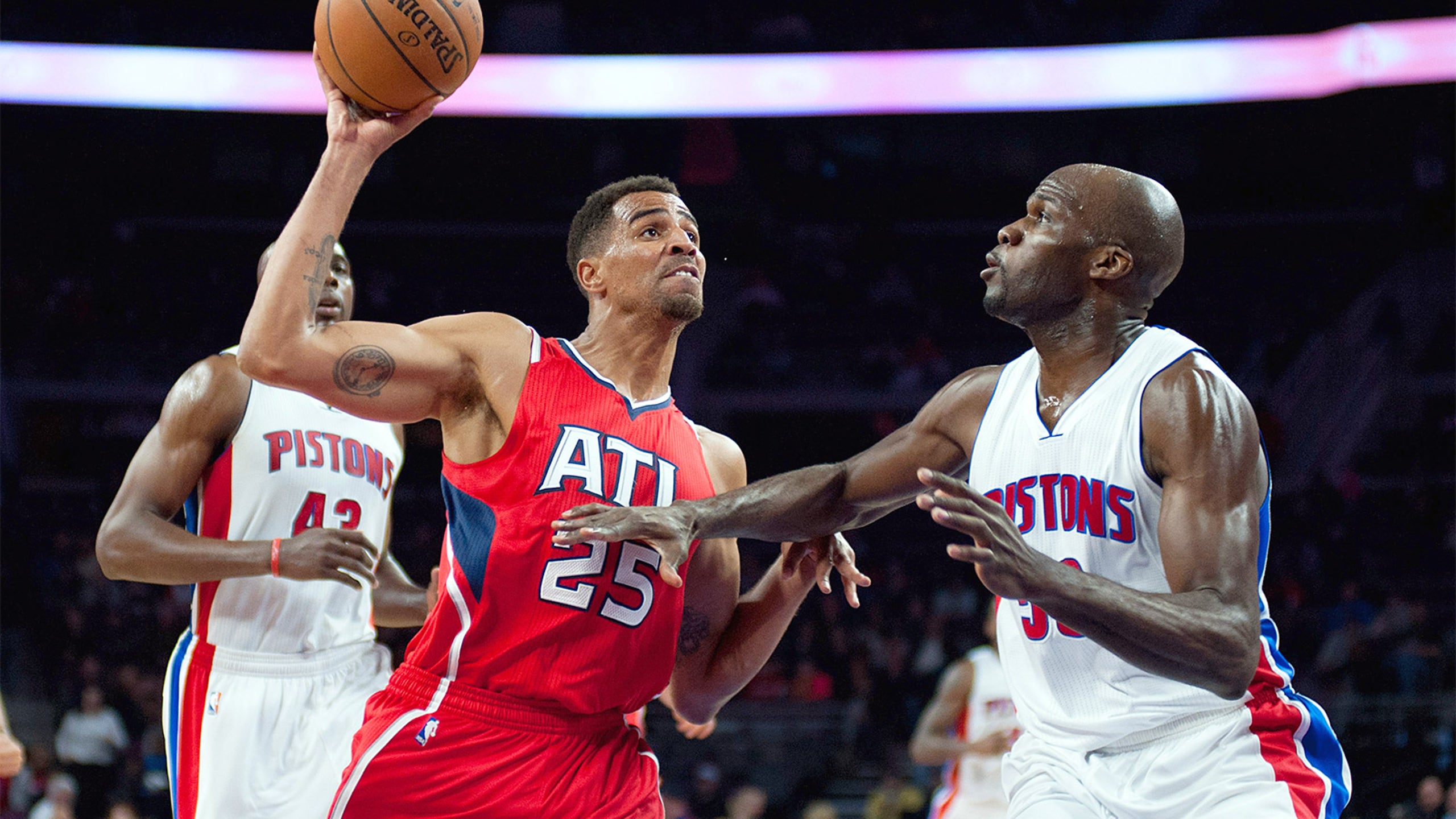 Pistons-Hawks Preview
BY foxsports • December 22, 2015
Thanks to an unlikely source, the Atlanta Hawks' offense is thriving.
Dennis Schroder looks to help the Hawks to a fifth straight victory Wednesday night when they host a Detroit Pistons team seeking a fourth win in a row.
After averaging 86.7 points on 40.5 percent shooting during a three-game losing streak, Atlanta (18-12) is at 111.3 points per game and 51.4 percent shooting in its last four.
''It's been a while since we have been streaking,'' Kent Bazemore said after Monday's 106-97 win over short-handed Portland. ''We had a little rough patch there.''
Bazemore was one of six Hawks to score in double figures with Schroder leading the way with 18. Schroder made 7 of 10 shots and showed some resiliency by playing on after getting a tooth knocked out.
The tooth came out after Schroder's mouth collided with Meyers Leonard's knee. He then casually picked it up off the court and slipped it in his sock.
''I thought the competitiveness and the toughness, you could feel,'' coach Mike Budenholzer said.
Schroder has spurred Atlanta's winning streak, shooting 55.5 percent and draining 7 of 13 3-pointers. Among the players that have averaged at least 20 minutes since last Wednesday, only Klay Thompson and Stephen Curry have a higher offensive efficiency rating than Schroder's 126.9 points per 100 possessions. His season rating is at 105.5.
Three times in the last four games Schroder has scored at least 17 - the same number of times he reached that mark in his first 26 contests. One of those came in the season opener when he scored 20 against the Pistons, but Atlanta lost 106-94.
Detroit held a 59-40 rebounding advantage and limited the Hawks 29.6 percent shooting from 3-point range. Improving in those areas will be difficult for Atlanta seeing as the Pistons are third in rebounding at 47.6 per game and the Hawks are last in the league in rebounding differential at minus-5.0 per contest. Detroit also holds opponents to an average of 7.0 made 3-pointers per game for the league's fourth-best mark.
One advantage the Hawks have is the Pistons are playing the second of a back-to-back and had to work hard in the first one.
Detroit (17-12) rallied from 18 down Tuesday to beat Miami 93-92 for a third straight win and ninth in 12 games. Steve Blake and Stanley Johnson each hit four 3-pointers for the Pistons, who went 15 of 29 from beyond the arc.
''I give our guys credit for fighting back to get in that game," Pistons coach Stan Van Gundy said. "I thought we played better defense in the second half."
Detroit has won three straight road games after dropping eight of its previous nine outside of Michigan but has been sluggish offensively in the second half of road back-to-backs. The short turnaround has seemed to catch up with the Pistons, as they're averaging 88.0 points on 39.9 percent shooting in losing all three of their second half of back-to-backs played on the road.
Reggie Jackson has been in the middle of the mess, shooting 33.3 percent and averaging 11.0 points - 9.4 less than his team-leading average.
Kentavious Caldwell-Pope hit a go-ahead jumper with 55.5 seconds left Tuesday and had a team-high 21 points against the Hawks two months ago. Andre Drummond had 18 points and 19 boards in that one and recorded his league-leading 25th double-double Tuesday.
---
---