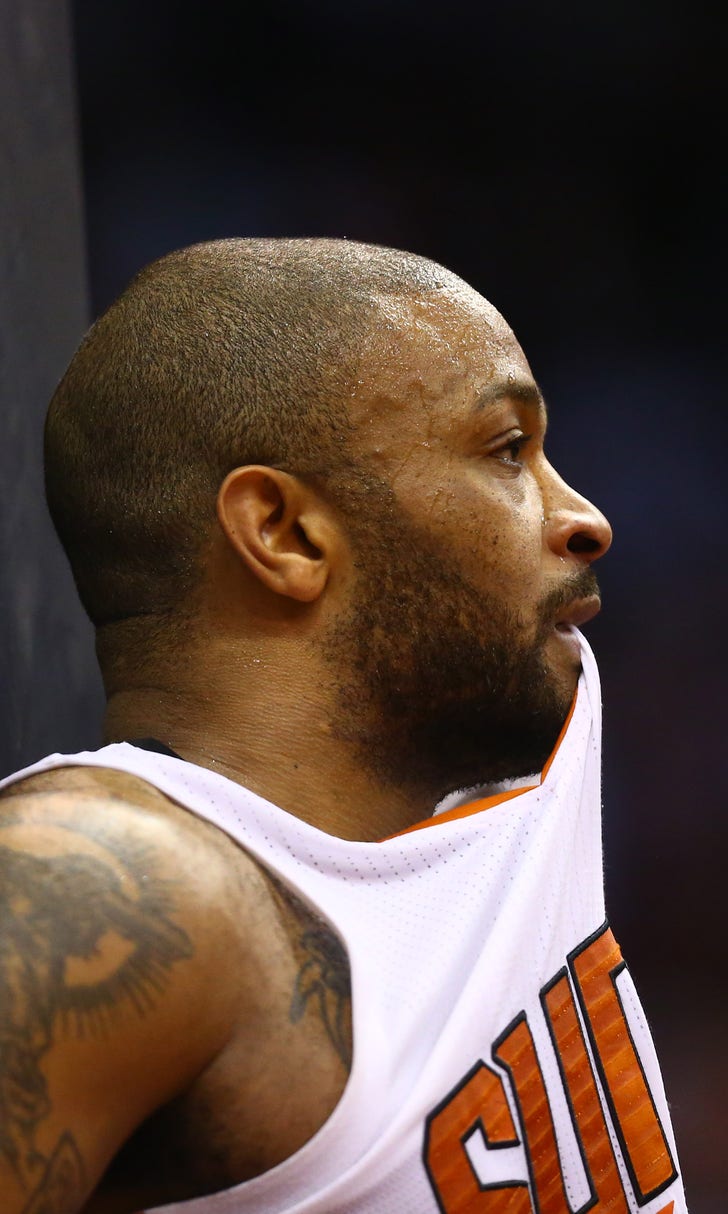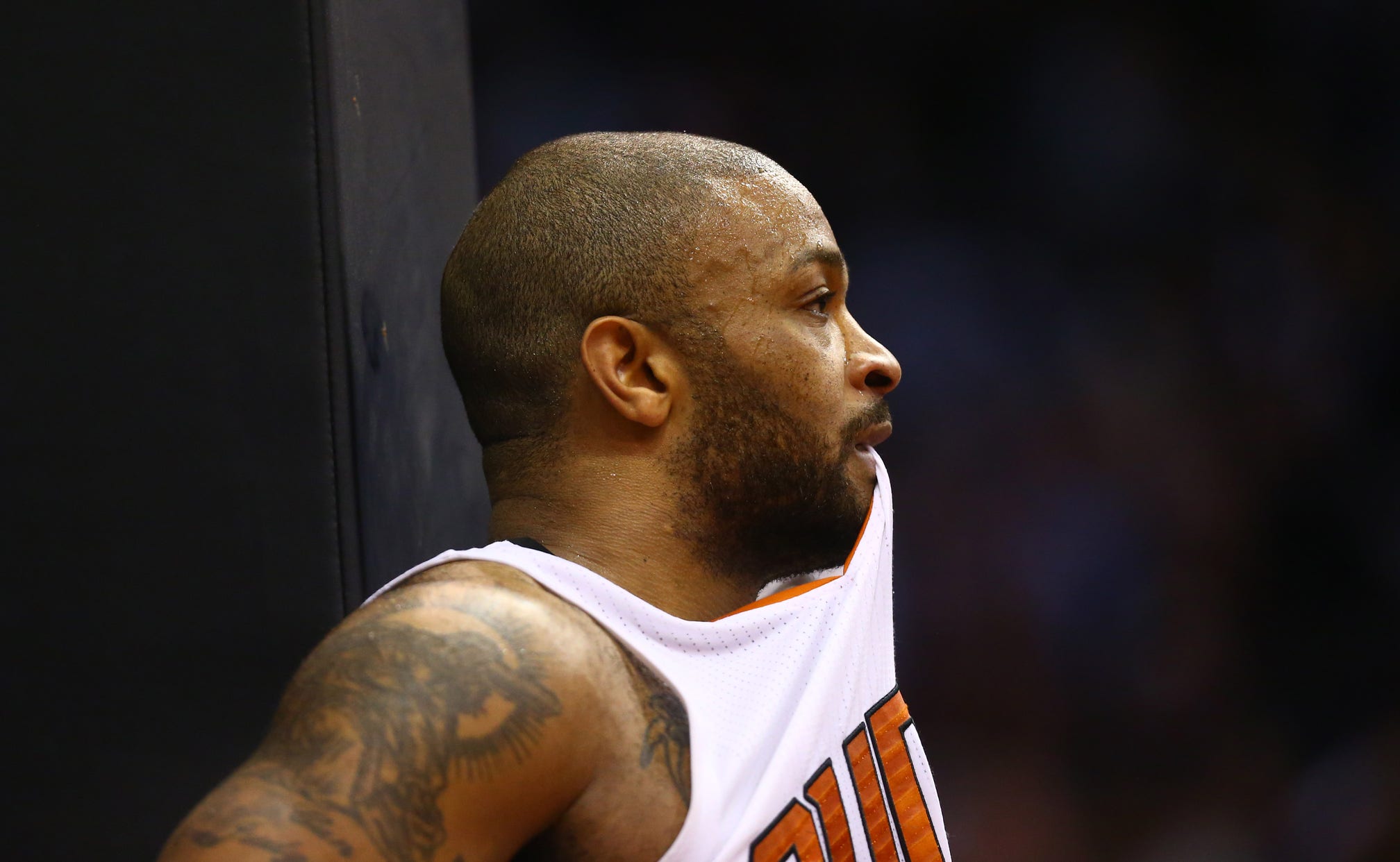 Phoenix Suns: Andrew Wiggins' Buzzer-Beating Wakeup Call
BY Fansided and Gerald Bourguet/FanSided via Hoops Habit • June 30, 2017
The Phoenix Suns' heartbreaking loss to the Minnesota Timberwolves should serve as a wakeup call for the direction this season needs to be heading in.
Six point three seconds. That's how close the Phoenix Suns were to a win that might have changed the course of their 2016-17 NBA season.
With one stop Tuesday night, the Suns would've won their sixth game in their last 10 tries, including three straight for the first time all season, pushing them that much closer to playoff contention.
It's ironic that the latest devastating game-winner to come at the expense of the Suns actually inched them closer to the path for future contention.
With 6.3 seconds on the clock and Phoenix clinging to a 111-110 lead courtesy of two P.J. Tucker free throws, the Suns were unable to get their stop. Andrew Wiggins caught the ball with Tucker guarding him, took a dribble to his right, lost his footing, and somehow recollected himself before rising up and knocking down the improbable game-winner.
Phoenix did everything right on that final possession. Great offense simply trumped good defense. It was all too indicative of the kind of season this Suns team is having as they lost to a fellow Western bottom-feeder despite riding so many of their veterans.
A loss in that kind of fashion might sting in a game where Devin Booker's fourth quarter explosion helped the Suns overcome a 14-point second half deficit and had Talking Stick Resort Arena loud and on its feet in a way that's rarely seen anymore.
It was commendable seeing Booker light the place up with 13 fourth quarter points. The same goes for Tyson Chandler putting up 20 points and 17 boards at age 34, Brandon Knight finishing with a rare +11 plus/minus, or Alex Len's 11 and 10 double-double in just 24 minutes off the bench.
But Wiggins' unlikely game-winner serves as a blessing in disguise for an incompetent, young team that needs to get out of its own way, especially once the trade deadline passes and the season enters its home stretch.
With the loss, Phoenix fell to 15-30 on the season — good for the worst record in the Western Conference and tied with the Miami Heat for the second-worst record in the NBA.
A win would've improved the Suns to 16-29, good for 13th place in the West and only the fifth-worst record in the league. But it's not just about obsessing over win percentage points in Tankathon 2017 on a game-by-game basis; no, this is about how one backbreaking defeat moved the Suns that much further from playoff contention and that much closer back into reality.
With the loss, the Suns are now 4.5 games out of a playoff spot. A win would've had them 3.5 games back of the Denver Nuggets for the West's eighth seed, and a win plus a Nuggets loss Tuesday night would've moved them within 2.5 games of a postseason berth.
For a franchise that hasn't been to the playoffs since 2010 and is dying to get back — while playing for a first-year head coach who is extremely competitive and trying to prove himself — a development like that would've been borderline disastrous for the Suns.
What's the big deal? is what you're probably wondering. So what if the Suns made the playoffs? It'd be great experience for the young core of Devin Booker, T.J. Warren, Dragan Bender and Marquese Chriss that Phoenix is trying to develop!
For starters, "playoff experience" doesn't really mean much when the head coach's go-to late-game lineups only include one or two of those four young players. You think Earl Watson riding Tyson Chandler and P.J. Tucker is annoying now? Just wait until a playoff series! In a four-game sweep at the hands of the Golden State Warriors or San Antonio Spurs, it's highly unlikely this group would learn much anyway.
This whole playoff scenario also operates under the assumption that the Suns would be okay with sacrificing a top lottery pick because their young core is good as is, which it absolutely is not. Keep in mind, the team's recent wins have come during a favorable stretch of schedule, with three of those victories coming over the lowly Dallas Mavericks, Miami Heat and imploding New York Knicks.
Two of the wins — Toronto Raptors and San Antonio Spurs — came against legitimate playoff teams, but one came against a Raptors team that's currently floundering in a four-game skid, and the other was a Mexico City game in which Booker tied a career-high 39 points.
The Suns showing signs of progress is great, but they're not substantial enough to think this team has "fixed" itself.
Booker has the makings of a franchise superstar, but he's a woeful defender. Tyler Ulis might be a backup point guard at best in this league, Alex Len is facing restricted free agency this summer and hasn't taken over the starting job from a 34-year-old veteran, and Dragan Bender and Marquese Chriss are still frontcourt projects as teenagers.
It'll be years before a three-man core of Booker, Chriss and Bender is ready to compete, and those are the only players the Suns can assume will still be part of the core by then, given the steady but slow progress we've seen from Len, Warren and Ulis lately.
Following that line of thinking, it makes sense for a team that currently ranks 20th in offensive rating and 24th in defensive rating to call this season what it is. Let it play itself out to the tune of a top-three draft pick.
Don't forget, the Suns have never won a championship, nor have they ever earned the No. 1 overall pick. In a draft class that's littered with legitimate franchise-changing guards, wouldn't it make sense to draft a point guard or a wing of the future to pair with such a promising young core that's on a different timeline from Eric Bledsoe and Brandon Knight?
In normal years, a 15-30 record would have the Suns nowhere near a playoff spot. With the bottom of the Western playoff picture as ugly as it is, Phoenix still somehow has a chance, and for a general manager whose first season featured a 48-win team somehow missing the postseason, it might be tempting to chase after the first playoff appearance of his tenure.
But just because the stars have suddenly aligned for the eighth seed doesn't mean the Suns should be the team to pounce on it. As entertaining as Phoenix's games have been over the last week or so, it's hard to ignore when Dragan Bender doesn't get a single minute in a game where Marquese Chriss is in early foul trouble.
It's hard to ignore that Tyson Chandler and P.J. Tucker are playing 30 or more minutes a night in close losses when younger guys like Bender and Chriss — bad as they've been at times — could be getting just a little more run.
As the trade deadline approaches, it may seem heartless to cast off guys who have been playing so well lately, such as Brandon Knight, Tyson Chandler, P.J. Tucker or even Eric Bledsoe, who just scored a career-high 40 points in a win over Toronto.
But those players have tangible trade value and could really help legitimate playoff squads, while also bringing in young talent and future draft picks to aid a franchise that clearly needs to ride out this youth movement and rebuild the right way.
With their value so high at the moment, now is not the time to get sentimental over a roster that's on pace for 27 wins, and missing out on a potential franchise cornerstone just to chase meaningless wins and a first round playoff exit would be narrow-minded and extremely short-sighted.
After the Timberwolves game, Alex Len admitted the team regularly checks the standings. Thanks to Andrew Wiggins' buzzer-beater, hopefully everyone in that locker room can see just how far away the playoffs are, and if they can, a quick look over the stat sheet should show it's time to start pouring more minutes into the younger players' totals.
Unfortunately, this message won't be heeded with a back-to-back against the Nuggets — the very team Phoenix is chasing in the standings — next on the schedule.
"We're taking steps forward, but we still have a long way to go," Booker said after the game. "We know these next two games are really important and we need to treat them like that. If we played every team like we're playing Golden State or Toronto, we'd be in pretty good shape."
Unfortunately, the Suns don't play every game that way, and probably won't for some time. Two losses against the Nuggets would close the book on Phoenix's playoff delusions. For a team that still has "a long way to go," that might be for the best.
No one is suggesting the Suns rest key players, completely blow up the roster or intentionally lose games. But the Suns are already losing games while riding the starters; why not continue to ride that wave to a top-three pick, only while giving a few extra minutes to Bender, Chriss, Len and Ulis?
It may seem tempting to "do the noble thing" and chase after a playoff spot in the spirit of competition, but it's a fruitless endeavor that would end in a first round sweep, the loss of a more valuable draft pick, and very few lessons learned.
Similar "hot streaks" from the Mavs and Heat have prevented the Suns from losing ground in the tank race during this 5-5 run. It'd be a pity to let Wiggins' improbable game-winner not serve as a wakeup call about this team's true place during the 2016-17 NBA season, but until this crucial back-to-back against the Nuggets is over with, the lesson probably won't be heeded anyway.
More from Hoops Habit
This article originally appeared on
---
---