Danilo Gallinari
Danilo Gallinari
Pelicans-Nuggets Preview
Published
Dec. 19, 2015 9:59 p.m. ET

Coach Alvin Gentry and star forward Anthony Davis blasted the New Orleans Pelicans' latest effort, especially their listless defensive play.
The last-place Pelicans go for just their third road win this season Sunday night against the Denver Nuggets.
New Orleans (7-19) owns one of the league's worst records and has lost 13 of 15 road games.
The Pelicans dropped to 1-3 on this five-game trip with Friday's 104-88 defeat to Phoenix. They allowed the Suns to shoot 52.4 percent from the field, were outscored 52-34 in the paint and trailed by at least 10 points throughout the second half.
"Terrible, terrible, bad effort, not playing hard, not giving a damn," Gentry said. "That is the way I want to sum it up."
Davis, who had 16 points and 12 rebounds, shared in the frustration while highlighting a defense that gives up a league-worst 107.6 points per game.
"We can't have teams outhustle us to 50-50 balls, and we just act like we don't care," Davis said. "We just gotta go out there and play. We gotta have a way better effort to end this trip with a win and go back home to take care of business.
"We can't expect to win if we give up that many points in the paint ... and we're not playing defense."
That was also the theme in the first of three season meetings with Denver (11-15) on Nov. 17. The Pelicans lost 115-98, giving up 52.9 percent from the floor - 15 of 30 from 3-point range - and 46 points in the paint to lose for the fifth time in the last six matchups.
Davis didn't have a point in six minutes before leaving with a shoulder injury. He totaled 60 points over his last two meetings with the Nuggets, but those were at home. He averages just 12.3 points and 7.3 boards in three career games at Denver.
Eric Gordon had 19 points and six assists against the Nuggets last month. The guard, though, missed 9 of 11 from the floor and needed to sink 9 of 11 free throws to finish with 15 points Friday.
The Nuggets had their season high-tying three-game win streak snapped with a 97-88 loss at Utah on Friday.
"They closed the game on a 20-8 run. Too many turnovers down the stretch, poor offensive possessions and we didn't get the stops that we needed," coach Michael Malone said. "Simple as that."
Denver's success has been simplified through its offense. The team is 11-3 when scoring at least 100 points and 0-12 when it's held below the century mark.
That trend has been obvious in the last seven games, with the Nuggets scoring at least 106 points in five victories while mustering 88 and 74, respectively, in the losses.
Success from beyond the arc is another indicator of their success. They're hitting 41.3 percent from long range in victories this season compared to 27.6 in defeats.
Danilo Gallinari, the team leader with 17.3 points per game, is a major culprit. The forward connects on 46.4 percent of his 3s and averages 21.1 points in wins while scoring 14.5 and making 27.9 percent from behind the arc in losses.
Gallinari was superb against the Pelicans last month, pouring in a season-high 32 points on 12-of-19 shooting and 5 of 8 from 3-point range.
---
---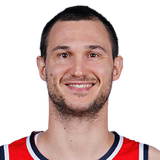 Get more from Danilo Gallinari
Follow your favorites to get information about games, news and more
---