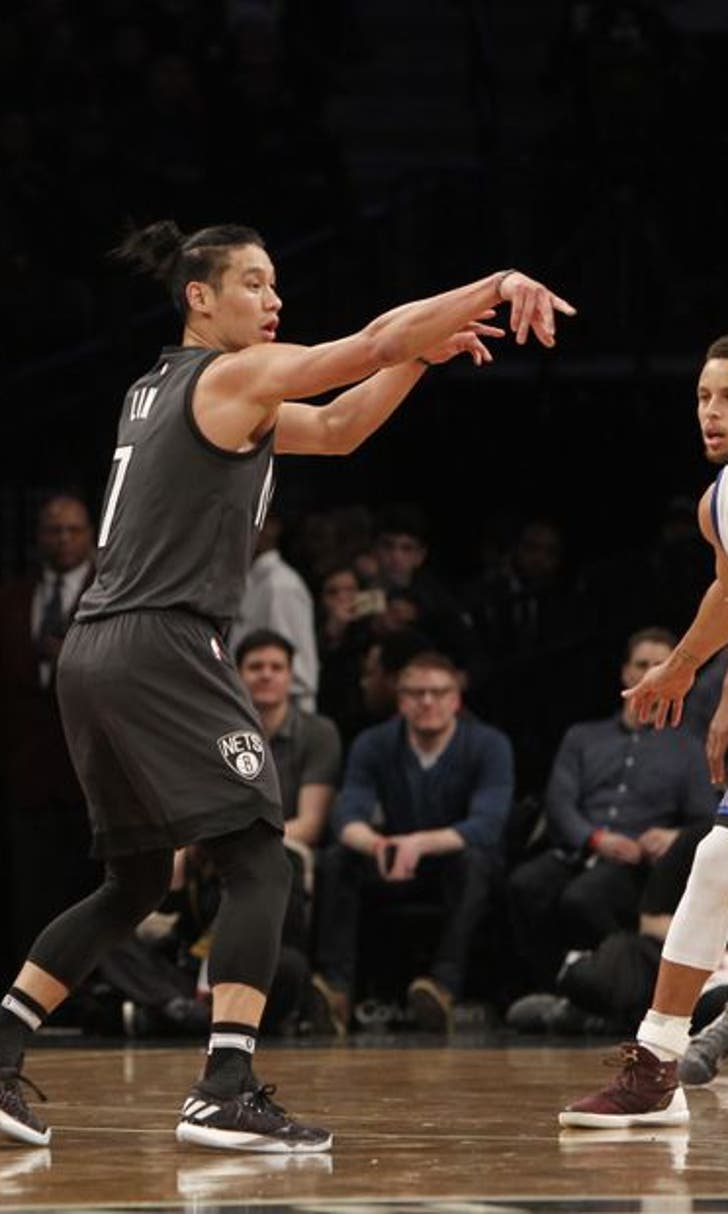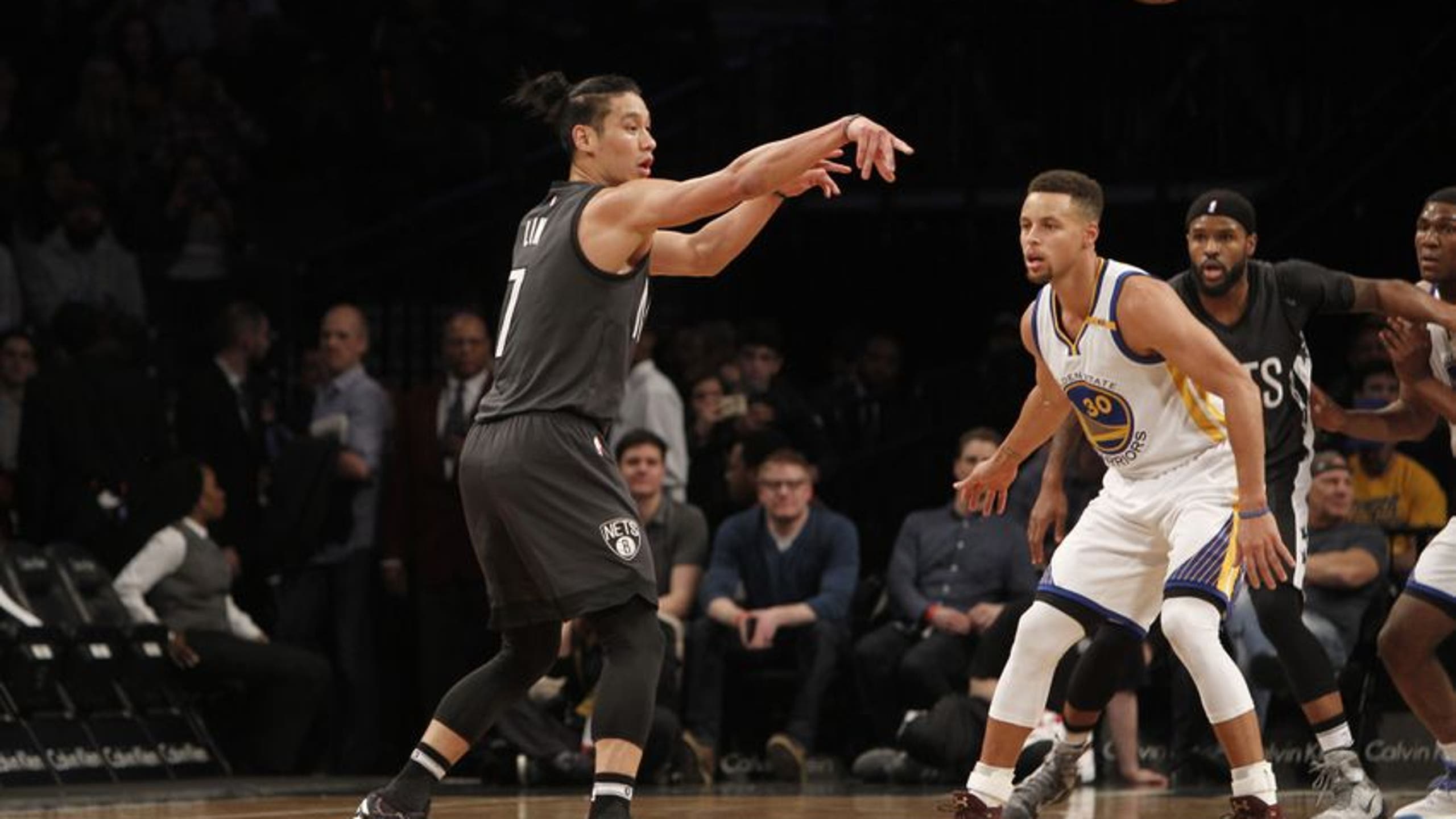 No Matter What, Nets Can't Seem to Stay Healthy
BY Fansided and Sandy Mui/FanSided via Nothin' But Nets • December 28, 2016
Dec 22, 2016; Brooklyn, NY, USA; Brooklyn Nets guard Jeremy Lin (7) passes the ball against Golden State Warriors guard Stephen Curry (30) during the first quarter at Barclays Center. Mandatory Credit: Nicole Sweet-USA TODAY Sports
The Brooklyn Nets have had major issues with keeping players healthy. From resting players to losing players to migraines, the Nets just haven't played enough games with a fully healthy unit so far this season.
Jeremy Lin is down once again for the Brooklyn Nets, only further illuminating the Nets' issues with health this year. While Lin has missed a lot of games with his first left strained hamstring, he is not the only Net who's been on the unhealthy form of inactive this season.
Want your voice heard? Join the Nothin' But Nets team!
Monday's game against the Hornets was the first game all season where all 15 Nets were healthy. That didn't last for long though, as Lin exited the game just four minutes into the third quarter and did not return.
More from Nothin' But Nets
Considering he suffered the same injury as the one just five games into the season, it won't be surprising at all if he's forced to miss the rest of the season.
Originally, Lin was re-evaluated two weeks after he suffered the first injury on November 2, but he ended up missing over a month of action. The Nets were quite cautious in handling his progress, as there was never any set timetable for his return (and there still isn't a timetable for his re-injured left hamstring). Now that he re-injured his left hamstring, it's only to be expected for the Nets to take extra precaution for Lin to come back in full swing, even if that's late into the new year.
From the very beginning, health has not been on the Nets' side. It all began just three games into the 2016-17 season.
Oct 28, 2016; Brooklyn, NY, USA; Brooklyn Nets guard Greivis Vasquez (21) and forward Luis Scola (4) react after leading in the fourth quarter against the Indiana Pacers during second half at Barclays Center. The Nets won 103-94.Mandatory Credit: Noah K. Murray-USA TODAY Sports
Where did it all go wrong?
By now, you might've forgotten about Greivis Vasquez, but he did play three games for the Nets before being released. And after suffering a string of injuries throughout his career, Vasquez was eager to come back and get a fresh start in Brooklyn. Vasquez said the following during the offseason, and you could really tell how excited he was to return to the court.
"I'm not done yet. I'm a vet that can produce," Vasquez told the Post. "Don't sleep on me. I work too hard to just be a regular guy that talks in the locker room. I bring leadership, but I'm also going to bring [production], and it's going to be on the court by playing hard, fouling somebody, hitting a big shot like I did when I was in Toronto."
It was upsetting to see his first and only year in Brooklyn come to an end so soon.
Vasquez went down on October 29 against the Bucks, and Lin followed just four days later. At the time, Vasquez and Lin were the only pure point guards on the Nets' roster, creating a ton of issues for who would start and play backup.
MUST READ: Chris McCullough Deserves Real Shot in Nets' Rotation
This led to bringing Yogi Ferrell up from the D-League and using Isaiah Whitehead and Sean Kilpatrick at the point. Ferrell played in 10 games for the Nets before being waived and rejoining the Long Island Nets.
On December 8, Brooklyn waived Ferrell and signed Spencer Dinwiddie, another pure point guard, making Lin and Dinwiddie the new pair of one guards on the team. Dinwiddie made his Nets debut on December 10 against the Rockets, one game before Lin's return.
Dinwiddie hasn't received significant minutes though, and with Lin out again, this could only spell more minutes for Whitehead and Kilpatrick.
This also spells more trouble for the Nets, as aside from Lin, they haven't exactly been healthy as a unit.
Dec 23, 2016; Cleveland, OH, USA; Brooklyn Nets center Justin Hamilton (41) drives to the basket during the second half against the Cleveland Cavaliers at Quicken Loans Arena. The Cavs won 119-99. Mandatory Credit: Ken Blaze-USA TODAY Sports
Resting Players, Health Issues Everywhere Else
Only three Nets have played in all 30 games this season, and the names may surprise you: Bojan Bogdanovic, Joe Harris, and Sean Kilpatrick. Bogdanovic and Kilpatrick may be the more obvious ones with both of them starting for the most part, but Harris is the more shocking case. However, the Nets announced that Harris is probable for tonight's game with a hip pointer.
The more frustrating ones on this list are all the times "rest" is mentioned — you'd think with Lopez resting for three games, he could hardly move, but he hasn't even cracked his 30s yet. Same with Booker, who just turned 29 last month.
Aside from all this resting though, it's clear the Nets could have players sidelined from anywhere on the spectrum: the flu, to a strained left hamstring. It's crazy that only 30 games of the NBA season have passed with how many health concerns have already plagued the team.
Needless to say, something's gotta give with this team's inability to stay healthy. And the clock will tick yet again as we all impatiently await Lin's second return.
---
---