National Basketball Association
National Basketball Association
No excuses for LeBron this season
Published
Feb. 23, 2010 12:00 a.m. ET

For years, people have been asking what the Cleveland Cavaliers could do for LeBron James.

Now, if you'll pardon a less than presidential paraphrase, it's time to ask what LeBron can do for the Cavs.

That's not to say he hasn't done a lot already. In late spring 2007, James delivered the franchise to a place it had never been, before or since – the NBA Finals. Looking back, one is well-advised to recall Game 5 of the Eastern Conference finals in which James scored the Cavaliers' last 25 points in a 109-107, double-overtime win in Detroit.

Never mind that the Pistons made their rep on defense; no one had ever scored as many consecutive points in a playoff game. It announced James as a player whose game might actually match his hype. Almost a decade after Michael Jordan's last appearance in the Finals, James seemed a legitimate heir, a possible successor even, to Jordan's "best-ever" title.

But three intervening seasons now feel like three decades, as evidenced by the fact Cleveland's opponents in the 2007 playoffs included the New Jersey Nets (yes, just what I thought, those very same Nets who had already spent years blathering about the move to Brooklyn). As it happened, San Antonio swept Cleveland in the Finals. Still, that shouldn't diminish James' accomplishment, as I cannot recall a weaker supporting cast making it to the championship round.

It is generally accepted that the least talented ensemble ever to win a title were the 1975 Golden State Warriors, who, after Rick Barry, started Jamaal Wilkes, Clifford Ray, Butch Beard and Charles Johnson. By contrast, Cleveland started James, Zydrunas Ilgauskas, Drew Gooden, Sasha Pavlovic and the inestimable Boobie Gibson in the Finals.

Looking back, it's a wonder San Antonio didn't sweep them in three.

Of course, people like me have spent the years since insisting that James – now in his seventh pro season – has absolutely nothing around him.

Meanwhile, the general manager, Danny Ferry, keeps adding players. Tonight against the Hornets,  James' fellow starters will include Shaquille O'Neal, Antawn Jamison, Mo Williams and Anthony Parker – a future Hall of Famer and two other former All-Stars. Delonte West and Anderson Varejao come off the bench. Leon Powe will soon come back from injury. And Ilgauskas is expected to return from salary cap limbo. Not only does this roster give the Cavaliers more of a defensive presence than ever, but they're also excellent from long distance, trailing the league's best three-point shooting team, Phoenix, by just two-tenths of a percent.

In other words, this one, this season, is on LeBron James.

I'm not arguing his legacy depends on the Cavs beating a team I presume to be the Lakers. But I am saying he needs to come away from the Finals with three or four wins. If not, what was all the fuss about?

This is the most intensely coveted player of all time. Teams like the Knicks have devoted almost three seasons to the sole purpose of freeing cap space to woo James. It's an embarrassing state of affairs for the league. Still, you wonder: Who gives him a better chance to win than his hometown Cavaliers?

"We're a no-excuse team," he said after a controversial non-call three years ago in the Detroit series. He said the same thing leading up to the 2008 Olympics, "We got to be a 'no-excuse' team." The theme doesn't change now.

For the first time in a couple of seasons, the Cavs have lost three in a row. Obviously, this has more to do with integrating Jamison than with James, who's only averaging 33 points, 8 boards and 10 assists through this same stretch. The Cavs, now tied in the loss column with the Lakers, still have the league's best record.

Then again, they won a league-best 66 games last year – only to be upset by Orlando in the conference finals. Even with the return of point guard Jameer Nelson, I don't think the Magic is as good as last year. I like an offense that goes through Hedo Turkoglu more than an offense with Vince Carter.

Either way, by adding Parker, Powe, Shaq and Jamison, Cleveland has done more than Orlando. It takes time to blend talent, especially when it's acquired right before the trading deadline. But time is one commodity the NBA season grants in abundance.

What's more, Cleveland has another advantage in James. It's his ball, his team and his responsibility. Michael Jordan won a title in his seventh season. It's not too much to ask James for a few games in June.

---
---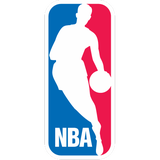 Get more from National Basketball Association
Follow your favorites to get information about games, news and more
---