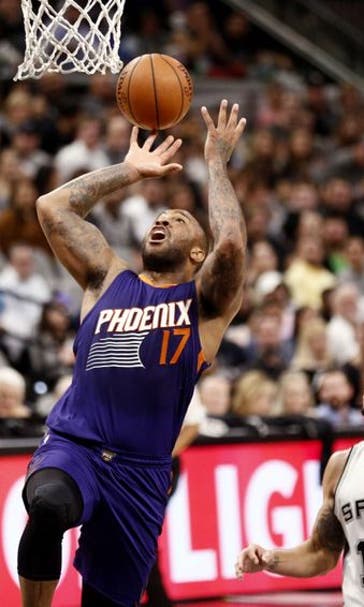 No Duncan, No Leonard, No Problem - For Spurs
December 29, 2016

Fansided, Adam Maynes/FanSided via Valley of the Suns
The Spurs played without Kawhi Leonard last night (Gastroenteritis) and one would assume that the Suns might have stood a better chance against their nemesis from San Antonio.
Alas, they did not.
| | | | | | |
| --- | --- | --- | --- | --- | --- |
| | 1 | 2 | 3 | 4 | T |
| Suns | 27 | 37 | 18 | 16 | 98 |
| Spurs | 30 | 28 | 31 | 30 | 119 |
Out matched; out coached; and out played, the San Antonio Spurs are inarguably – even without Kawhi Leonard – a much better team than the Phoenix Suns this season.
On the court, the Suns could not muster any semblance of consistency throughout a game that heading into the fourth quarter was still potentially within reach.
But once again, without a go-to scorer on the roster, with no offense to create space for shooters and find an open man, the Spurs took control of the Suns in the fourth quarter – after toying with the notion of keeping them in the game for the first three – and ran away with it leaving the final score with nothing to be proud of.
Since his return from a head injury, T.J. Warren has played from the bench, and utterly outplayed P.J. Tucker. Warren led the Suns with 23 points, on 50% shooting from the field and draining all 10 free throws he attempted. Tucker, on the other-hand, finished with 2 points, 2 rebounds, 2 steals, 3 turnovers, and a -14 in +/- in only 15 minutes. His botched fastbreak dunk early in the first quarter when the ball slipped out of his hands was eerily indicative of the entire Suns season thus far.
With Dragan Bender not only beginning to receive a little more playing time recently and also more touches on offense, he finished perfect from the field and the line scoring 10 points, while also grabbing 6 boards, a steal, and a blocked shot, in 26 minutes. His rookie forward counterpart, Marquese Chriss, finished with 13 points, 2 rebounds, and a steal in 20 minutes.
I must have jinxed him in my pregame preview because Devin Booker did not hit a three-point shot in the game, breaking his career-high 17 consecutive games with a three-pointer, going 0-2 and an ice cold 2-13 from the field at 15.4% shooting, and only 8 points.
Eric Bledsoe only did marginally better as he finished with 13 points. The two guards combined for only 7 assists as Brandon Knight led the team in assists with 5.
Opinions from Valley of the Suns
Adam Maynes – Site Editor
This was a bad game for the Phoenix Suns overall.
Without their top scorer in Kawhi Leonard, the Spurs turned to LaMarcus Aldridge (who finished with 27 points) to carry the offensive load, and then exquisite team basketball, featuring constant movement off the ball and wide open shots more often than I could count, won the day for the Spurs.
It is my firm belief that based on the talent on the roster right now that the Phoenix Suns should be better than they are. I do not claim to argue that the Suns should be able to compete with the best teams on a nightly basis, nor that they would even be a .500 team. But they are a motionless offense and are currently one of the worst defensive teams in the league allowing more points per game to their opponents than any other Suns team in the past 48 years with 114.3 – a number that the Spurs blew by.
What is worse, is that without explanation, Jared Dudley is suddenly a regular DNP-CD. Tyler Ulis still cannot see the court (he only received 3min last night) and yet can probably be as equally productive as Leandro Barbosa statistically if he received the same minutes. T.J. Warren is the team's best scorer and is coming off of the bench, whereas P.J. Tucker is a terrible shooter, and yet he is now starting.
There appears to be zero consistency in the  lineups and rotations, and very little explanation as to why. I'm sorry, but to me, the whole "we're going to review the lineup every five games" (paraphrase) that Head Coach Earl Watson espoused early on, just does not cut it.
This is not a young  Suns team, it is a bad  Suns team. And it is time to start asking the serious question: Why?
Kory Miller – Contributor
It's always tough to lose to San Antonio, no matter how good they are doing and/or how poor the Suns are doing. It's hard to see Booker struggle, especially against a Spurs team without Kawhi. He's super talented and we all love him, but we need to give him another year or two before he's ready make the All-Star leap. I loved seeing Bender have another good game in extended minutes, making all 4 of his shots. He's turning a corner and I hope Watson will continue to play him at the end of games. T.J. looks like he's ready to get back in the starting lineup, he continues to play well as he has in the last few games. If he stays healthy for the rest of the season, he has to be a contender for Most Improved Player.
More from Valley of the Suns
This article originally appeared on
---
---