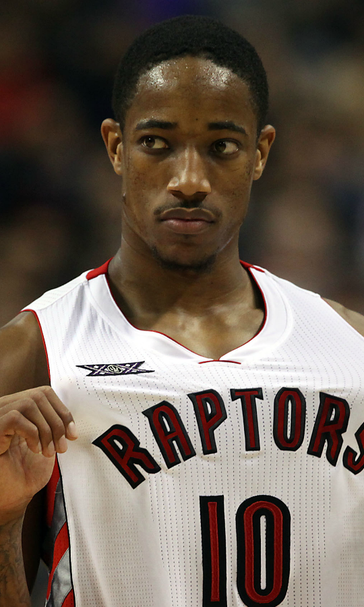 No, DeMar DeRozan's disappointing postseason won't scare off the Lakers
May 10, 2016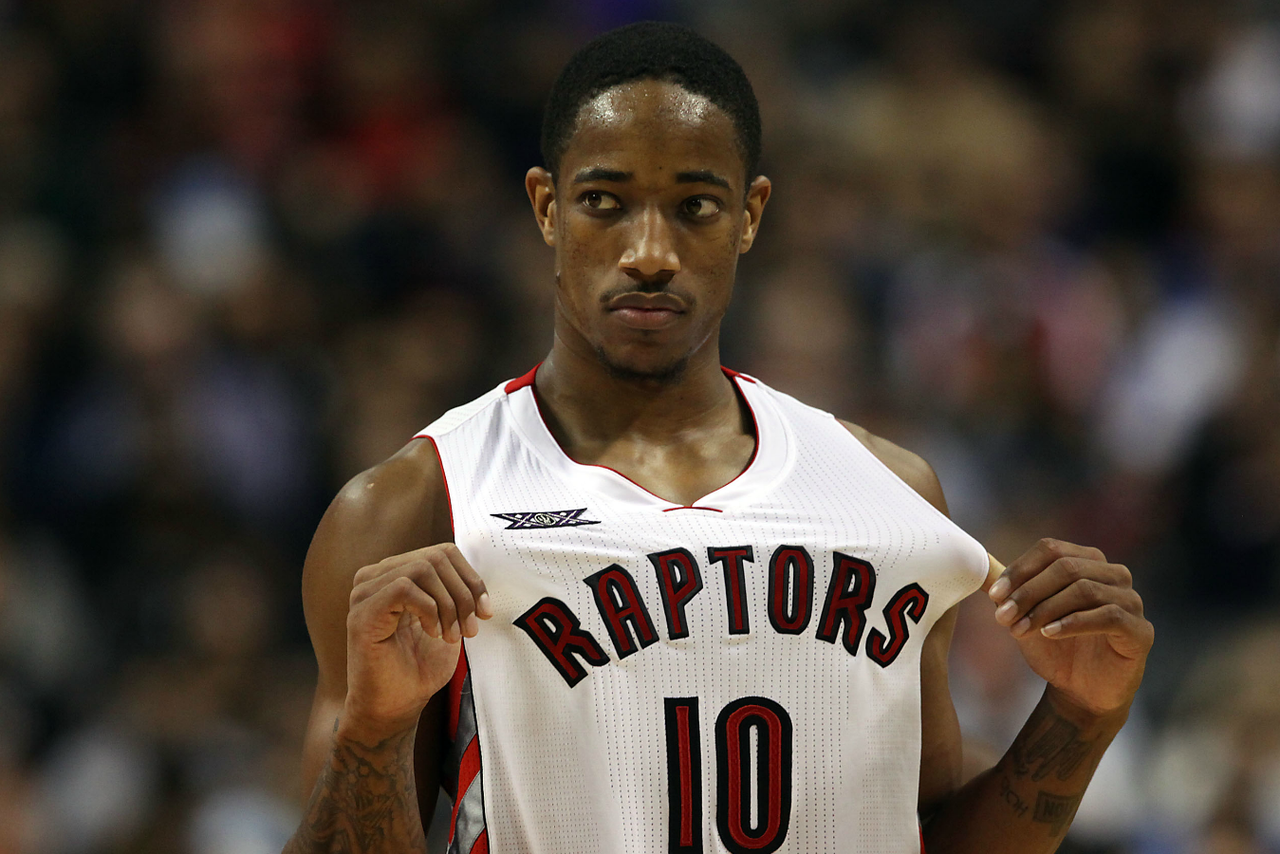 DeMar DeRozan could stand to make a boatload of cash this summer in free agency, and he probably will.
But after suffering a thumb injury in Game 1 and slogging through a highly visible four-game slump in the Eastern Conference semifinals, the question now is, who's still confident cutting that max check for Toronto's highly talented, but transcendently streaky shooting guard?
If the Raptors don't, rest assured someone else will (*wheezes* Lakers). But that doesn't change the fact that the risk/reward aesthetics of the DeRozan proposition has increased dramatically over Toronto's post-season run.
Vacillating between 34-point explosions and eight-point duds, DeRozan's play has covered the entire boom-bust spectrum. And now, battling a hand injury against Miami, his effectiveness has nosedived at the worst time possible.
But the Raptors' 26-year-old guard isn't letting the roller coaster of the playoffs shake him. Per The Vertical's Michael Lee, DeRozan said he isn't worried about how this series is affecting his free agency prospects.
"I feel like I have nothing to worry about," DeRozan said. "I take it day by day, whatever happens. I'm not even looking towards then. I'm thinking about the next game and trying to figure out that."
Meanwhile, the Raptors are just hoping DeRozan can recover from his hand injury enough to regain a semblance of his pre-injury self. On Monday night, DeRozan went 4-for-17 from the field while playing a series low 34 minutes. He was also noticeably absent for most of the fourth quarter, including critical must-score stretches.
Per CBS Sports' Zach Harper, Raptors head coach Dwane Casey says the team will continue making adjustments in the hopes of maximizing what DeRozan can give them while minimizing wear and tear.
"It is a concern," Casey said. "He's been getting treatment on it, but he's a tough kid. I think he's trying to play through it. We'll look at it, look at the substituting pattern to try to relieve him a little bit more."
So there it is, the Raptors are going to try to preserve DeRozan, but barring a miracle, the thumb injury to his right, shooting hand is a big—if not insurmountable issue—for Toronto in this playoff series when coupled with the loss of Jonas Valanciunas to an ankle injury.
The good news for DeRozan is that his struggles are mostly poor in terms of short-term optics.
With the NBA's new TV deal kicking in just in time for the 2016-17 season, there's enough money in franchise coffers and enough suitors at the table for the two-time All-Star to still attract max-deal money this offseason. Dynamic scorers are in short supply in this coming free agent class, and after Kevin Durant, DeRozan is the closest thing to a franchise-caliber scoring threat to be had.
So, no—teams like the Lakers looking to down lock down the best talent available aren't about to be shook by DeRozan's stretch of bad, highly public play. His skillset is proven, if not streaky, and with the Lakers bringing in Warriors assistant Luke Walton to helm the ship, you can't have too many scoring options to place at his disposal.
Ipso facto, supply will drive demand in DeRozan's favor despite an ugly postseason showing. Not that he's even thinking about that right now, of course. 
Dan is on Twitter. Show DeRozan the money, *hack* Kupchack. Help him help you.
---
---