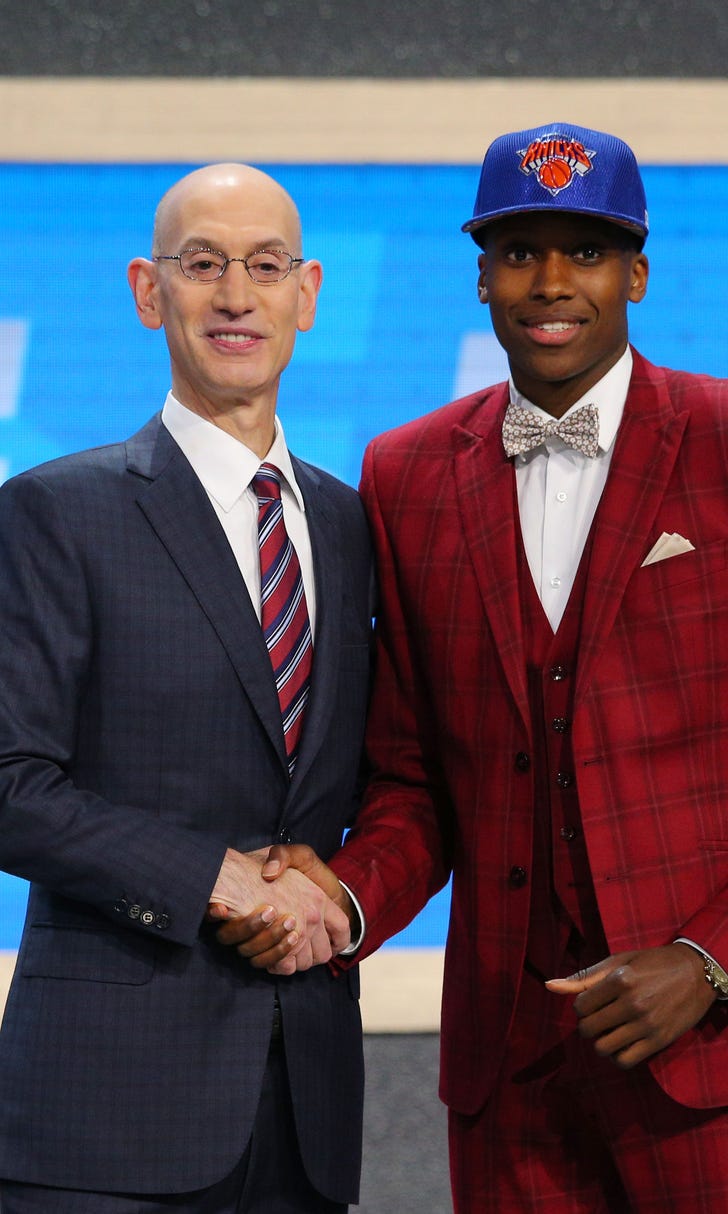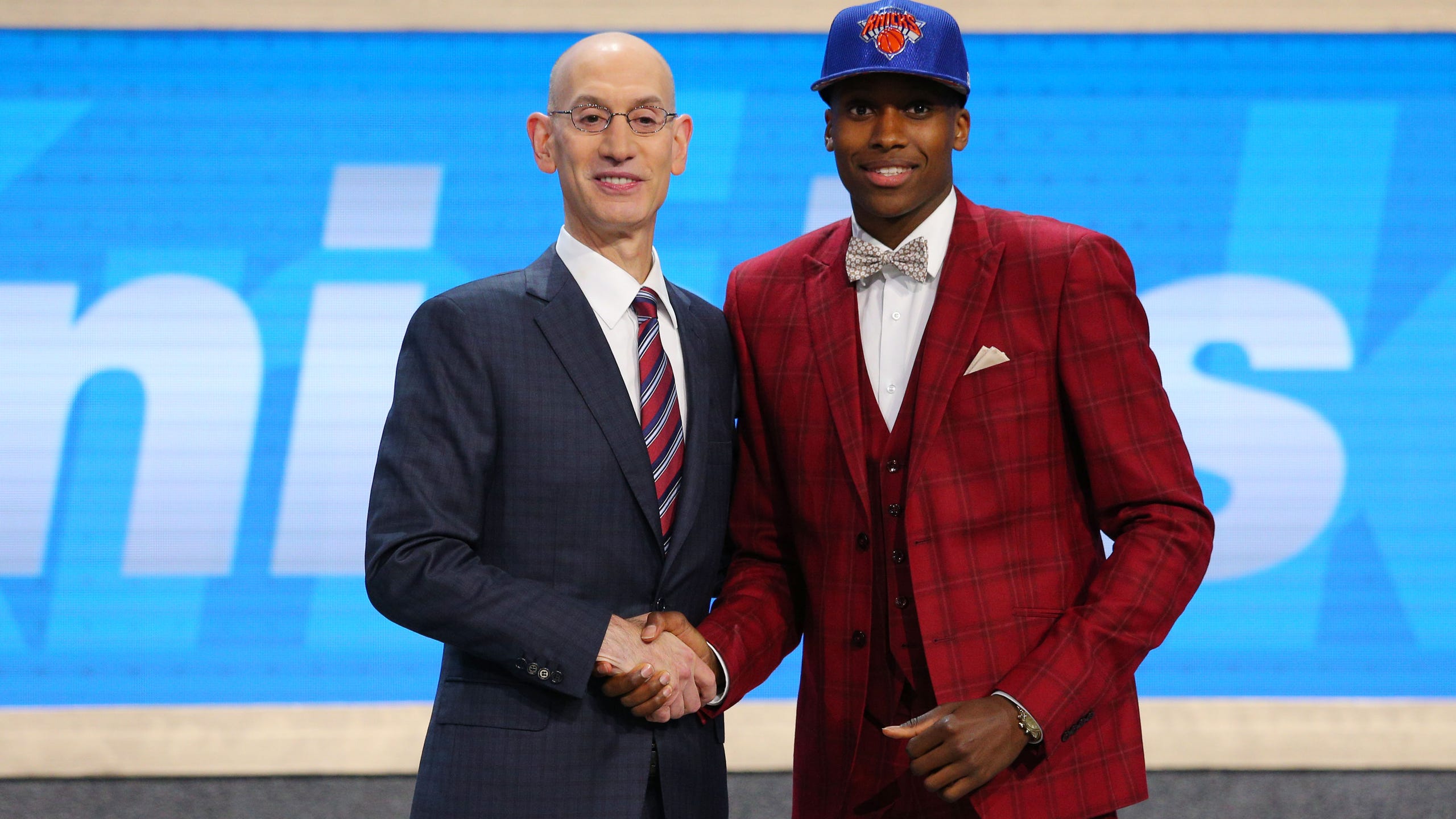 New York Knicks: 2017 NBA Draft grades
BY Fansided and Ed Easton Jr./FanSided via Hoops Habit • June 30, 2017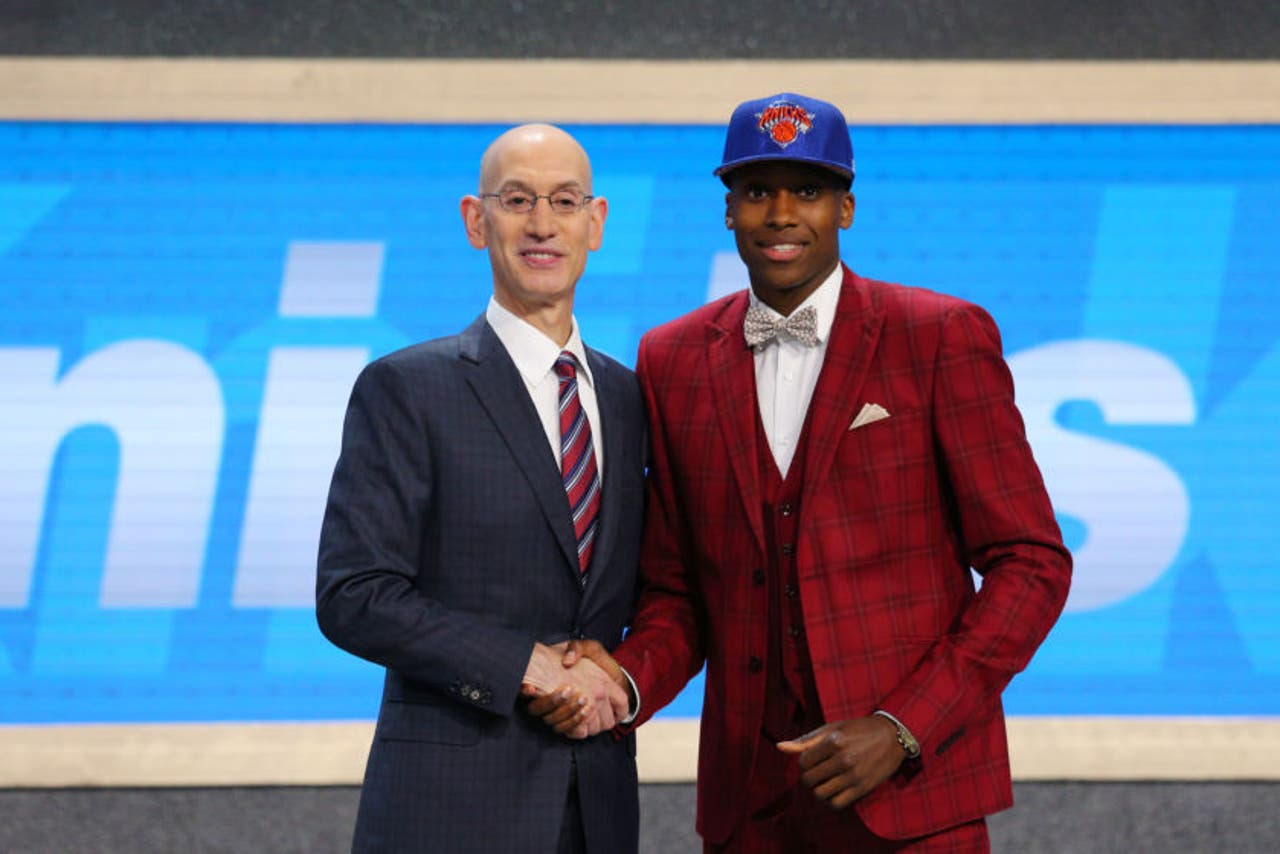 Jun 22, 2017; Brooklyn, NY, USA; Frank Ntilikina of France is introduced by NBA commissioner Adam Silver as the number eight overall pick to the New York Knicks in the first round of the 2017 NBA Draft at Barclays Center. Mandatory Credit: Brad Penner-USA TODAY Sports
It's not often the New York Knicks are able to go into NBA Draft night with multiple picks. Here's a look at their selections with 2017 NBA Draft Grades.
For all the drama that followed the New York Knicks in 2016-17, the loyal fan base still believes better days are ahead with the addition of new and young talent.
The constant bickering between All-Star forward Carmelo Anthony and team president Phil Jackson dominated the headlines more than the team's poor play. New York's franchise future Kristaps Porzingis has shown his frustration with team management and is only interested in winning as the naive young star's honeymoon seems to have worn off.
The Knicks haven't seen the postseason since their impressive 2012-13 run that crowned them Atlantic Division champions. Anthony remains the only hold over from that team but his days are clearly numbered as New York looks to rebuild and rebrand their focus.
It will be an interesting process for loyal Knickerbocker fans, but these moves may finally right team owner James Dolan's rocky ship in a positive direction. Here's a look at each selection the Knicks made in this year's draft, complete with grades, expectations for each exciting rookie, and a look at what each move means for New York's and Phil Jackson's future.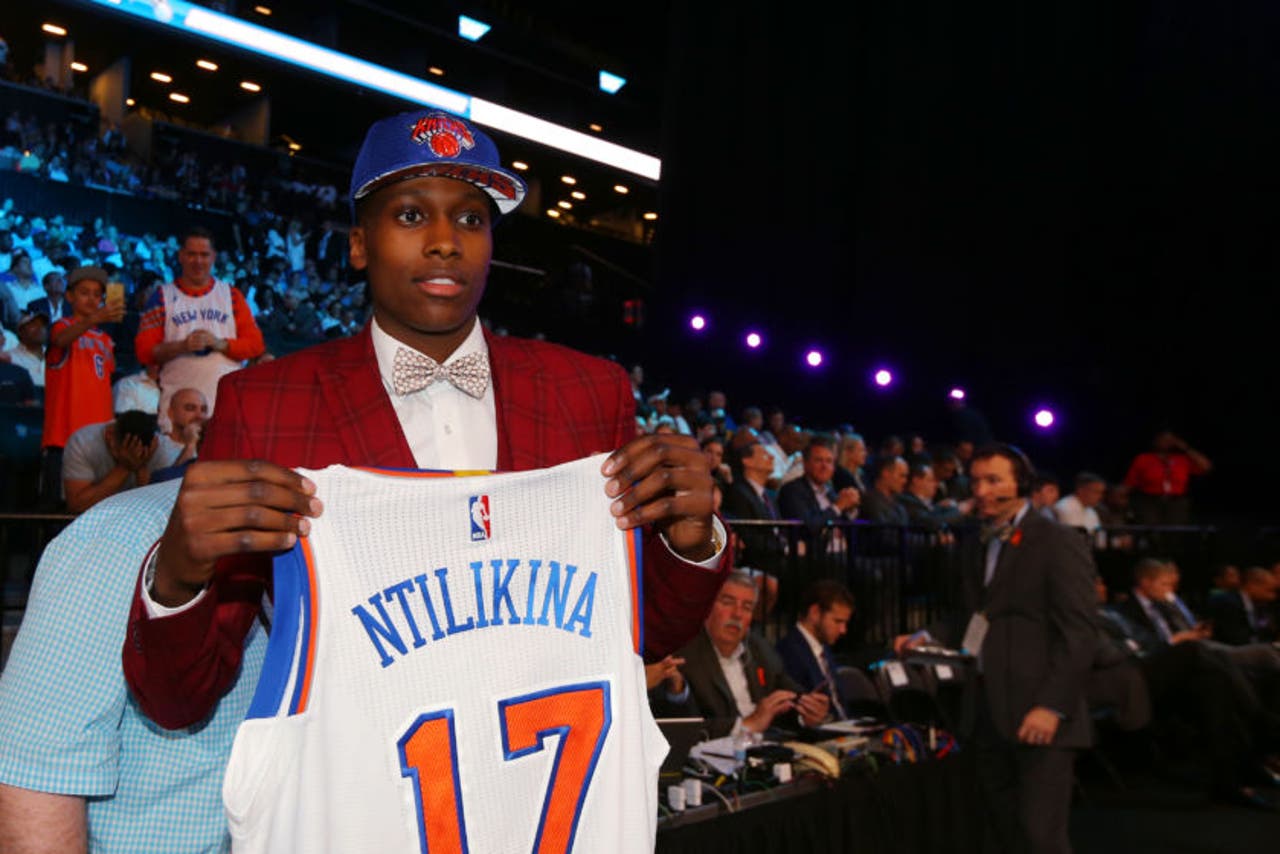 Jun 22, 2017; Brooklyn, NY, USA; Frank Ntilikina of France holds up a team jersey after being introduced as the number eight overall pick to the New York Knicks in the first round of the 2017 NBA Draft at Barclays Center. Mandatory Credit: Brad Penner-USA TODAY Sports
No. 8 — Frank Ntilikina
The New York Knicks are hoping their road to recovery from a tough season is sparked by the young 18-year-old from France. Frank Ntilinka will be counted on immediately to change the culture of a Knicks team clouded with controversy.
New York knows all too well the rewards of selecting an international player, as they have fared pretty well in the past with Danilo Gallinari in 2008 and most recently Kristaps Porzingis in 2015.
Ntilinka will be an improvement defensively at the guard position using his exceptional length 6'5″ to crowd commonly smaller point guards. Knicks team president Phil Jackson took time away from his Kristaps Porzingis trade sweepstakes to address his excitement with the media for Ntilinka as part of the team's positive future.
"We like the size of this young man, we like his aptitude for the game, athleticism, actually the ability to incorporate himself in a winning type of a situation,"
The calm demeanor from Ntilikina will be vital surviving the unforgiving New York media and well-studied team fan base. It is worth noting that his draft selection yielded favorable responses from the Knicks faithful that filled the Barclays Center in Brooklyn, New York.
He will still be a project for New York adjusting to the NBA game, but fans can rest assured this will not be like the last player selected from France, Frederic Weis as Ntilikina will be in a Knicks uniform right away.
Grade: B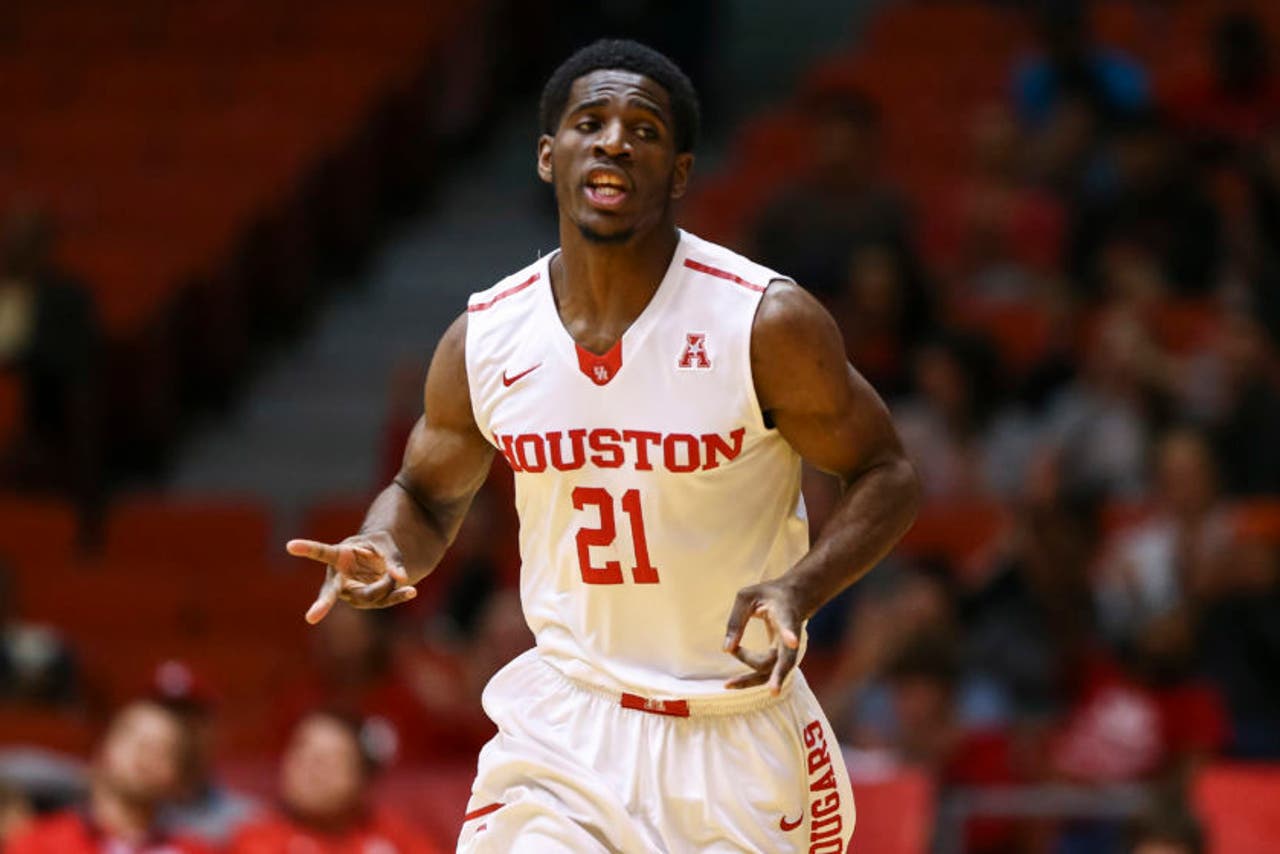 Jan 4, 2017; Houston, TX, USA; Houston Cougars guard Damyean Dotson (21) reacts after making a basket during the first half against the Tulsa Golden Hurricane at Hofheinz Pavilion. Mandatory Credit: Troy Taormina-USA TODAY Sports
No. 44 — Damyean Dotson
It's an important aspect of today's NBA game to have knockdown three-point shooters that can spread the floor effectively. As the Knicks approached their first of two second round picks with that mentality, Dameyon Dotson from the University of Houston  was the best available.
Dotson is 6'6″, 205 pounds with some decent athleticism but a knack for scoring from the outside during his college career. The 23-year-old senior averaged 17.4 points per game with the Cougars primarily as a catch and shoot player.
His value wasn't extremely high considering his lack of ability to create his own shot or push people around on the offensive end due to limited strength. He fell to No. 44 to the Knicks as a hopeful overachiever type of selection, as his stock hasn't been high on many team's draft boards since his days in Oregon.
Dotson will be evaluated heavily during his stint on the Knicks' Summer League team next month to determine his fit on the roster. His ability to make shots will be needed if he can prove to be consistent on both sides of the ball and develop a more aggressive offensive game.
Grade: C + 
No. 58 — Ognjen Jaramaz
This may actually be a pick best evaluated a few years from now as Ognjen Jaramez will most likely spend more time in Serbia.
Jaramez is 6'3″, 194 pounds and averaged over 12 points per game this season for Mega Leks in Serbia. The club is best known for being the same place the Denver Nuggets found their star center Nikola Jokić cultivating plenty of excitement among NBA scouts hoping lightning strikes twice.
An aggressive offensive style focusing more on penetrating and attacking the rim, Jaramez shows the fire needed to break down opposing defenses. His running mentality will be fun in the open court but his decision-making and outside shooting are barriers he will need to overcome in regards to the growth of his career. In addition to his scoring the young point guard posts a woeful 3.5 assists and 2.3 turnovers per game — not good enough at all for the NBA level.
Jaramaz might join the Knicks Summer League team next month to get a feel for the NBA game. It is more likely that he will be stashed in Serbia for a year or two as his skill-set needs some serious work before ever breaking into the Knicks' main roster.
Grade: C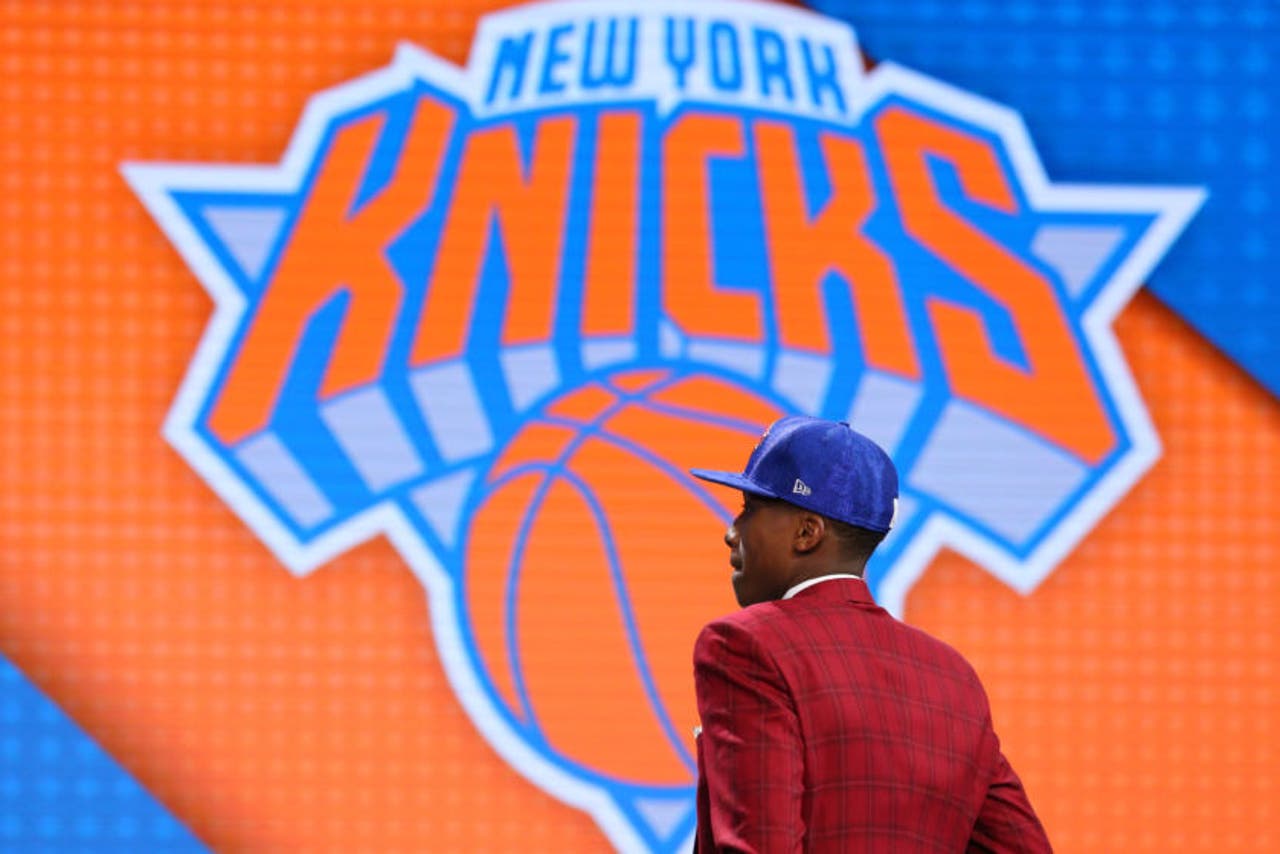 Jun 22, 2017; Brooklyn, NY, USA; Frank Ntilikina of France is introduced as the number eight overall pick to the New York Knicks in the first round of the 2017 NBA Draft at Barclays Center. Mandatory Credit: Brad Penner-USA TODAY Sports
A New Chapter In New York
Instead of rejoicing a promising draft night, team president Phil Jackson and the rest of the New York Knicks franchise are still forced to address a few controversies.
The relationship between Kristaps Porzingis and the team still feels awkward as he was again dangled as trade bait the last few days leading up to draft night. Porzingis was rumored to be on the move to several teams, but no deal ever materialized.
The situation regarding Carmelo Anthony seems to just get worse every week as Jackson refuses to recant his statements on forcing the 10-time All-Star to find another home. Still no real offers for Anthony are present, creating even more doubt that a deal will ever get done.
The biggest obstacle will be trying to earn the fan's trust back and passionate support heading into a new season. The draft pick of Frank Ntilinka showed some spark of hope from Knicks faithful on draft night, but will it be enough moving forward?
The Knicks may have gone international in this year's draft for answers but still can't proceed with another year that the word "win" becomes foreign to the franchise.
More from Hoops Habit
This article originally appeared on
---
---