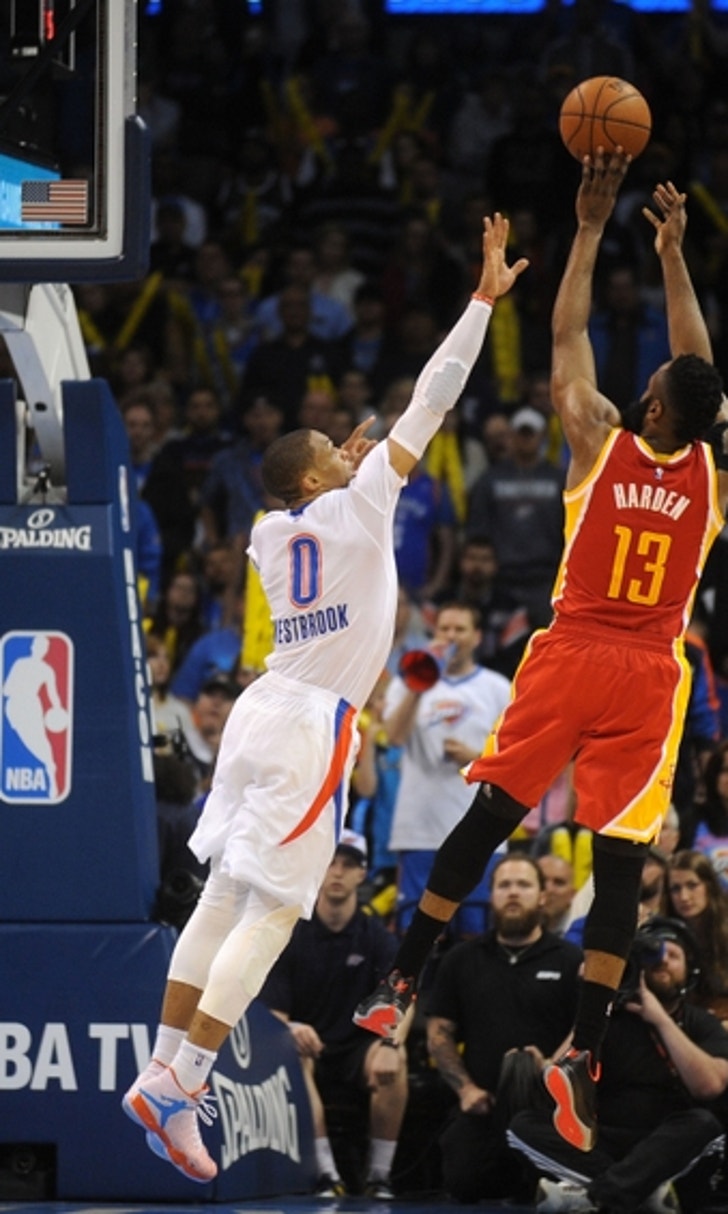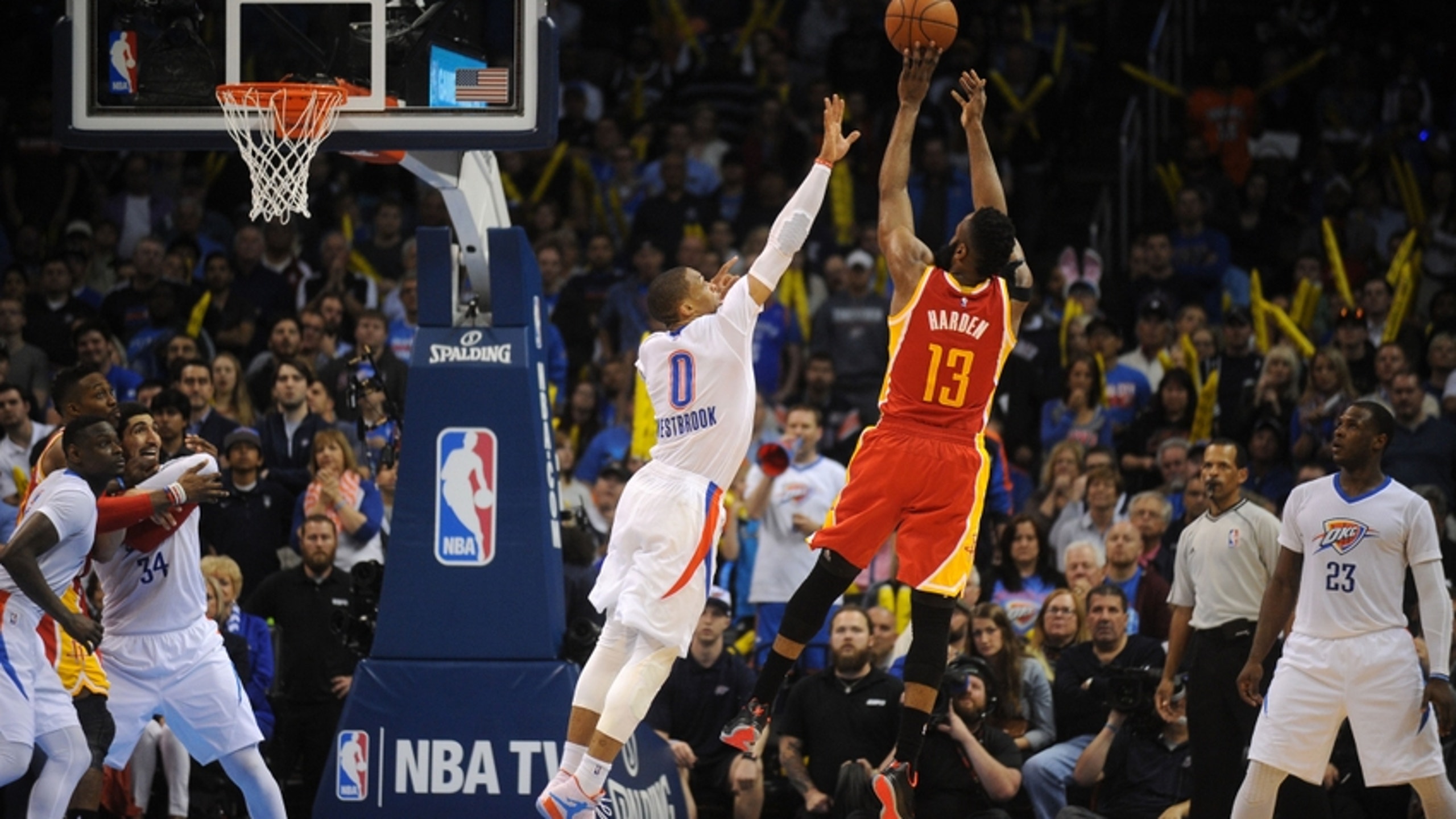 NBA MVP Race: Down To James Harden, Russell Westbrook?
BY Fansided and Kevin Parrish Jr/FanSided via Sir Charles In Charge • December 28, 2016
A little more than one-third into the NBA season, is the NBA's MVP race down to Russell Westbrook and James Harden?
This season, there are a handful of solid NBA MVP candidates like LeBron James, Kevin Durant, Christ Paul, Kawhi Leonard and Anthony Davis. However, for the most part, the MVP race has essentially come down to a two-man race.
Russell Westbrook and James Harden.
These two superstars have been tremendous this season, and that's an understatement. Westbrook and Harden put together monster performances after monster performances. For example, Westbrook will drop a triple-double one night and then James Harden will score 40 points along with 10-plus assists the next night.
That's how the battle between these two players has been; the race has literally been neck and neck all season to this point.
More from Sir Charles In Charge
Per ESPN's Marc Stein, Westbrook and Harden are both accounting for better than 50 points per game when you add their scoring to their passing, which is something we haven't seen in the NBA since Nate Archibald's momentous 1972-73 season, when Tiny became the only player in history to lead the league in both scoring and assists in a single season.
Both of these players could easily win the NBA MVP award and just with the crazy numbers they produce in the box scores on a nightly basis.
Not only that, but the PER of Russell Westbrook (30.61) and James Harden (27.99) rank in the top 5 of the NBA and higher than superstars like DeMarcus Cousins (27.76), Kawhi Leonard (27.31), Chris Paul (27.10) and LeBron James (26.71).
Russell Westbrook' Tear
Russell Westbrook is averaging 32 points, 11 assists and 11 rebounds per game. Keep in mind, we're more than one-third into the NBA season. This is not merely a hot streak. This is real.
He has a chance to do what no other NBA player has done since Oscar Roberson back in the 1961-1962 season, which is average a triple-double for an entire season.
Last night against the Miami Heat, not only did his triple-double give him 15 on the year but it also joined him with Oscar Robertson as the only players to record 30 triple-doubles in a calendar year.
Westbrook's PER of (30.61) has the potential to challenge Wilt Chamberlain's (31.82) PER as the highest rating of all time for a season. Only Michael Jordan and LeBron James have come closest to the impressive mark.
Westbrook just seems to be on a higher level than everybody else right now. The way he's dominating every night is something superb to watch. Honestly, Russ hasn't slowed down since the second game of the year, when he scored 51 points and put up a triple-double against the Los Angeles Lakers.
Westbrook has been able to torch defenses on a nightly basis, putting up stat lines that are usually seen in video games has been more than incredible to watch.
Another beautiful thing about the dominance of Westbrook is because his team has picked up his identity traits and personality it has led to more winning. The Owner of the Dallas Mavericks Mark Cuban hasn't been shy on his opinion on Russell Westbrook. Saying how Westbrook is "still not a superstar unless the Thunder win" or how "Westbrook is just an all star that puts up superstar numbers".
Well, he's right about the numbers Westbrook is putting up which is something nobody can take away from him because nothing about his numbers this season has been typical.
However, Russ is proving that he can put up great numbers and still lead his team to winning. Right now, Oklahoma City is 5th in the Western Conference (20-12) with the teams we expected to be ahead of them like Golden State, San Antonio, Los Angeles Clippers, and Houston Rockets, however, for them they are the exception because we didn't know how good they would be going into the season.
With that being said, despite Westbrook's impressive box scores, the Thunder have struggled at times this season looking like an average team or even below that. Especially in November, winning only nine of 17 games in that month. Yet, Westbrook has this team finding their stride as the first half of the season starts to wind down.
Not only has the Thunder won four straight but are also winners of eight out of their last 12 games.
The impressive triple doubles from Westbrook only give him the advantage over James Harden by itself. However, The Biggest thing from this season is Westbrook is actually making his teammates better and they love playing with him and that's exactly what MVP's are supposed to do.
James Harden's Revolution
With James Harden, this NBA MVP talk is nothing new to him. He has been very deserving of the award in seasons past. Especially during the 2014-15 campaign, when he went head-to-head with Stephen Curry but then finished second as Curry ended up winning the award with 100 of 130 first place votes.
This season, the Houston Rockets have been more than impressive and surpassing the expectations placed on this team currently sitting third in the Western Conference at 24-9. New head coach Mike D'Antoni, known as an offensive mastermind, switched James Harden from the shooting guard position to the point guard position, and actually this has made Harden even more difficult to defend for the opposition.
James Harden's offensive skills seem to fit just perfectly in Mike D'Antoni's system.
Now, you can't forget the deadly three-point shooting from Rockets. In fact, Houston is shooting 38.1 percent from distance and it's been so impressive that Houston is averaging (14.9) three-pointers in a season which goes for No. 1 in the NBA.
The Rockets have a chance to make history by breaking the NBA record for three-pointers made (493) in a season, which Golden State set during the 2015-16 season (1,077). The Resurgence of Eric Gordon proving a strong spark off the bench, averaging 17.4 points and shooting 42.3 percent from distance has definitely helped in the Rockets hot start. However, none of the success the Rockets are experiencing right now is possible without James Harden.
The playmaking and scoring ability of Harden is what makes this offensive so high powered.
Harden's ability to drive is what allows Houston to get these great three-point looks because they rather defend the paint and bet on the Rockets missing from long distance.
Right now, his averages of 27.7 points, 11.9 assists, and 7.8 rebounds could already be considered a frontrunner for the NBA MVP. Harden's 11.9 assists, which is a career high for him, tops the league.
He's also second to Russell Westbrook in triple-doubles this season with six.
The NBA MVP race is down to Russell Westbrook and James Harden, and I don't think you would mind if either of them came away with the award.
---
---