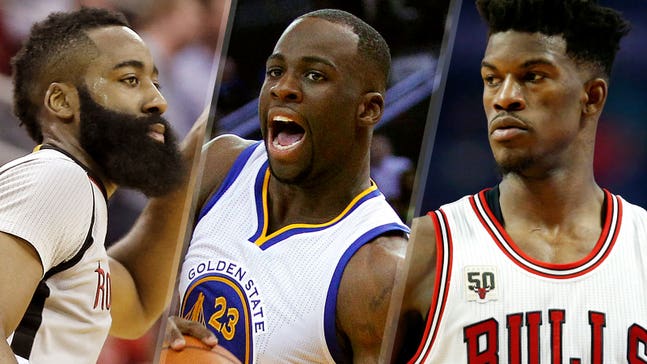 NBA All-Star teams are announced today, and here's who should make it
Published
Jan. 28, 2016 1:53 p.m. ET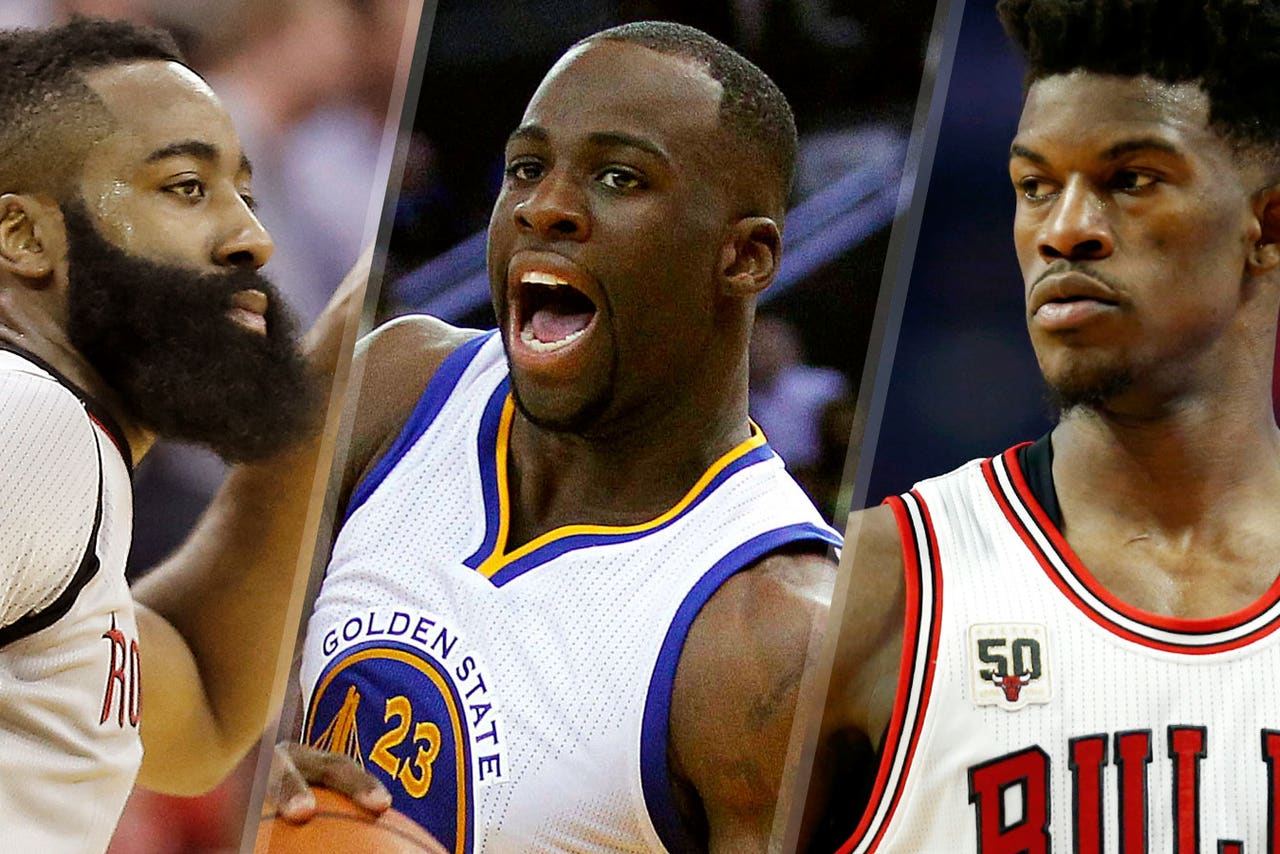 The NBA All-Star Game reserves will be announced Thursday on TNT before the Raptors play the Knicks. 
When fans had the chance to vote for the All-Star starters, Lakers star Kobe Bryant led with a commanding 1,891,614 votes. Now, it's up for the coaches to decide. Each coach is only allowed to vote for players within their conference; they're also not allowed to vote for a player on their own team. They only have seven spots to fill for each team: three in the frontcourt, two in the backcourt and then two "wild card" options. It's a tough choice, but someone had to make it.
To review: Bryant is joined in the Western Conference starting frontcourt by Kawhi Leonard and Kevin Durant; Stephen Curry and Russell Westbrook compose the starting backcourt. 
LeBron James, Paul George and Carmelo Anthony start for the Eastern Conference frontcourt. Dwyane Wade and Kyle Lowry will start as the guards.
Each coach was told to rank the players in terms of order they'd most like to see earn a spot in the game, with the final vote submitted Tuesday. Here are our ranked suggestions for who deserves to finish the All-Star roster in each conference.
Western Conference
Guards
1. James Harden - Harden has played all 47 games for Houston this season, averaging a career-high 27.7 points per game. He's also bragging a career-high for rebounding, with 5.5 RPG per game. He's dishing the ball at a career-best 7.0 assists per game. He adds 2.7 three's per game, which is a personal best as well. Based off John Hollinger's "value added" ranking, Harden trails only Curry, Westbrook and Durant for best in the NBA this season. Despite a slow start to the season for the Rockets, he's still better than LeBron James in the "value added" category. He's as obvious a pick for All-Star reserve as they come.  
2. Damian Lillard - Out of all qualified point guards in the Western Conference, Lillard ranks fourth in the Western Conference for Player Efficiency Rating. He trails Curry, Westbrook  and Paul. He's sixth in the NBA for scoring this season, trailing only Curry among qualified point guards. Lillard was snubbed for the All-Star team last year; he reportedly said he felt "disrespected" for not making the team. When All-Star starter Kobe Bryant was asked if Lillard should be on the squad, he was adamant that Portland's star should get the nod. "Why is that even a question? Of course he should be," said Bryant, via Comcast Sports.
Frontcourt
1. Draymond Green - He's ranked top five in the Western Conference for assists per game; he's also top ten in rebounding, top ten in double-doubles recorded, top 10 in steals per game, top 10 in 3P% and just one spot shy of top 10 in blocks per game. He leads the entire league in triple-doubles recorded, with 8 through 44 games. That means Draymond records a double double once every 2.75 games and a triple double once every 5.5 games this season. That's an insanely impressive rate, more than worthy of an All-Star selection.
2. DeMarcus Cousins - First and foremost, Boogie is making history. He had back-to-back games with at least 45 points and 10 rebounds (only Charles Barkley, Michael Jordan and Antawn Jamison have done that) last week. This month, Cousins is averaging league-best 34.4 points per game with 13.6 rebounds. The Kings also got the famous 'LeBron James' kid to help with the All-Star campaign. "DeMarcus has shown at a high, high level that he's an All-Star," said Kings' head coach George Karl, via Comcast Sports. "Is there a better center playing basketball in the NBA right now? I don't think there is."
3. Anthony Davis - Not making the team as a starter potentially could cost Davis as much as $23 million. So long as his recent concussion scare doesn't keep him sidelined for the game, however, Davis deserves consideration as an All-Star reserve. Davis ranks second in the NBA with 2.4 blocks per game. He's top 10 in the league in rebounding, with 10.2 per game. He's also top 10 in basketball for scoring, with 22.9 points per game. Out of all players in the Western Conference, only three (Westbrook, Cousins and DeAndre Jordan) have recorded more double doubles this season.       
Wild Card
1. Chris Paul - The Clippers have become an unpredictable mess at times, but thanks to the consistent play of Paul the team remains one of the top in the Western Conference. He's a glue guy and he is more than capable of leading an offense. He ranks third in the Western Conference with 9.6 assists per game, trailing only Rajon Rondo and Westbrook -- who is already an All-Star starter.
2. Klay Thompson - With 20.3 points per game, Thompson has remained one of the NBA's most compelling scorers. He and teammate Curry lead the NBA in three's made this season; Curry has drained 210 while Thompson ranks second with 133. He adds 3.1 three's per game this year, which puts him exactly on pace for his mark last season. Meanwhile, he's improved his rebounding rate from 2.9 per game last season to 3.4 per game this year.
Most Notable Snubs
1. Dirk Nowitzki - It's a miracle that Nowitzki is still performing at this high caliber, especially when you compare his performance to Kobe Bryant -- the two have played nearly identical number of games, but Nowitzki is still one of the best players on the floor.  
2. Rajon Rondo - How do you lead the league with a career-high 11.8 assists per game (his career average is 8.6 per game) and get no traction for an All-Star campaign? His recent suspension certainly didn't help.
3. LaMarcus Alrdridge - It's not like he's been bad. But then again, 15.9 points per game is Alrdridge's lowest total since his rookie season in 2006-07. His rebounding rate has also dropped. Two seasons ago, he had 11.1 per game. This year, he is averaging 8.8 RPG. He's taking significantly fewer shots per game (19.9 last year compared with 13.4 this year) but thankfully for the Spurs, his play is still helping San Antonio win games.
Eastern Conference 
Guards
1. Jimmy Butler - Mark Wahlberg campaigned for Butler to earn a starting spot in the All-Star game. It wasn't enough. Butler recorded 53 points, 10 rebounds and 6 assists against the 76ers. That wasn't enough, either. Butler was an All-Star for the first time in his career last season. Since then, he's improved his scoring from 20.0 points per game to 22.3 PPG. He has increased his assist rate from 3.3 per game to a career-high 4.2 APG. Butler leads the NBA in minutes per game (38.3 MPG) and he's fourth in the Eastern Conference for points per game, with 22.3 PPG. He provides a valuable presence on defense as well.
2. John Wall - Remember when Wall called All-Star fan voting "a joke" earlier this season? He didn't end up making the squad as a starter, but ESPN.com's Zach Lowe calls wall a "no-brainer" to make the squad. This season, he averages a career-high 19.6 points per game with 9.8 assists and 4.1 rebounds. His intensity on defense has not gone unnoticed, either. He averages 2.07 steals per game (2nd in the Eastern Conference) and leads all NBA's backcourt players with 0.74 blocks per game.   
Frontcourt 
1. Andre Drummond - The Detroit star had the most awesome All-Star campaign; the Pistons used a silly Drake-President Obama remix of "Jumpman" to get fans excited to vote for Drummond. Detroit-based rapper Eminem got in on the fun, too. Drummond is putting up ridiculous numbers on the glass this season. He averages 15.2 rebounds per game -- Miami's Whiteside ranks second, but trails by 4.0 per game. In a single game, Drummond recorded 29 rebounds in November. He's put up 20 or more boards nine different times already this season. "I think the coaches will end up voting him in," said Detroit's head coach Stan Van Gundy, via NBA.com. "That would be my guess."   
2. Paul Millsap - Millsap is one of the top ten rebounders in the Eastern conference, with 8.8 boards per game. But that's not why he's an All-Star. With 18.4 points per game, he is the only NBA player with at least 18.0 points, 8.0 rebounds, 3.0 assists, 1.0 steal and 1.0 block per game this season. "I think it would great to see Paul on the team," said Atlanta's head coach Mike Budenholzer, via MyAJC.com.
3. Chris Bosh - The former Raptors' star has made ten consecutive Eastern Conference All-Star game appearances, dating back to 2006-06 when he played for Toronto. With this year's game in his former home court arena, Bosh feels sentimental. "I want to make one more just to go back to Toronto for a semi-homecoming, go back where it all started," he said, via MyPalmBeachPost.com. Bosh has impressed once again for Miami, averaging 19.2 points per game with 7.6 rebounds and a .476% shooting percentage. His stats are about on par (or sometimes better) than last season, when he made the squad.
Wild Card
1. DeMar DeRozan - The All-Star game is in Toronto this season, but that's not why DeRozan deserves a spot. He's third in the Eastern Conference for scoring this year, averaging 23.0 points per game. Last week, he scored 30 points or more for three consecutive games. DeRozan has done a better job at avoiding poor-percentage long distance shots, instead opting for driving to the lane for a guaranteed bucket. As such, DeRozan has become a more efficient shooter this season. Last year, he shot .413% from the field. This year, he's improved that rate to a much healthier .442%.
2. Kemba Walker - If you're looking for Kemba Walker's All-Star Game résumé, look no further than his recent performance against Utah. He scored 52 points with 9 rebounds and 8 assists. He also made 6-of-11 (.545%) three's and added two steals on defense. It was Walker's second game with 40 or more points in a matter of just three games. This season, he is averaging 20.6 points per game with a career-high shooting percentage of .425%.
Most Notable Snubs
1. Isaiah Thomas - When the Celtics matched up against All-Star hopeful John Wall, Thomas emerged victorious. He scored 23 points with 9 assists (Wall had only 8 points with 10 assists) and his Celtics got the win over the Wizards. "I'm a competitor," he said, via Comcast. "So whether you put John Wall or anybody out there, I want to outplay them and get the win. And that's just been my mindset." Thomas is averaging 21.7 points per game with 6.7 assists and 3.0 rebounds per game. All are career-best averages for the 5'9" point guard.  
2. Pau Gasol - Gasol, a five-time All-Star, narrowly missed getting voted in as an All-Star starter for the Bulls this season. He finished fourth among frontcourt players in the Eastern Conference in fan voting. Now, he may just miss a nod as a reserve.  Gasol is averaging 16.6 points per game, which is his lowest since 2012-13. But his rebounding rate of 10.9 per game is his second-best mark since 2009-10. He's also a top ten player in the East this season, according to ESPN's Player Efficiency Ratings.
3. Kyrie Irving - As fun as Kyrie Irving is to watch, there's too much talent in the Eastern Conference to give an All-Star nod to someone who has played just 18 of Cleveland's 44 games. Plus, his scoring average is a career-worst 15.4 points per game. So, too, is his assist rate (3.8 compared to 6.1 just two seasons go) and he's not shooting well: his field goal percentage, .408%, is miniscule compared to his career-average .451%.
Bryan Kalbrosky produces digital content for FOXSports.com. For more, follow him on Twitter @BryanKalbrosky.
---
---