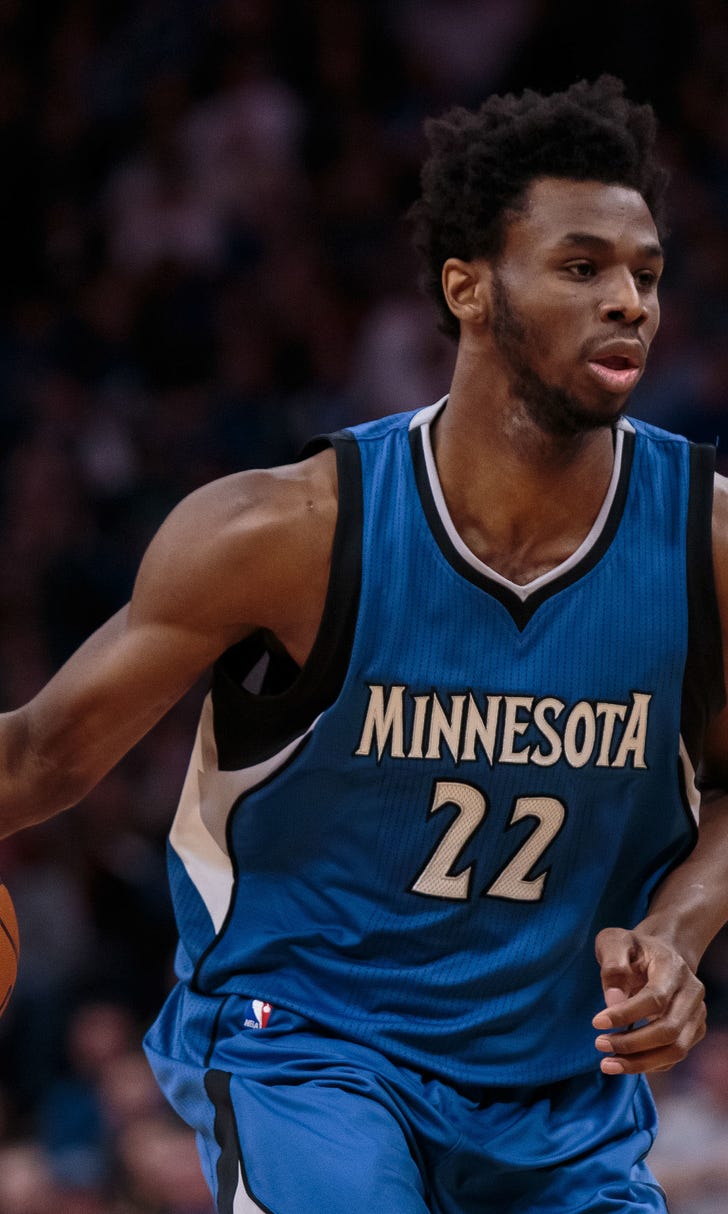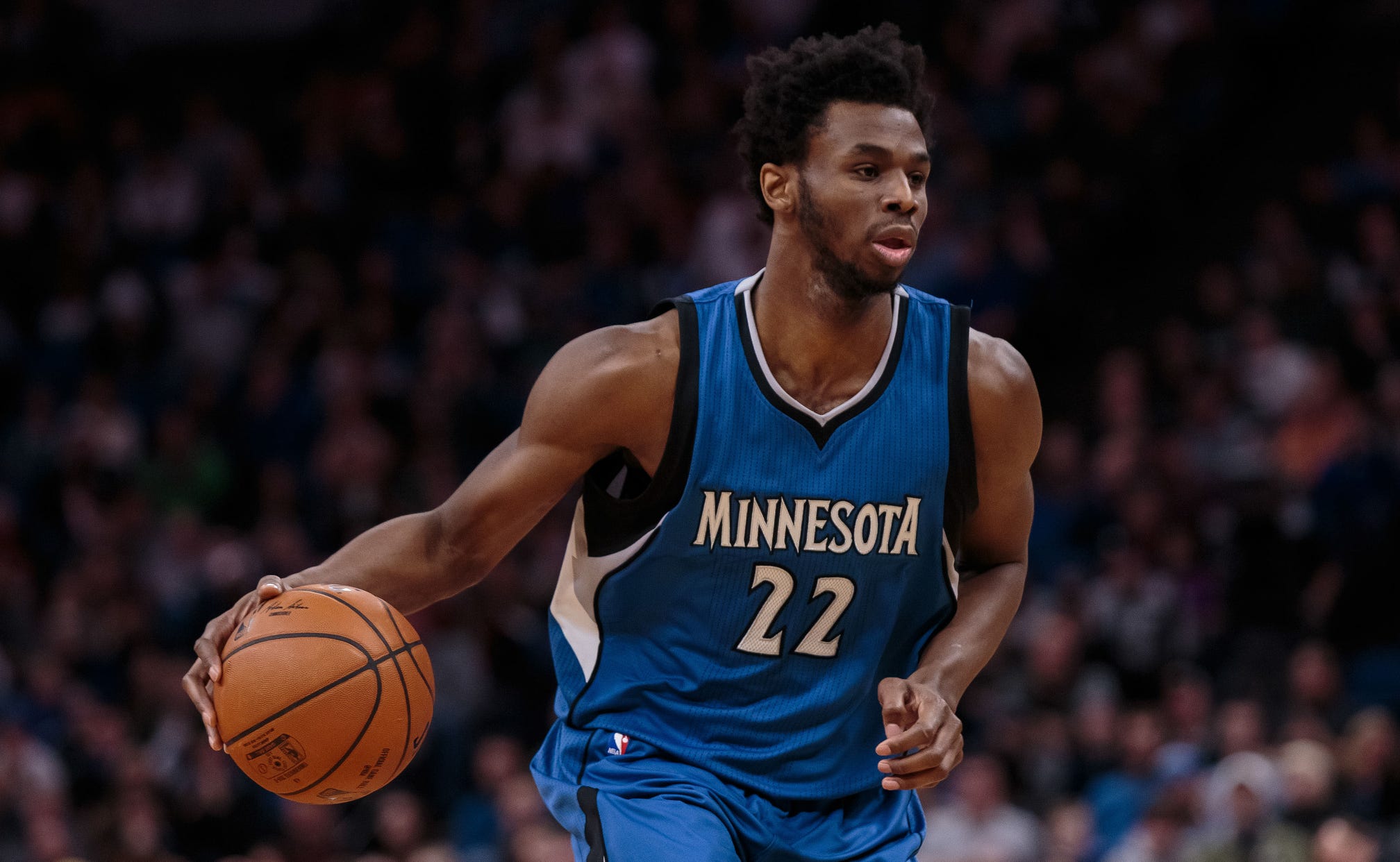 Minnesota Timberwolves: Andrew Wiggins Scoring Guide
BY Fansided and Brian Sampson/FanSided via Hoops Habit • June 30, 2017
Feb 12, 2017; Minneapolis, MN, USA; Minnesota Timberwolves guard Andrew Wiggins (22) dribbles in the first quarter against the Chicago Bulls at Target Center. Mandatory Credit: Brad Rempel-USA TODAY Sports
Andrew Wiggins has proven himself to be a legit scoring threat in his first three NBA seasons. Here is a guide to his go-to moves.
Andrew Wiggins has made a name for himself as a dynamic player on the offensive side of the ball. He can drive to the rim, post up smaller players, and shoot off both the dribble and the catch. His hard work in the gym is clearly paying off.
Wiggins has increased his points per game from 16.9 his rookie year to 23.1 this season. He's also taking, and making, more three-pointers than his first two years in the NBA.
Overall, the growth of Wiggins' game has been beautiful to watch. He was a raw scorer his rookie year coming out of Kansas, relying mostly on his freakish athletic ability. While he is still learning how to play in the NBA he has discovered how to use ball fakes and other skills effectively to create easy shots for himself.
Wiggins is so talented on the offensive end that he will sometimes settle for tough, contested jumpers. This is very infuriating for fans as we all want to see him continue to drive into the land of the giants.
I dove into Andrew Wiggins' film to figure out exactly what moves he relies on most, what moves are most efficient for him, and which ones he is still trying to put the finishing touches on. Some of these moves you may not be surprised by as you have seen them time and time again. Others, you will be surprised to find out exactly how efficient or inefficient he is with them.
Here are six moves that I found most interesting when watching Wiggins' film.
Mar 28, 2017; Indianapolis, IN, USA; Minnesota Timberwolves forward Andrew Wiggins (22) shoots the ball while Indiana Pacers forward Rakeem Christmas (25) defends in the first half of the game at Bankers Life Fieldhouse. Mandatory Credit: Trevor Ruszkowski-USA TODAY Sports
6. The Straight Drive
The straight drive is one of the most simple, yet effective, ways to score in the NBA. It's probably one of the most underrated moves as well.
A lot of players aren't able to perform the straight drive because it requires elite quickness and strength. A player must be able to beat his man off the dribble by using his quickness advantage over the defender. Then that player must have enough strength to not allow his defender to bully himself back into proper defensive position.
After the offensive player is able to both beat his man off the dribble and secure his spot on the drive he now has to contend with the giants inside. None of that is easy to do yet we all look at the straight drive as being a simple tool.
Wiggins can beat the majority of his defenders off the bounce which gives him the edge on performing the straight drive. Once Wiggins beats his man off the dribble, he is strong enough to hold his man off and get into the lane. Wiggins has a couple of nifty finishes he can rely on but sometimes simple is best.
On this drive, Wiggins catches the ball on a nice skip pass from Ricky Rubio. His man closes out to him but Wiggins is able to swing the ball through and drive towards the middle of the lane. The ball swing is key here. It allows Wiggins to get his lead foot in front of his defender's slide foot. This ensures that Wiggins will be able to get past his man and is able to keep his man on his back shoulder. He weaves through traffic and finishes with a finger roll.
Wiggins then squeezes into the lane and past Julius Randle, who is an unwilling help defender. With Wiggins' man still somewhat in the play, Wiggins is able to use his strength and keep and his defender on his back hip. He then uses a finger roll at the rim because no other defender stepped up to help the drive.
Feb 4, 2017; Minneapolis, MN, USA; Minnesota Timberwolves forward Andrew Wiggins (22) shoots the ball against the Memphis Grizzlies during the first quarter at Target Center. Mandatory Credit: Jeffrey Becker-USA TODAY Sports
 5. Catch-And-Shoot Threes
Shooting from distance is a skill that is becoming increasingly valuable in the NBA. More and more teams are focusing on acquiring players who can shoot from outside. Take the Houston Rockets, Cleveland Cavaliers or Boston Celtics, for example. Each of those teams relies on three-point shooting for at least a third of their total points per game.
The Minnesota Timberwolves are not nearly on their level as they severely lack outside shooters. However, Wiggins' spot-up game has become a pleasant surprise for the Wolves.  He is shooting 39.2 percent on catch-and-shoot threes this year.
On this play, Wiggins catches the swing pass from fellow guard Brandon Rush. Wiggins is able to catch the ball and get it into his shooting pocket. His defender is sagging off of him with his hands down by his knees. Wiggins then uses his preferred left-foot, right-foot step to get into rhythm. He calmly rises and knocks down the three-point shot.
Feb 14, 2017; Minneapolis, MN, USA; Minnesota Timberwolves forward Andrew Wiggins (22) during a game between the Minnesota Timberwolves and Cleveland Cavaliers at Target Center. The Cavaliers defeated the Timberwolves 116-108. Mandatory Credit: Brace Hemmelgarn-USA TODAY Sports
4. The Pull-Up Jumper
This is one of fans' least favorite parts of Andrew Wiggins' game. He is so athletic that he should not have to take these shots as often as he chooses. Yet, Wiggins will often fall back on the pull-up jumper as his default when times get tough.
He particularly likes to shoot his pull-ups at one of the elbows. He will often search these spots out on the floor. Wiggins likes the left elbow in particular, as he has taken more shots from this area than any other on the floor.
Andrew Wiggins will often take one dribble from the three-point line, usually off a ball screen, and pull-up at the elbow. In watching his film I would sometimes see him go a whole game without ever making one of these shots. Take for example the game against the Portland Trail Blazers on March 25.
On the above example, Wiggins is going one on one with his man. Wiggins already has his dribble and brings the ball back behind the three-point line.
He then uses his momentum and takes one dribble inside the line and pulls up for a jumper around the elbow area. Wiggins is wide open when he takes this shot yet is not able to knock it down.
On this example, Andrew Wiggins uses a  ball screen by Gorgui Dieng to get past his man. Anthony Davis is waiting as the next level of the defense. Instead of attacking the paint on the slower man Wiggins dribbles back to the elbow to pull-up. He then clangs it off of the back of the rim.
Mar 25, 2017; Portland, OR, USA; Minnesota Timberwolves forward Andrew Wiggins (22) drives to the basket as he is guarded by Portland Trail Blazers forward Noah Vonleh (21) and guard CJ McCollum (3) during the first half at Moda Center. Mandatory Credit: Troy Wayrynen-USA TODAY Sports
3. Euro-Step
The Euro-step has become a very popular move, not just in the NBA but at all levels of basketball. That's not surprising considering how effective and simple the move is to execute. It's also a thing of beauty when done properly.
Wiggins uses the Euro-step in two different situations. The first situation is in transition opportunities. Wiggins is able to use his quickness and athletic ability to separate from his defender when faking one way and going the other.
The second place Wiggins uses the Euro-step is in the half court. It is a lot more difficult to complete the Euro-step in the half court as there is not nearly as much space as in transition. This can often lead to turnovers as there is more congestion in the lane.
Wiggins is able to easily side-step the inside help and float the ball into the basket. This can also be an effective way to score as it minimizes the hits you take when driving to the basket.
Feb 12, 2017; Minneapolis, MN, USA; Minnesota Timberwolves guard Andrew Wiggins (22) dribbles in the third quarter against the Chicago Bulls guard Michael Carter-Williams (7) at Target Center. The Minnesota Timberwolves beat the Chicago Bulls 117-89. Mandatory Credit: Brad Rempel-USA TODAY Sports
2. Turnaround Fade-Away
Just like Kobe Bryant and Michael Jordan, Andrew Wiggins has added the turnaround fade to his arsenal. It's impressive that Wiggins is able to complete the move at such a young age given the level of difficulty.
The turnaround might be one of, if not the most difficult shots in all of basketball. It requires the ability to read the defender on your back, good footwork and balance, and also excellent strength to get the ball into your natural shooting motion and all the way through the hoop.
As Wiggins continues to grow he will refine and perfect this move.
In the above play, Andrew Wiggins backs his man all the way down to the block on this play. He then hesitates, sees the big man coming over to help, fakes middle and fades towards the baseline. In watching the film, I've noticed that Wiggins is most lethal on that left baseline where he can turn over his right shoulder.
Feb 12, 2017; Minneapolis, MN, USA; Minnesota Timberwolves guard Andrew Wiggins (22) dribbles in the third quarter against the Chicago Bulls guard Michael Carter-Williams (7) at Target Center. The Minnesota Timberwolves beat the Chicago Bulls 117-89. Mandatory Credit: Brad Rempel-USA TODAY Sports
1. The Spin Move
This is one of the sweetest moves of all time. Andrew Wiggins is a bad, bad man for being able to pull this off while making it look effortless yet difficult at the same time.
Wiggins' elite athletic ability is the main ingredient for his spin move. The ability to stop on a dime and pivot quickly without traveling is amazing.  He is also then able to get good height on his jump and finish creatively around the rim.
On this play, Wiggins' defender gets confused on where the screen is coming from which allows Wiggins to drive right past him. He then meets the help defender who stands absolutely no chance.  Wiggins completely leaves the big man in his dust as he spins towards the middle of the lane and lays the ball in the hoop.
Here is another clip just because.
As Wiggins continues his career in the NBA he will continue to add to his already lethal arsenal of moves.
Wiggins is already scoring 23 points a game. Imagine what he will be able to do once he fully grasps how an NBA offense works. The possibilities are endless for this young man.
More from Hoops Habit
This article originally appeared on
---
---