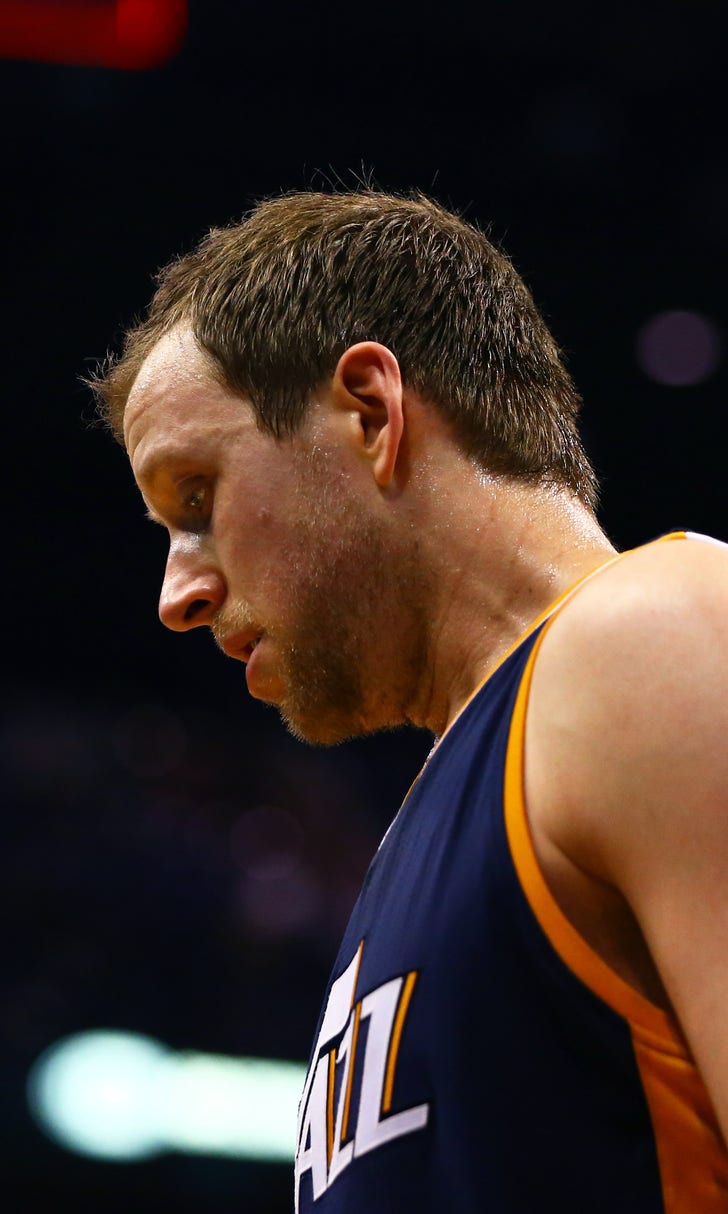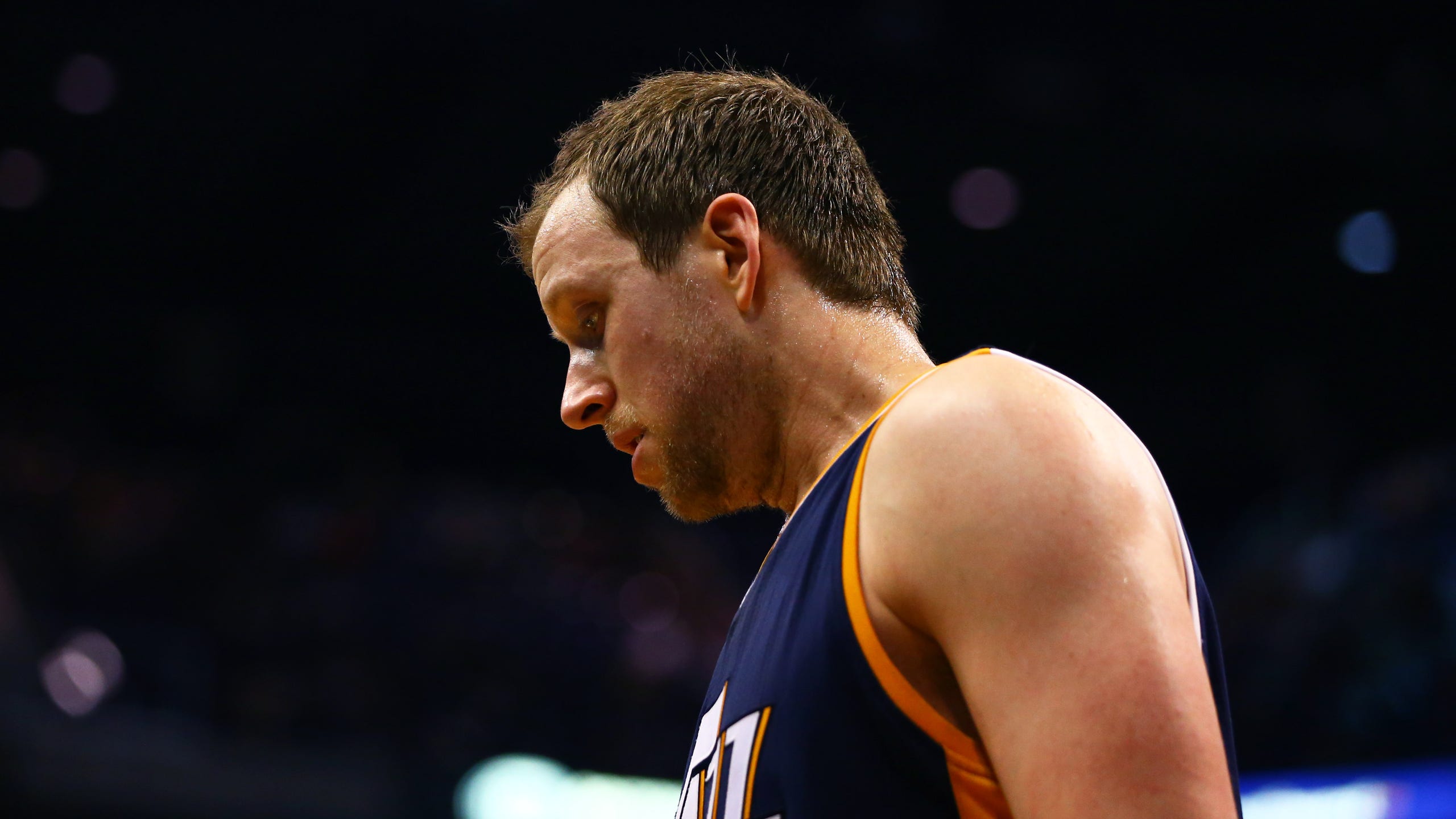 Miami Heat: Should Pat Riley Target Joe Ingles During Free Agency?
BY Fansided and Frank Urbina/FanSided via Hoops Habit • June 30, 2017
Mark J. Rebilas-USA TODAY Sports
A weak class of free agents is set to hit the open market this summer. Would a lower-level target like Joe Ingles make sense for the Miami Heat?
The Miami Heat are about to have money to spend this offseason. A lot of it.
Thanks to the one-year contracts signed by last summer's acquisitions, and Chris Bosh's contract coming off the payroll, the team is looking at upwards of $42 million in free cap space.
Now, a large portion of that will likely go to re-signing impending free agents Dion Waiters and James Johnson. Furthermore, provided Miami doesn't land a max-level guy this summer, they will have no problem exercising their team option on Wayne Ellington, thus bringing him back for 2017-18.
But even with at least two of those three players returning, the Heat should still have plenty of change left over. Not enough for the Gordon Haywards or Blake Griffins, but adequate space for lower-level guys who could contribute to the playoff push.
One such name to look out for is Joe Ingles of the Utah Jazz. The Australian wing is a great defender, distributor and three-point shooter, and his grit and toughness would assimilate wonderfully within the Heat's culture.
An issue with a potential marriage between the two, however, is that Ingles will be a restricted free agent, meaning Utah will have the option to match any offer sheet he signs. But according to one very well-connected media member, that may be less of a problem than anticipated.
At least if free agency unfolds how most expect it to.
Jennifer Stewart-USA TODAY Sports
Just How Available Is Ingles, Really?
Recently, ESPN writer/basketball savant Zach Lowe hosted David Locke — the radio voice of the Jazz — on his popular podcast, The Lowe Post.
Near the end of the show, Lowe brought up the fact that Hayward, along with Utah's starting point guard George Hill, are both about to be free agents. He followed that up by saying:
I would predict [Hayward] stays… if he stays, and George Hill stays, I think you gotta say goodbye to Joe Ingles… I don't think you can afford [him] anymore. Ingles has made himself some money.
Basically, Lowe feels that the Jazz would be less inclined to match an Ingles offer sheet if they get through re-signing their two bigger names, which makes sense. After all, Hayward's deal will be massive, considering the number of suitors he's going to have.
Hill should also get a contract worth at least $18 million per year. (Think of it this way, the Milwaukee Bucks signed Matthew Dellavedova to a four-year, $38.4 million contract. That's about $9.6 million annually, while Mike Conley of the Memphis Grizzlies received a five-year, $153 million deal — or, $30.6 million on average. I'm predicting Hill gets a contract worth just less than the mean of those two, which — if anything — is probably a low-ball estimate on my part.)
There's very little chance the Jazz — a small market team through and through — will be able to afford re-signing those two studs (in addition to already having given Rudy Gobert a max extension last Halloween), and then still have the means to match an Ingles offer sheet.
It's a door left slightly ajar, and the Heat should absolutely put their foot in it and try to acquire the underrated small forward, for various reasons.
Russ Isabella-USA TODAY Sports
How Ingles Fits
One of the Heat's biggest needs this offseason is size on the wing. Rodney McGruder filled the role admirably as a rookie, but he's just 6-foot-4 and playing out of position at the 3.
heat
Hoops Habit 1 dMiami Heat: 6 Most Interesting Late Lottery Draft Options
More headlines around FanSided:
1 d - Miami Heat will play two playoff teams at home during 2017-18 preseason1 d - Miami Heat, Pat Riley could help Paul George reach his potential1 d - Mailbag: Who should the Miami Heat's young players model their games after?3d - Miami Heat: 5 Potential (Cheap) Willie Reed Replacements3d - Pat Riley Regrets Paying Chris Bosh Over Dwyane WadeMore News at All U Can Heat

Even as such, Miami's offense was 1.1 points-per-100-possessions better with him on the floor.
The reason? His low usage, coupled with his ability to make quick, decisive plays when he did get the ball, made him an excellent complement to Goran Dragic and Waiters.
Ingles can do exactly that, but on steroids.
He's 6-foot-8, so he can more ably guard the bigger perimeter stars the NBA has to offer. His defensive metrics are off the charts for a player averaging merely 24 minutes: 32nd in defensive win shares (ahead of Tony Allen, one of the best defenders in the league) and 55th in defensive points saved (per NBA Math).
Additionally, the current Jazz small forward is a 44.1 percent three-point shooter, a mark that would have easily led the Heat in 2016-17. On wide open looks from deep (no defender within six-plus feet) he shot 52.3 percent. For reference, that's the third-best rate in the NBA among guys who took 100 such shots.
And finally, he's a creative playmaker. As the playoffs have progressed, Ingles has surprised those who haven't watched the Jazz all year with his prowess in the pick-and-roll.
On the year, he created 0.76 points per possession as the pick-and-roll ball handler — a clip higher higher than that of Waiters, Tyler Johnson and Josh Richardson. Utah's offense was also +3.9 points-per-100-possessions better with him on the floor.
Ingles would provide Miami with excellent defense and distribution, while spacing the floor beautifully. The plethora of ways he can contribute without needing the ball in his hands is astounding. To put it simply, think of him as the Monstar version of McGruder.
So only one question remains: Is acquiring Ingles fiscally even possible?
Russ Isabella-USA TODAY Sports
How Much Will He Cost?
Before we get into that, we should mention Pat Riley has already stated what his plan of attack this offseason will be. During his end-of-year presser, the Godfather of South Florida said that the focus of this summer will be on bringing back the Heat's core pieces.
More from Hoops Habit
On guys like Waiters and Johnson, who are going to get much bigger contracts than their prior ones.
Judging by the deals dolled out last offseason, Miami would be lucky to sign both free agents to agreements worth a total of $28 million (yearly) combined. If they somehow do, and let Ellington walk, that would leave Riley with another $14 million in cap space.
Most speculate Ingles will land a deal worth at least $12 million per year. We're working under the presumption that Utah will tap out of matching an offer that big, which they almost certainly will.
After adding the 29-year-old wing, and bringing back the Waiters/Johnson tandem, Miami would be about done with the spending.
That leaves the Heat with a starting five of Dragic, Waiters, Ingles, Johnson at the 4 and Hassan Whiteside — four good-to-great three-point shooters, four creative playmakers, and one pick-and-roll-finishing Hulk cleaning up on the glass and protecting the paint.
The versatility and position-less styling provided by that frontcourt could give Miami's defense — which finished 2016-17 ranked fourth overall in rating — an even bigger boost. Scary thought.
Backing them would be a strong bench, as well. Richardson, T. Johnson, Justise Winslow (splitting time at backup 3/4), whoever they draft in the first round, McGruder and Okaro White would form quite the reserve unit. Add another power forward/center type at the minimum, like Nene, and you may have one of the league's very best.
It's a rotation that would certainly be good enough to make the playoffs, and one that could compete for a top-four seed in the East.
---
---