Bradley Beal
Bradley Beal
Lakers-Wizards Preview
Published
Dec. 2, 2015 2:11 a.m. ET

An eight-game road trip is serving as the start of Kobe Bryant's farewell tour. The first stop of it couldn't have gone much worse.
The Lakers try to avoid an eighth straight loss Wednesday night against the Washington Wizards, who are coming off their most impressive performance of the season.
Los Angeles (2-15) owns the worst record in the Western Conference as it continues its rebuilding phase. Bryant won't be part of the project beyond this one, announcing Sunday that he's retiring at the end of the season.
The Lakers may have had their best chance for a victory Tuesday against winless Philadelphia, Bryant's hometown. Although Bryant hit his first three shots - all from 3-point range - he finished with 20 points on 7 of 26 from the field and watched as the 76ers earned their first win of the season, 103-91.
Philadelphia ended a 28-game losing streak - a record in major U.S. pro sports - as the sellout crowd cheered Bryant throughout the game.
"I wasn't expecting that type of reaction, ovation," Bryant said. "Deeply appreciative beyond belief. It was really, really special."
Similar receptions are expected for Bryant, but the Lakers have bigger concerns and chief among them is a seven-game losing streak and an eight-game skid on the road.
This entire season has been a struggle for the retiring superstar but Bryant's last four games have been particularly alarming. He's averaged 14.5 points on 23.8 percent (19 for 80) shooting, including 8 for 36 (22.2 percent) from beyond the arc.
Facing Washington (7-8) isn't likely to help. Los Angeles has surrendered an average of 109.0 points while losing five straight to the Wizards.
Bryant missed three of those matchups because of injury, totaling 50 points over the other two.
Washington ended a four-game losing streak in the unlikeliest of places Tuesday, winning 97-85 at Cleveland to send the East-leading Cavaliers to their first home loss. John Wall had a season-high 35 points, 10 assists and five rebounds for the Wizards, who scored the game's first 10 points and went on a 9-0 run to begin the second half.
"We are an unpredictable team," said center Marcin Gortat, who had 15 points and 11 boards. "Last year, we proved we could beat good teams by 20, but we can lose at Philly. We are a crazy team."
Wall's performance came after he averaged 13.6 points and shot 33.8 percent from the floor in the five previous games.
''Every team is trying to make me make jump shots this year, so I was just being aggressive and getting to the basket. I got into a rhythm early and it helped us get going,'' he said.
Wall is averaging 24.2 points while shooting 50.0 percent from the field over the last five meetings with the Lakers.
Bradley Beal is scoring 21.3 points per game during the past three matchups. He had 27 points and connected on 11 of 19 field-goal attempts while Wall scored 17 with 16 assists in a 111-95 home victory over Los Angeles on Dec. 3.
The Lakers are getting 20.0 points per game out of Jordan Clarkson over the past three contests. The second-year guard had 18 against the Wizards in January.
---
---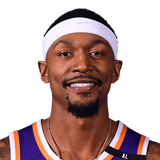 Get more from Bradley Beal
Follow your favorites to get information about games, news and more
---