Jahlil Okafor
Jahlil Okafor
Lakers-76ers Preview
Published
Nov. 30, 2015 1:30 p.m. ET

(AP) - The buzz is back in Philadelphia, even as the 76ers fall further into NBA infamy every time they play.
Kobe Bryant is coming home to play - for the last time.
The Los Angeles Lakers' first road game since Bryant announced he would retire after this season is Tuesday night in Philadelphia, and everybody seems excited.
''I'm hearing it's probably going to be sold out just because it's Kobe's last time playing in Philadelphia. That'll be great,'' 76ers rookie Jahlil Okafor said.
With the 76ers off to an 0-18 start and losers of a record 28 straight - the longest losing streak in major U.S. pro sports - anger and apathy have set in around the franchise. A ticket on the resale site StubHub was as cheap as $8 to see San Antonio visit Philadelphia next week.
But after Bryant's announcement, the least expensive seat in the house was going late Sunday night for $59 - and that's almost certain to keep rising over the next couple days.
''It's going to be beautiful,'' Bryant said. ''So much of my game was developed from Philadelphia.''
Bryant was born in Philadelphia and drafted out of Lower Merion High School in 1996. His hometown hasn't always adored him, with fans famously booing him in the 2002 All-Star Game after he helped the Lakers beat the 76ers in the 2001 NBA Finals.
But cheers will surely drown out any boos Tuesday. Bryant has insisted he doesn't want one of those farewell tours for retiring stars, and coach Byron Scott doesn't think that will change just because of the location.
''I think he's going to kind of view it the same as he's done every game. He's just going to go out there and try to win and try to play the best he can,'' Scott said.
The 76ers have been more competitive lately and might have a good chance to earn their first victory against the Lakers, who at 2-14 have the NBA's second-worst record.
But even if they lose and surpass the 2009-10 New Jersey Nets for the worst start in NBA history, it should be a memorable night.
''It's an honor to sort of welcome him back to Philadelphia to begin with,'' Sixers coach Brett Brown said. ''Kobe's legend has lived in that city for many years, and will continue to live there. For him to come back and play his first game after announcing his retirement, it's a privilege for all of us.''
Fans at the Wells Fargo Center will also be hoping Bryant can turn back the clock a little Tuesday. He's struggled badly with his shooting, making 30.5 percent on the season and suffering through a 1-for-14 effort against Golden State last Tuesday.
Bryant has shot 23.7 percent in the past four games after going 4 of 20 in 107-103 home loss to Indiana on Sunday, his first game since announcing his retirement. He hit a 3-pointer with 11 seconds left in a one-point game that drew a road from the crowd, but then shot an airball on a potential tying 3 with 6 seconds to play.
''I've known for a while,'' Bryant said. ''A decision like this, you can't make that decision based on outside circumstances. It has to be an internal decision, and finally I've decided to accept that I can't actually do this anymore, and I'm OK with that. It takes a weight off my shoulders and everybody else's.''
Bryant missed his first six shots and went 2 for 15 in the first half.
''It's my first time playing back-to-back (games this season), so I felt drained for other reasons,'' he said.
The Lakers have lost six straight and 10 of 11. Jordan Clarkson had 22 points and a career-high 10 rebounds Sunday while Nick Young hit six 3-pointers while scoring 22 points.
Los Angeles has won three straight in the series overall and three in a row at Philadelphia.
---
---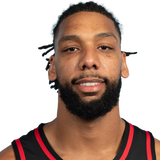 Get more from Jahlil Okafor
Follow your favorites to get information about games, news and more
---