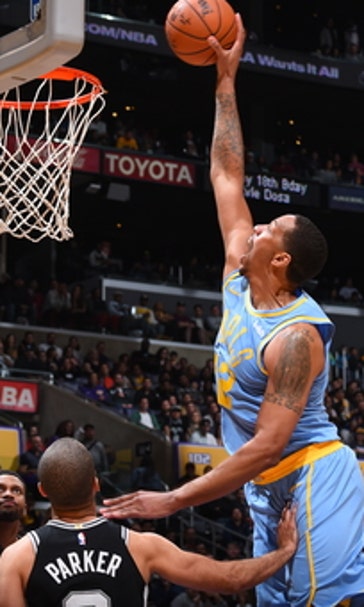 Kuzma scores 30, Lakers beat Spurs 122-112 in overtime
April 5, 2018
LOS ANGELES (AP) Kyle Kuzma and the Los Angeles Lakers easily could have surrendered to fatigue on the second night of a back-to-back late in the season against a team fighting for playoff positioning.
Instead, the Lakers found the resolve to end a three-game losing streak.
Kuzma scored six of his 30 points in overtime and the Lakers swept the three-game season series against the San Antonio Spurs with a 122-112 victory on Wednesday night.
Kuzma, who became first rookie in NBA history with 1,200 points, 450 rebounds and 150 3-pointers in a season, made a 3-pointer and a sky hook to start overtime and give the Lakers a lead they would not relinquish. Los Angeles outscored the Spurs 14-4 in the period.
''Tonight I could tell he wasn't going to ask to come out of that game. He was going to fight through it,'' Lakers coach Luke Walton said. ''Kuz, it's fun watching him compete at that level when he gets in that zone.''
LaMarcus Aldridge had 28 points for the Spurs, who lost on back-to-back nights at Staples Center and are tied with Oklahoma City for fifth place in the Western Conference, a half-game behind Utah. The Spurs and Thunder both have three games remaining.
''It's unreal, but it can happen,'' said Pau Gasol, who had 11 points and 12 rebounds. ''Those guys played with no fear. They have the green light to get them up, they made a lot of tough shots, and it hurt us.''
Dejounte Murray had 23 points, 10 rebounds and six assists, and Patty Mills scored 15 points, but the Spurs lost their seventh straight on the road.
Josh Hart had a chance to win it in regulation for the Lakers, but his layup hit the back of the rim and went off the front as time expired.
The Lakers swept the Spurs for the first time since 1997-98, relying on their second unit to fight back from an eight-point deficit in the third quarter. Channing Frye scored 19 points off the bench, and Tyler Ennis added 10 points and seven assists.
Walton was pleased with the sweep, but downplayed the idea it represented a significant achievement for a young team.
''To beat them multiple times in a season for a young team that's kind of finding themselves is a nice accomplishment, but they are most likely still going to the playoffs this year and we're not,'' Walton said.
TIP-INS
Spurs: Rudy Gay had 14 points off the bench. ... Manu Ginobili (rest) did not play. ... San Antonio was outscored 21-9 in fast-break points, including an 11-2 disparity in the first quarter. ... The Spurs' magic number to clinch their 21st consecutive playoff berth remains two.
Lakers: G Lonzo Ball missed his fourth consecutive game because of a left knee contusion. ... F Brandon Ingram remains in concussion protocol and missed his third straight game. ... The Lakers set a single-season franchise record with 782 3-pointers, breaking the previous mark of 774 in 2013-14. ... The Lakers wore their Minneapolis throwback uniforms.
ALMOST PERFECT
Frye was 8 of 9 from the field, but his only miss had his teammates and Walton laughing at the veteran's expense after whiffing on an uncontested dunk at the start of the fourth quarter.
''It was funny because after that he made that 3 that hit the top of the backboard and fell in. I turned to him and said, 'Stick to that,''' Hart said.
DEFENSIVE SWITCH
Aldridge had 14 points in the first half and 12 more in the third quarter before Walton decided to start double-teaming him. The adjustment worked, forcing Aldridge to become a facilitator.
''He does what he's supposed to do, get rid of the ball, and now it's up to the rest of the players to attack and make plays,'' Gasol said.
UP NEXT
Spurs: Host the Portland Trail Blazers on Saturday.
Lakers: Host the Minnesota Timberwolves on Friday.
---
More AP basketball: https://apnews.com/tag/NBAbasketball
---
---