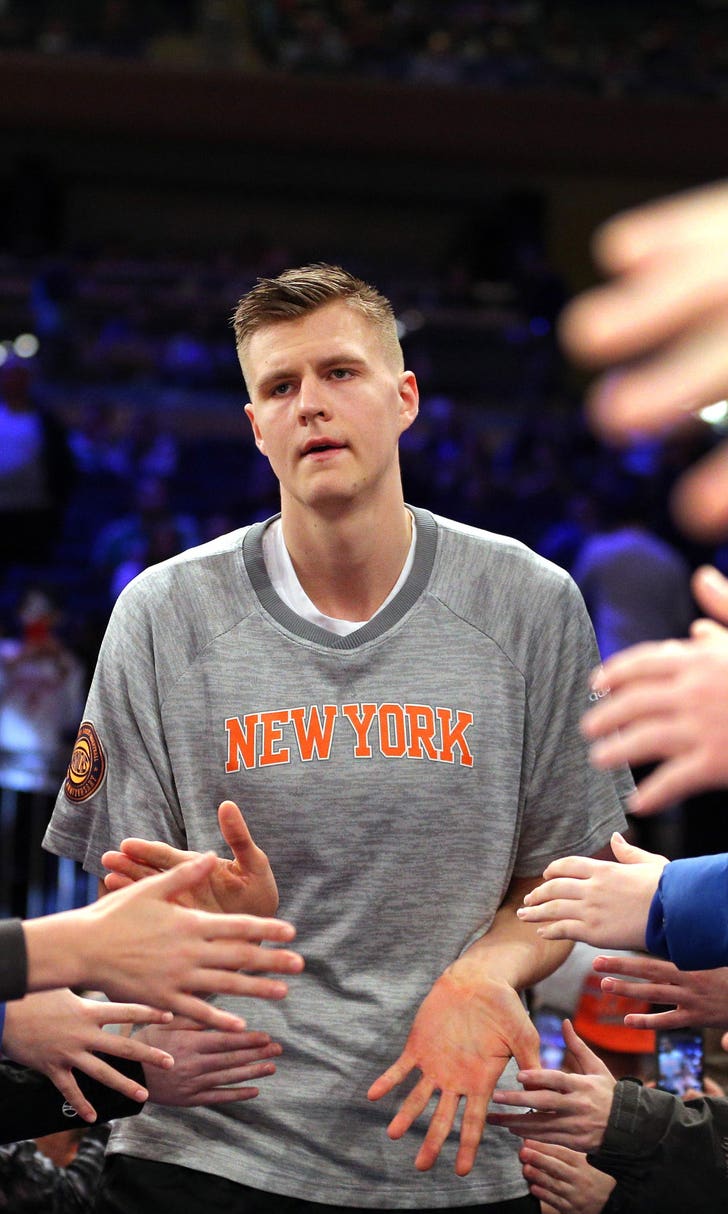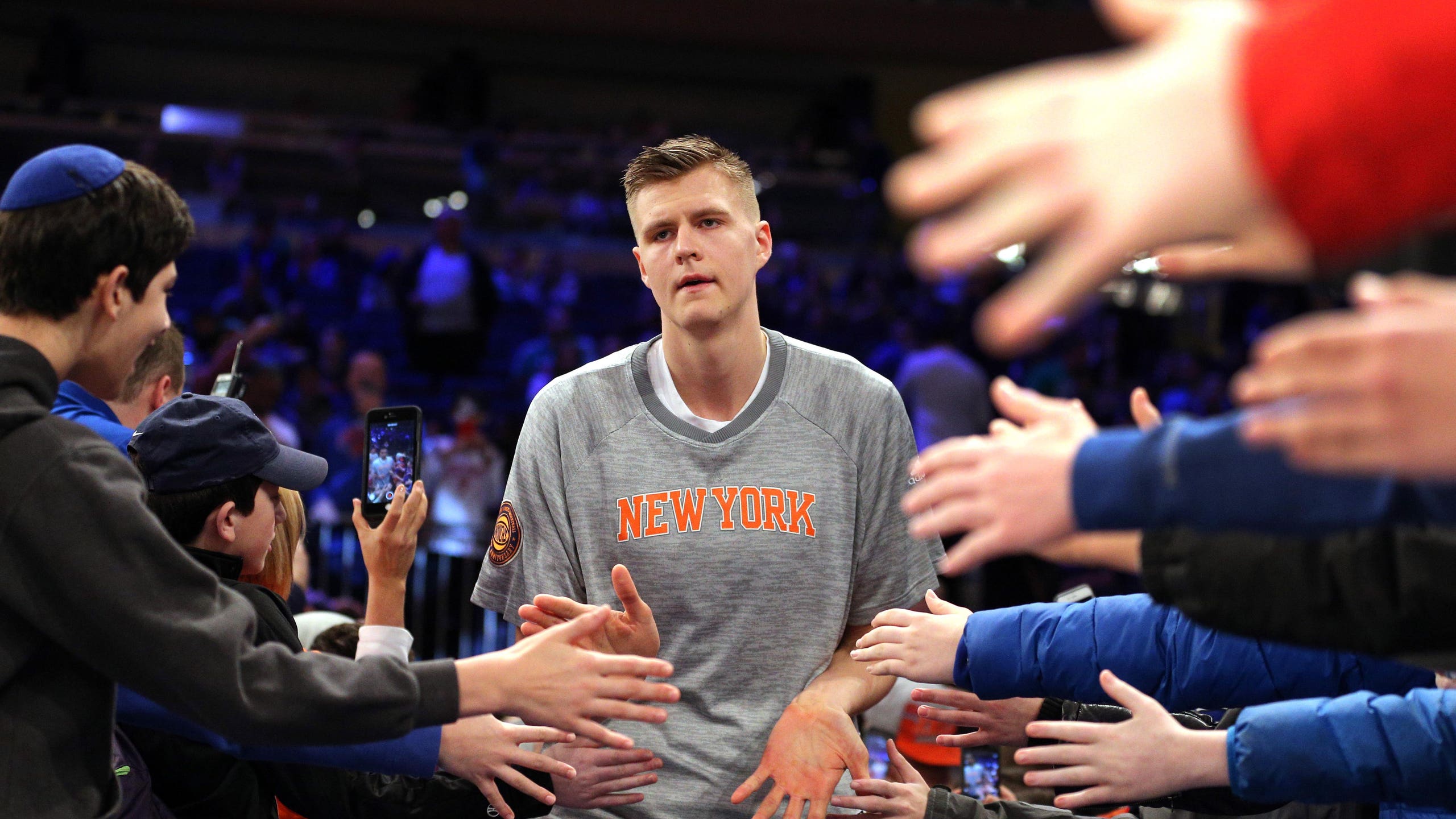 Kristaps Porzingis continues to rebel New York Knicks management
BY Fansided and Ed Easton Jr./FanSided via Hoops Habit • June 30, 2017
Apr 2, 2017; New York, NY, USA; New York Knicks power forward Kristaps Porzingis (6) high fives fans as he enters the court for warmups prior to the game against the Boston Celtics at Madison Square Garden. Mandatory Credit: Brad Penner-USA TODAY Sports
The public disconnect between the New York Knicks and star forward Kristaps Porzingis continues to make headlines — or in this case, tweets.
It's no secret by now that Kristaps Porzingis isn't exactly thrilled with New York Knicks management at the moment. The recent events surrounding his teammate Carmelo Anthony being publicly shamed by team president Phil Jackson have led to the Latvian star rebelling against the franchise by skipping out on his mandatory summer exit meeting. This decision sent shock waves across the league as teams are now curious to see if the big man is available on the trade market if he is indeed unhappy in New York.
Porzingis has spent most of the summer avoiding the Knicks organization completely by returning to his home country Latvia. He is currently preparing to play in the FIBA tournament representing the country over the summer against the wishes of many in Knicks management who would prefer he rested before next season. In an interview with Latvian media translated by the New York Post, Porzingis refused to comment on his current state with the Knicks.
"To be honest — I don't want to comment on anything that happened at the season's end. Personally I did not have any contact with anybody from the club [since the season ended], so … better that [Porzingis' older brother] Janis comment on this. To be honest, I don't think about that right now, I just try to do my best. I believe everything will resolve itself."
As Porzingis was refusing to explain his skipping of the exit interview it was reported by another Latvian outlet that the 21-year-old planned on only playing for New York. This brought some calm to many Knicks fans until the Los Angeles Clippers were eliminated from the first round of the Western Conference playoffs last week.
Clippers coach and executive Doc Rivers has been very vocal in bringing talent to take the team to title contention. Originally the name Carmelo Anthony was thrown around in a possible swap with star forward Blake Griffin.
The idea of that trade was put to sleep Saturday evening as for no apparent reason Porzingis decided to take to his Twitter account and express love for the Clippers organization. The tweet was quickly deleted, but not before it was screenshot by thousands and shared over social media.
As of this moment neither the Clippers or Knicks have addressed the cryptic tweet and what it could possibly mean for the future of all involved, though KP himself has said he was hacked.
Jackson did not help the situation during last month's press conference publicly questioning Porzingis' durability and whether or not he was ready to lead the team.
"No, I don't (think he's ready). He's 21 years old. That's a big load for anybody to take on, But he's shown that he's competitive. He's shown that he's got a sense of desire to win, etc. So we're really pleased with how he's developed. I think he had some concern this year about physicality, not being able to stand up to all the games physically with his Achilles tendon, back, etc."
This could all possibly be part of Porzingis' plan to get into the Knicks brass heads after Jackson's comments.
As of this morning Porzingis released another tweet confirming he would never tweet such a thing.
Porzingis knows he is a star and this "accidental" act of rebellion is just a public reminder of his great worth around the league.
More from Hoops Habit
This article originally appeared on
---
---