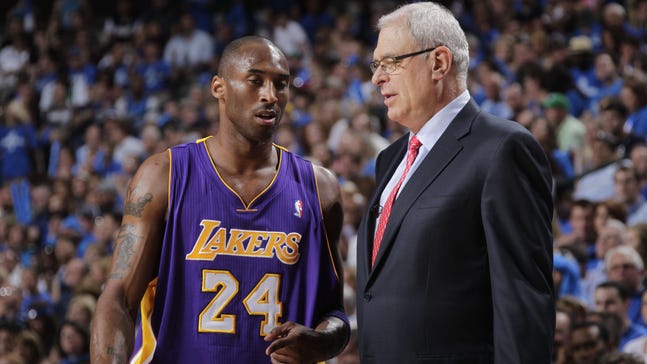 Kobe Bryant ends a silly Phil Jackson argument with the perfect quote
Published
Mar. 14, 2016 9:57 a.m. ET

NBA coaches can not win anything meaningful without talent. Only 31 have been lucky enough to win a championship, and each had at least one All-Star/Hall-of-Fame-caliber centerpiece onboard. 
This includes New York Knicks president Phil Jackson, who won a record 11 titles coaching the Chicago Bulls and Los Angeles Lakers. He had the good fortune of leading Michael Jordan, Scottie Pippen, Dennis Rodman, Shaquille O'Neal and, of course, Kobe Bryant.
Somehow, the fact that Jackson had the league's most dominant players in their prime is often turned against him in arguments over who the number one coach in NBA history really is. After the Lakers lost to the Knicks on Sunday night, Bryant had a hilarious/true comment on that line of thinking:
Kobe is correct. Jackson needed great players to execute his vision and would not have 11 rings (as a coach) without them. But he also did a tremendous job utilizing countless role players, extracting their strengths and hiding their weaknesses, carving out responsibilities they could handle.
From Steve Kerr to Ron Harper to Brian Shaw to Jordan Farmar, Jackson always knew how to push the right buttons, and how to get his players to go as hard for him as they would for any other coach. 
Could someone else have won those titles if placed in Jackson's position? Possibly, but we'll never know. He's third all-time in regular-season winning percentage (behind only Kerr and the 17-7 Tyronn Lue -- two players Jackson coached) and 105.5 more games above .500 than Boston Celtics legend Red Auerbach. Clearly, Jackson knew what he was doing.
---
---