Knicks-Heat Preview
BY foxsports • January 6, 2016
The Miami Heat feel they're improving, and their status as Southeast Division leaders certainly reinforces that belief.
They're usually at their best against the New York Knicks.
On the verge of their longest winning streak of the season Wednesday night, the Heat look to extend their dominance of the Knicks, who are trying to surpass last season's win total.
Miami (21-13) missed the playoffs last season and was just three games above .500 following a loss at Indiana on Dec. 11. The Heat have since gone 9-4, winning a season high-tying three games in a row after erasing an 18-point, third-quarter deficit in Monday's 103-100 overtime win against the Pacers.
Miami also overcame its worst shooting performance of the season at 37.8 percent.
"We're a lot better than we were at the start of the season," said guard Dwyane Wade, who had 27 points and eight rebounds while hitting a layup at the buzzer in regulation.
Chris Bosh has definitely been better over the last nine games, averaging 24.3 points while hitting 49.1 percent from the floor - 46.3 from beyond the arc. The forward was scoring 17.0 points per game through the first 25.
Bosh was superb again Monday, scoring a season-high 31 points while grabbing 11 rebounds. He's averaged 22.0 points over his last four meetings with the Knicks, collecting 20 in a 97-78 win at New York on Nov. 27.
The Heat have held the Knicks to 85.1 points per game while winning eight straight matchups. That includes two this season as New York has averaged 78.0 points on 34.9 percent shooting while missing 31 of 38 from 3-point range.
It's unknown if Miami will be without Hassan Whiteside for a second straight game due to a sore right knee. The center is fourth in the NBA with a career-high 11.3 rebounds per contest, and he pulled down 14 in the most recent win.
The Knicks (17-19) gave the Heat some help in the Southeast race by sweeping a home-and-home set with Atlanta, which is one game behind Miami in second place.
Carmelo Anthony came three assists shy of a triple-double, finishing with 23 points and 11 rebounds in Tuesday's 107-101 road victory over the Hawks.
"He was doing everything for us, as a leader should do," said forward Kristaps Porzingis, who had 17 points and 11 boards.
New York will exceed last season's win total with its next victory, a considerable improvement from its franchise-worst 17-65 in 2014-15 that was the worst record in the Eastern Conference.
"I told y'all I don't remember last season," Anthony said. "I'm serious. I don't remember any of it."
He'd probably like to forget his performance against the Heat on Nov. 27, finishing with 11 points while making 4 of 13 from the floor. Anthony averaged 29.9 points over his previous 11 meetings.
Arron Afflalo has totaled 15 points in two games against Miami this season, matching his season low with four in the most recent game. However, the guard feasted on the Hawks, scoring 23 points Tuesday after getting a season-high 38 in a 111-97 home victory two days earlier.
New York is 9-2 when Afflalo scores at least 15 points but 4-13 when he has 14 or fewer.
---
---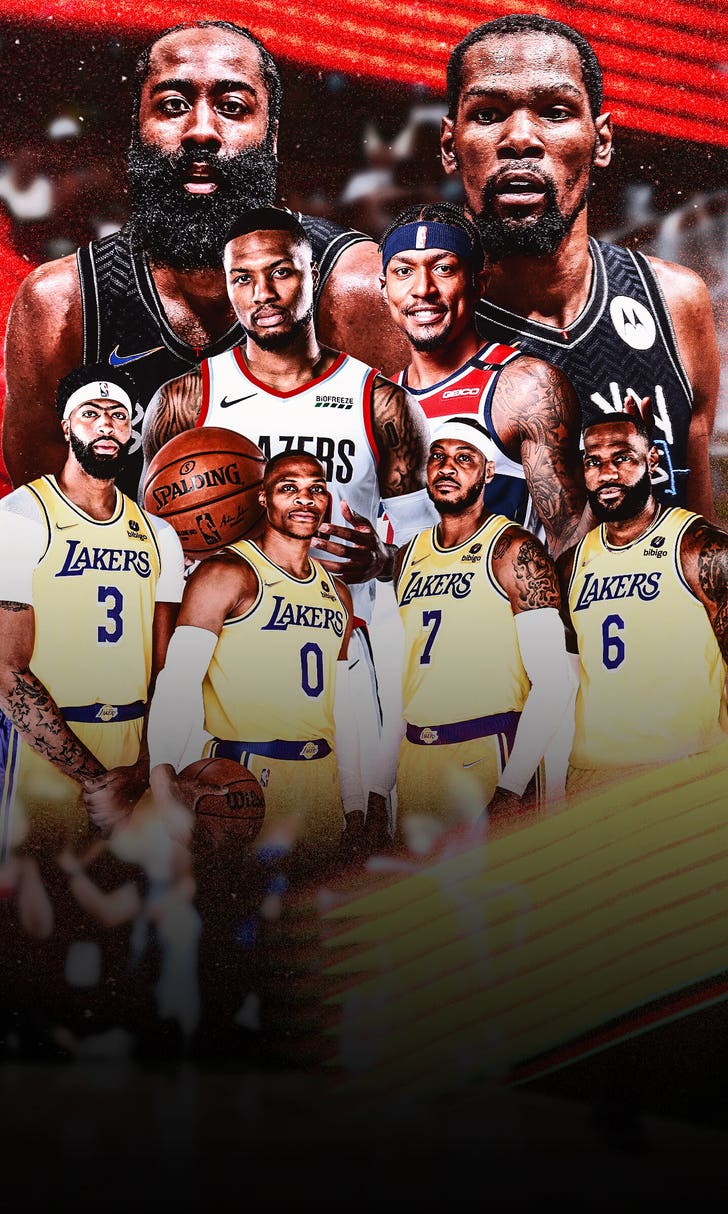 National Basketball Association
NBA 2021-22 season predictions: 75 picks for the league's 75th season