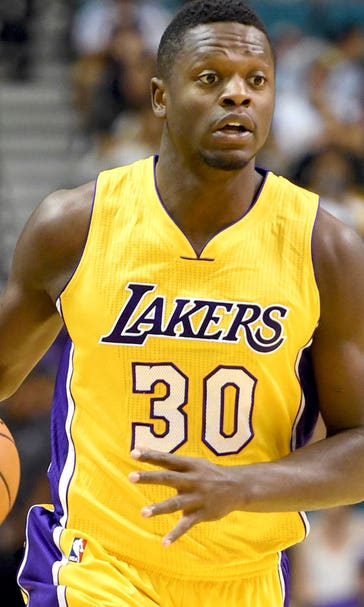 Julius Randle says he's 'not scared' of Kevin Garnett
October 30, 2015

It was a moment in which it would've been okay to back down. Most players -- especially younger ones -- are intimidated by Minnesota Timberwolves forward Kevin Garnett. He barks and he yells and he screams and he gets in your head. He's 7-feet tall. He frowns a lot. 
So when he approached Los Angeles Lakers second-year forward Julius Randle with his trademark snarl, and got chest to chest with Randle, no one would've been surprised if Randle turned and walked away. Garnett does that to everyone.
But Randle stood his ground and lashed back. He didn't flinch. He didn't retreat. He was ready to fight, if that's what Garnett wanted. Though it might sound insignificant, it was a breakout moment of sorts for a player who's defining NBA moment was breaking his leg 15 minutes into his career last season.
"I knew Julius wasn't going to back down," Jordan Clarkson told the Orange County Register. "He's got that dog in him."
Randle doesn't need the praise from his teammates, though. He didn't think the moment was a big deal.
"I'm not scared of anybody," Randle told the Los Angeles Daily News. "The main thing is we know that's his thing. That's what he does, try to get in people's heads. I've been watching him my whole life so I knew what to expect."
While some may not have seen that side from Randle before, Kobe Bryant knew that an altercation between the two would take place. Bryant's history with Garnett dates back two decades, and he could sense that KG would try to test Randle, according to the Orange County Register:
"I know K.G.," Bryant said a day after beginning his 20th season, "and K.G. loves to test the young guys, just to see what they're made of. And I knew they were going to get into it."

Bryant was delighted with Randle's response to Garnett's bullying, saying Randle "responded like a grown … man."

"He's laying the foundation," Bryant said. "He wants to build his reputation around the league and he's certainly doing that. He's not intimidated by anybody."
---
---