Marco Belinelli
Marco Belinelli
James, Cavs close out strong 2016 vs. Hornets (Dec 31, 2016)
Published
Dec. 30, 2016 4:24 p.m. ET

LeBron James had plenty to celebrate in 2016, beginning with delivering Cleveland's first championship in 52 years. As he turned 32 on Friday and reflected on one of the more memorable years in his life, James has one goal for the new year: just keep it going.
James' numbers are up compared to last season's championship. While the point difference is negligible (25.4 this season, 25.3 last season), he's within range of setting career highs in rebounding and assists. His overall shooting percentage is down, but his 3-point shooting is up drastically.
"It must be the wine drinking. Get better with age, I guess," James laughed. "I just feel great. I've conditioned myself and I'm having one of the best seasons of my career so far and I just want to try to continue to keep it going."
James, however, does not believe in New Year's resolutions.
"I'm not a start-over guy on the first of the year, I just try to continue it. Keep it going," he said. "I'm not New Year's resolution guy, I don't say, 'let's get to a new start.' Let's just keep it going. My calendar doesn't stop. My hours continue to go and we want to continue to be as great as we can be even going into Jan. 1."
The Cavs won eight of their last 10 entering Saturday's New Year's Eve visit to the Charlotte Hornets. They've already swept the two home games against Charlotte in Cleveland this season.
The Hornets won five of six after their last loss to the Cavs triggered a four-game losing streak. Kemba Walker became the fourth player in Hornets history to reach 7,000 points -- and the youngest to get there -- in Thursday's win against the Miami Heat.
Walker reached 7,000 in 26 years, 235 days to eclipse Larry Johnson's old team mark of 26 years, 360 days. Walker remains fourth on the team's all-time scoring list behind Dell Curry, Gerald Wallace and Johnson.
"I guess that's pretty cool," Walker said. "I would've never thought that'd be me accomplishing milestones like that."
Cleveland point guard Kyrie Irving was forced out of the final minute of Thursday's win against the Boston Celtics with cramping in his right hamstring and calf. Irving, who like James played more than 40 minutes in the victory, did not need an IV or any medical treatment after the game and Coach Tyronn Lue was confident he'd be fine to play Saturday against the Hornets.
Charlotte guard Marco Belinelli, however, missed his last three games with a sprained left ankle and remains questionable for Saturday.
The Cavs are the only team in the league with three players averaging at least 22 points. Cleveland is 9-1 when James, Kyrie Irving and Kevin Love each score at least 20 points.
Love became the first player in Cavs history to score at least 30 points, grab at least 15 rebounds and make at least six 3-pointers in the win against Boston.
Cleveland won eight of the last nine games in this series since James returned to Cleveland prior to the 2014-15 season. The Cavs beaten Charlotte by an average of 9.6 points in the eight wins.
---
---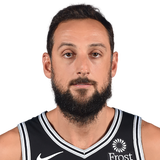 Get more from Marco Belinelli
Follow your favorites to get information about games, news and more
---