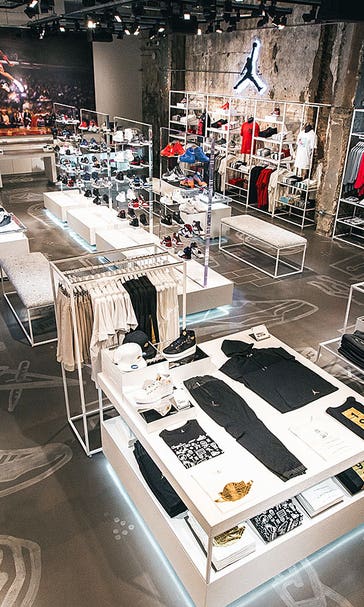 Inside the grand opening of Jordan Brand's 32 South State retail space
October 29, 2015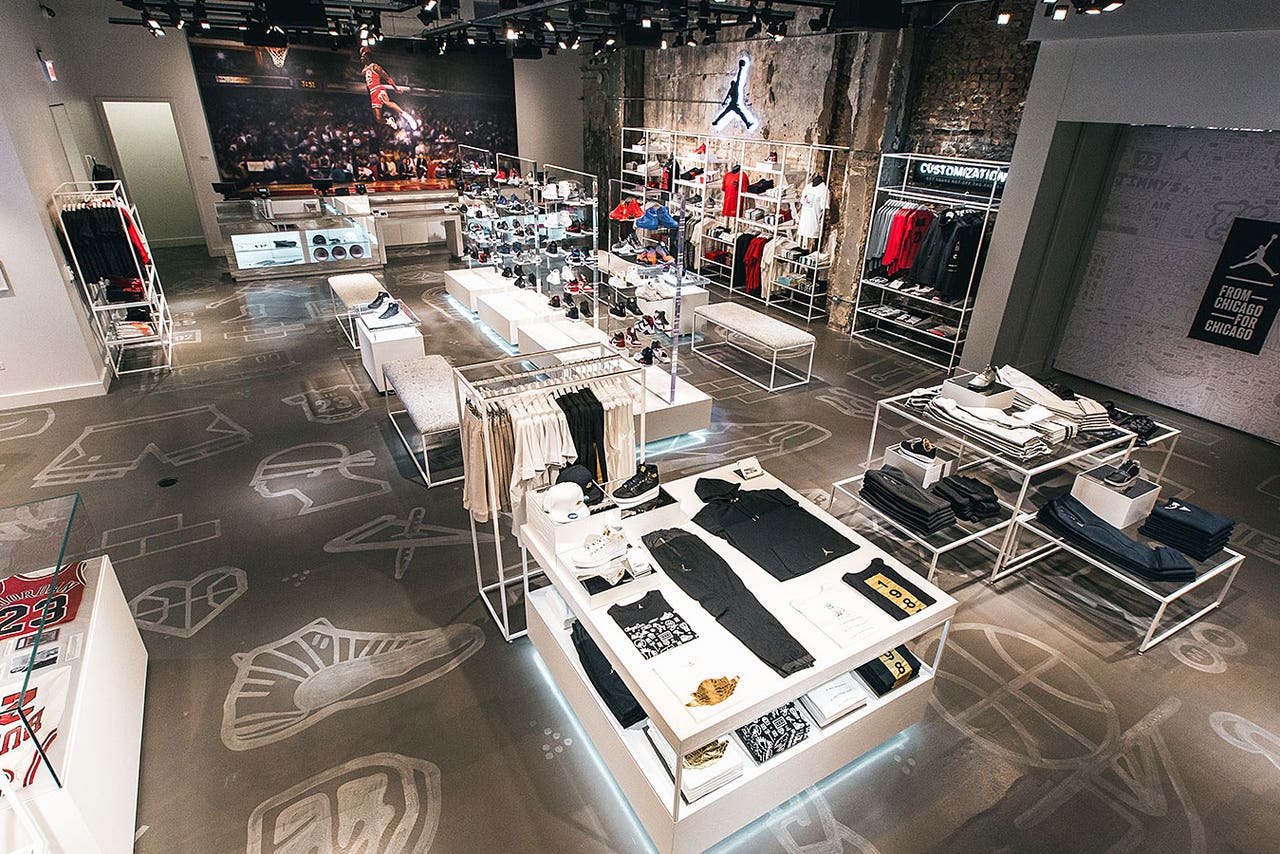 CHICAGO — Michael Jordan is known the world over for his basketball greatness, but all he did on the court resonates best with the people in the city where it all took place.
It made sense, then, for Jordan Brand to construct its first independent retail space in Chicago. The grand opening of 32 South State lived up to the hype, while making its namesake proud.
Fans lined up on the street for days to be among the first to get in on Saturday — and for good reason. The store would be restocking some highly coveted limited-edition releases such as the Just Don 2s, the OVO 10s, the Shattered Backboard 1s and the Photo Reel Jordan XX9s.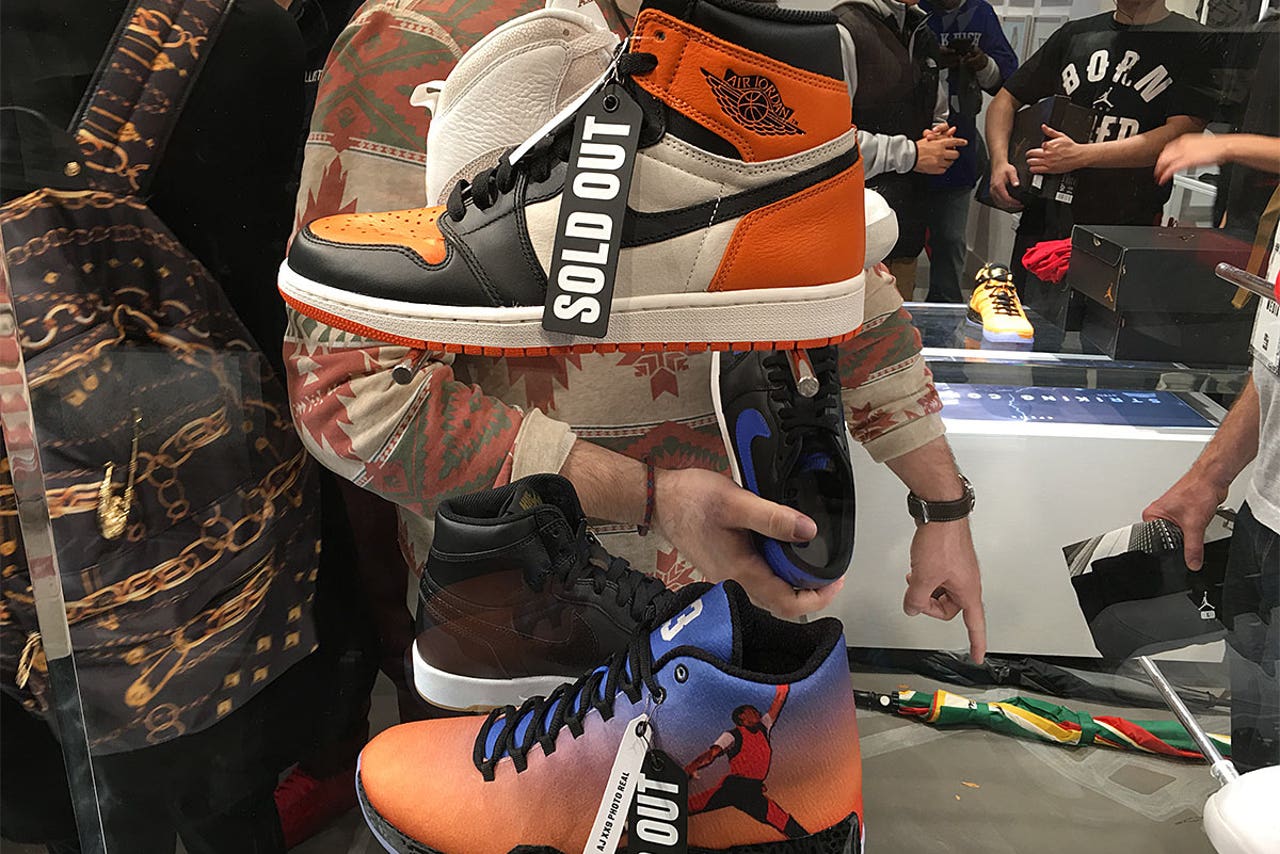 "Shattered Backboard" 1s and "Photo Reel" Jordan XX9s turned heads.
But it wasn't necessary to get there quite that early.
"I was only in line since 12 a.m. last night," said Chicago native Dwayne Fletcher, who was there with his significant other and among those who emerged from the store holding multiple bags shortly after 8 a.m. "They were camped out pretty much since Monday or Tuesday."
Fletcher had seven pairs of shoes in total and still came away with rare ones like the XX3 retros that were exclusive to Chicago, the Melo M11 designed by artist Hebru Brantley, and a couple of the aforementioned. He had no plans to sell any of them.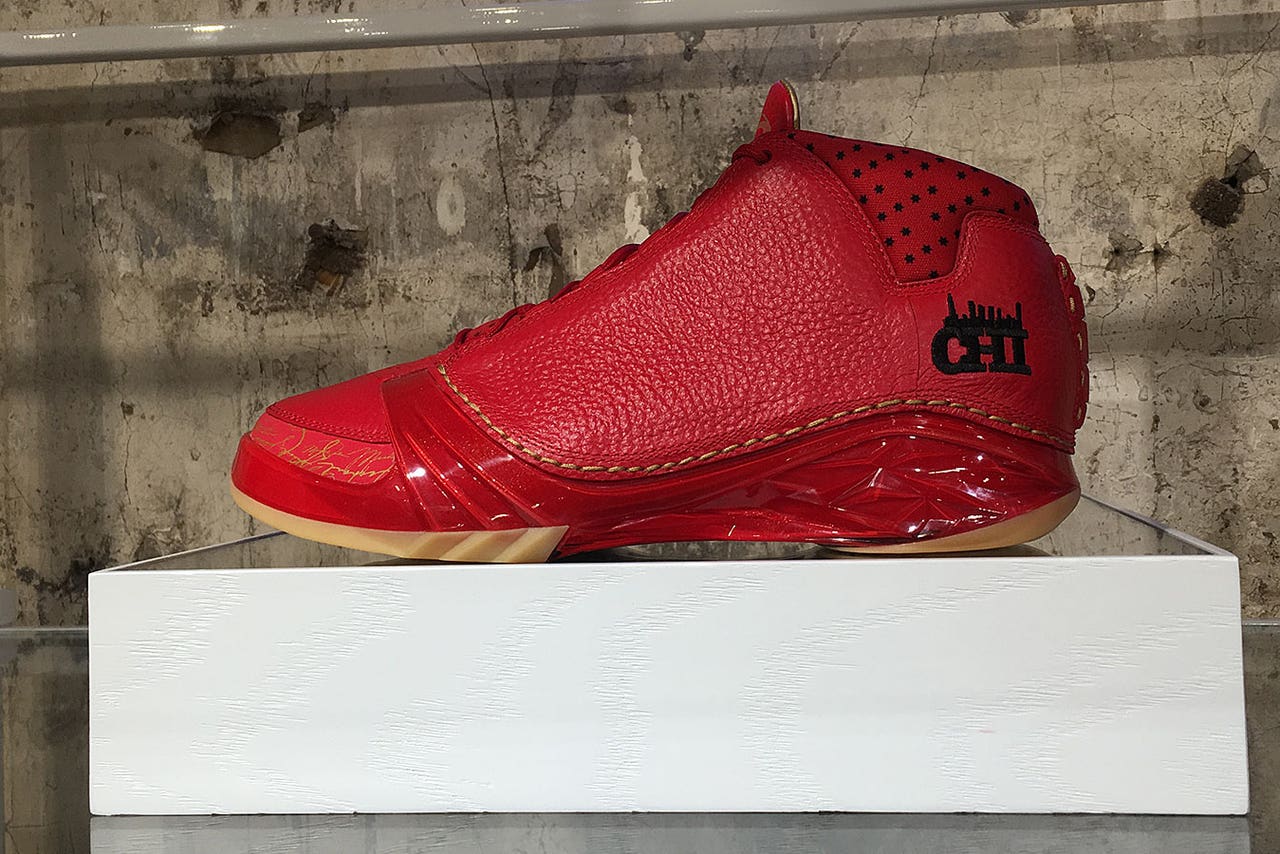 A Chicago-exclusive Jordan XX3 retro colorway in all its glory.
"These are for me and friends," he said. "I don't do resale."
Inside the space on its first day, it was controlled madness. There were shoes available to check out in different parts of the store, but the centerpiece was a large clear plexiglass shelving unit featuring all of the key models displayed on both sides. Sold-out models were prominently marked, sparing some the sting of rejection.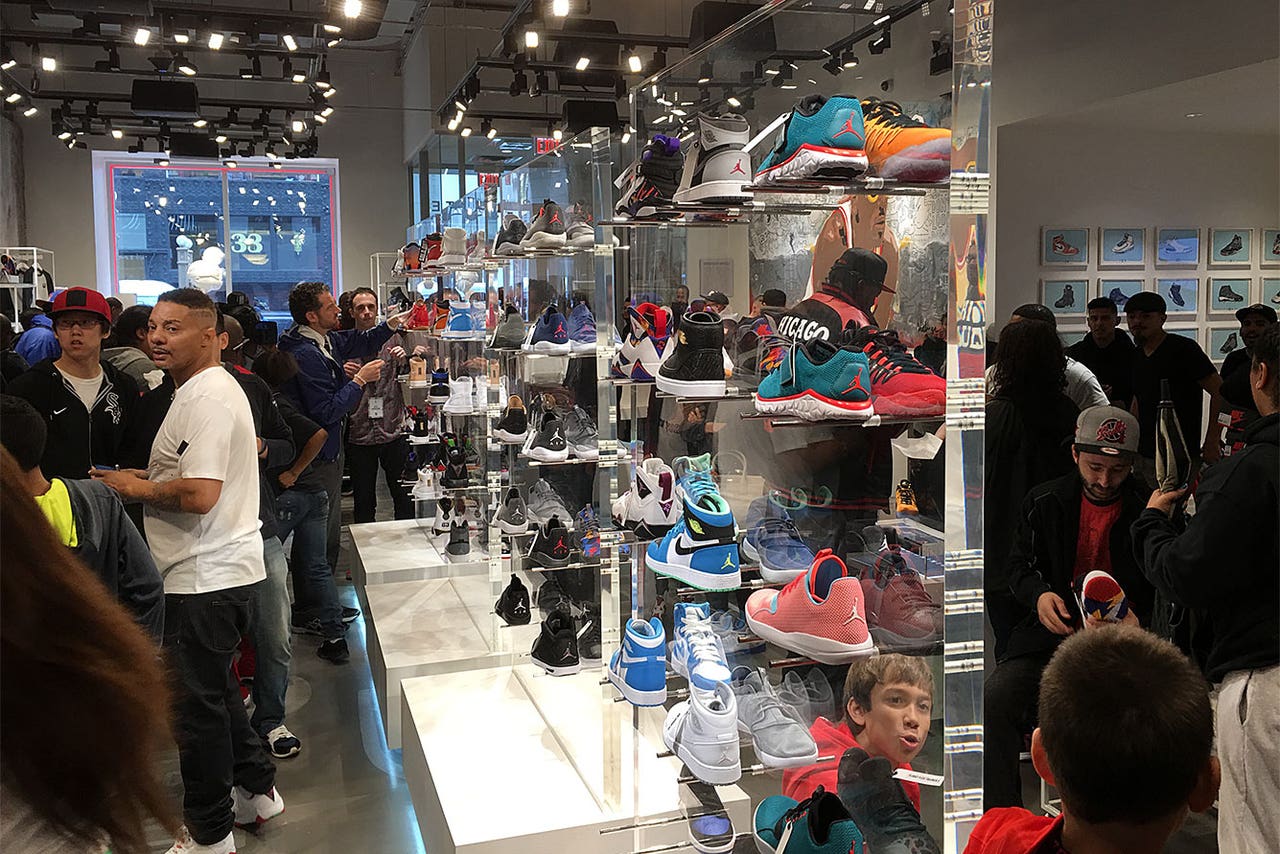 While there were plenty of shoes to see, the main sneaker display in the center of 32 South State is a main gathering point.
But it's not all about selling product; 32 South State is also a destination.
The store is decorated with unique photos and paintings from Chicago-based artists and photographers, the most striking of which is a giant hand-painted mural of one of Jordan's most iconic moments from the 1988 dunk contest, which completely covers the back wall of the store. The space also doubles as a museum of sorts, with one-of-a-kind Michael Jordan memorabilia artfully displayed.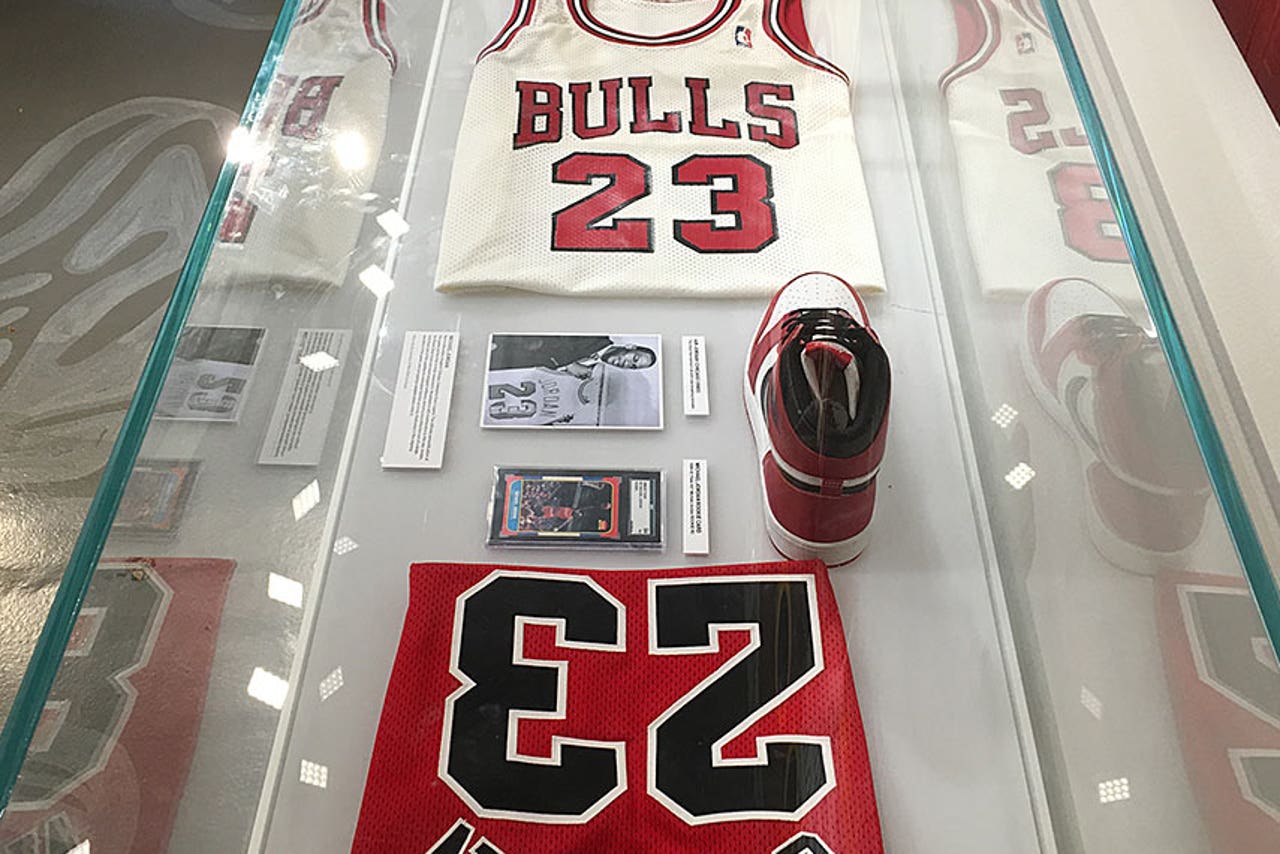 A Jordan store wouldn't be complete without one-of-a-kind Jordan memorabilia.
And that's just on the first floor.
Upstairs there's a full-blown training facility called Station 23, complete with a basketball court and a weight-training area where the brand's athletes can get a workout in right there in downtown Chicago. On this day, a number of the city's high school basketball teams put the gym through its paces, running drills and exercises designed to help them improve their respective games. Jimmy Butler, Jabari Parker and Alshon Jeffery were among the brand's athletes who showed up and spent time with the kids.
"It's great because, when I was younger, stuff like that when I was coming up, I didn't have," Jeffery said. "Coming to an event like this, I think it's great for the kids because it helps them because wherever they're at in their life, seeing stuff like this will make them want to take advantage of their opportunity, and it should help them out a lot."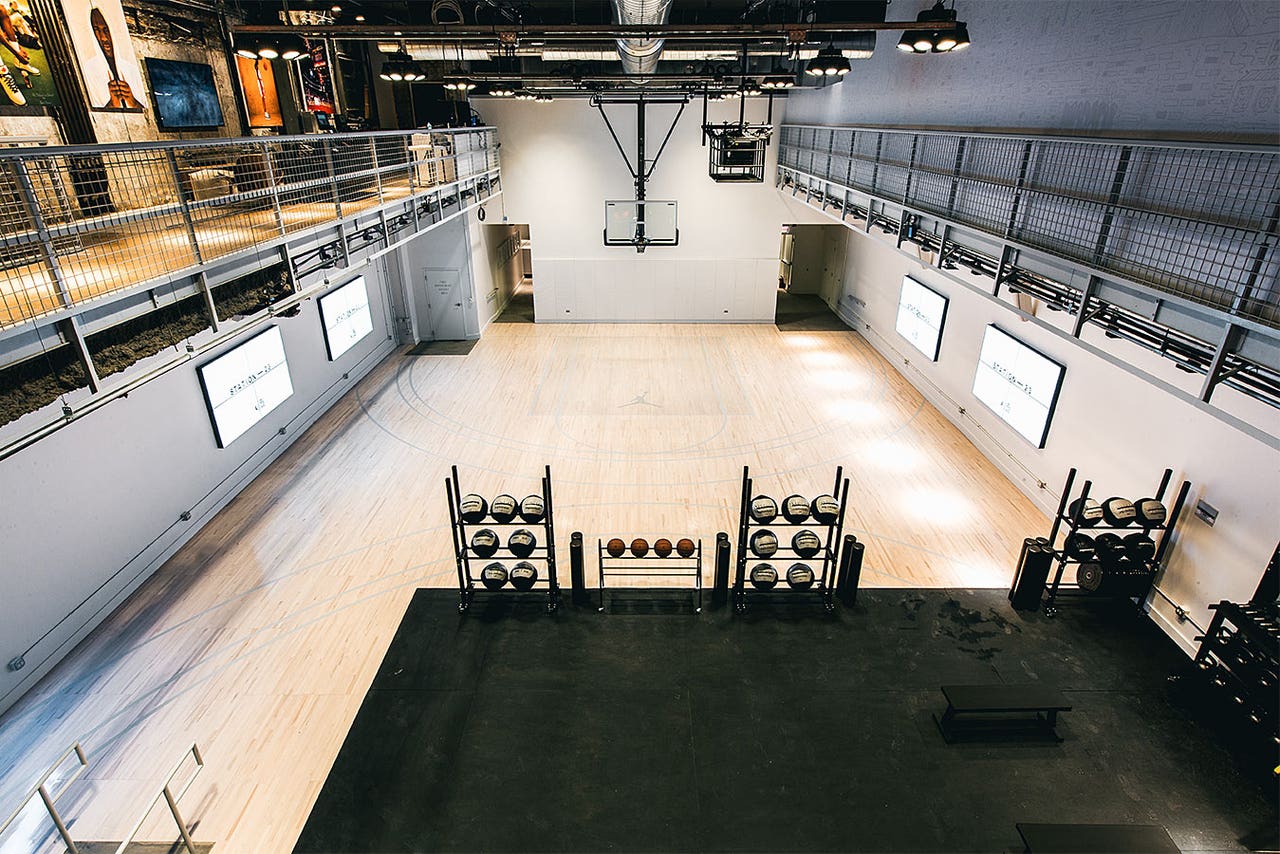 The "Station 23" training space on the second floor at 32 South State will make ballers feel right at home.
The giant banner out front reads "From Chicago For Chicago," and the space does succeeds in paying the city its proper respects. Butler did the same, when mentioning what an honor it is for him to play for the team that Jordan himself made famous.
"Playing here, in the city that Jordan built — you know Michael Jordan if you're here, you know the Jordan Brand whenever you're here," Butler said. "I'm fortunate. I'm extremely blessed to be able to play for the Bulls, obviously the team Mike won six of those things for. And it's incredible to be able to represent for his brand."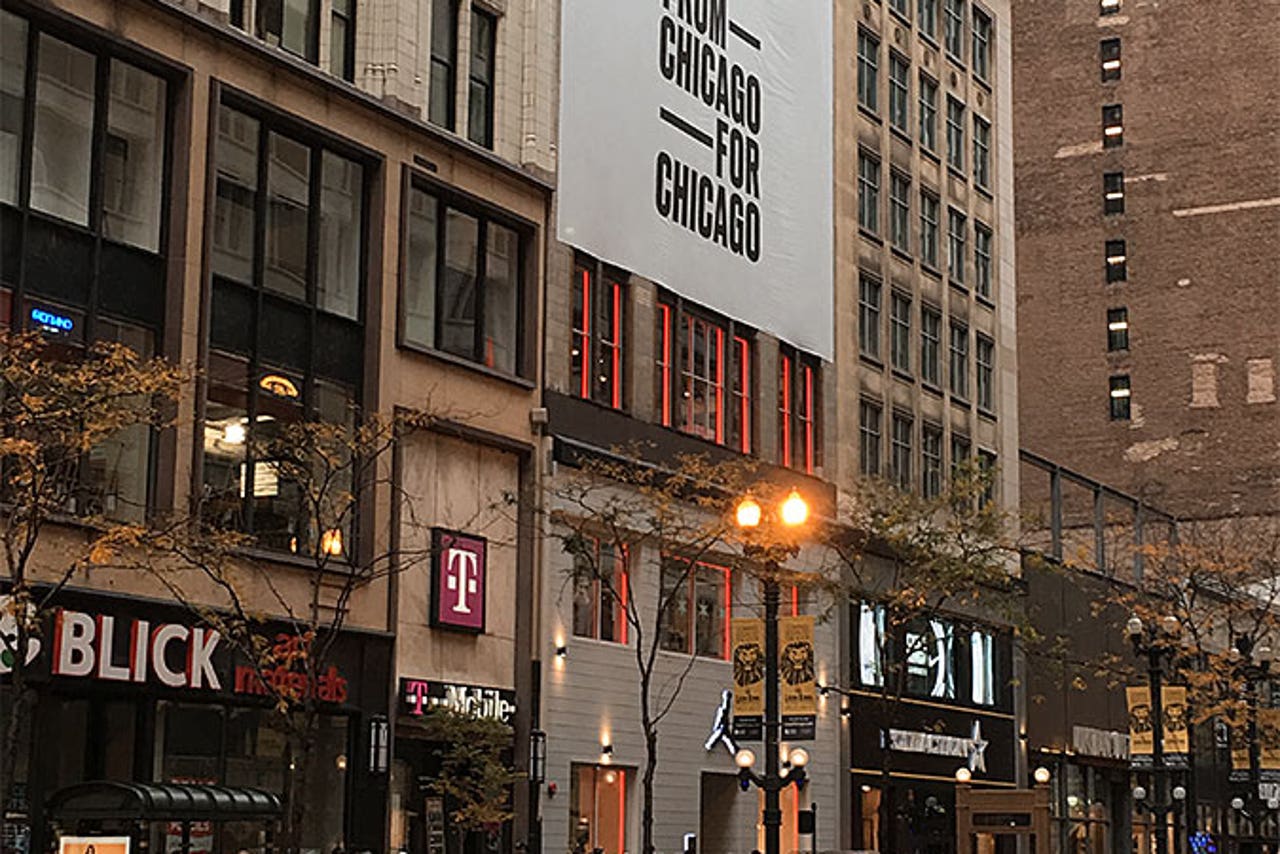 The outside of Jordan Brand's 32 South State store in Chicago bids you farewell -- and beckons sneakerheads inside.
---
---