Miami Heat
Miami Heat
Heat put modest streak to test vs. Warriors (Jan 23, 2017)
Published
Jan. 22, 2017 5:19 p.m. ET

MIAMI -- Forgive the Golden State Warriors if they are not intimidated by the Miami's Heat's adorable, little three-game win streak.
The Warriors (38-6) have the best record in the NBA and would lead the Heat (14-30) by 24 games if the teams were in the same conference.
Golden State has won seven straight games, including a 118-98 victory over the Orlando Magic on Sunday afternoon. The Warriors have yet to lose consecutive games this season, and two of their six losses came in overtime.
Miami's win streak includes an impressive victory vs. a good Houston Rockets team. But the other two wins were against sub-.500 teams -- the Dallas Mavericks and Milwaukee Bucks.
Heat point guard Goran Dragic is averaging 26.0 points and 5.3 assists during Miami's win streak, but now he will face Warriors superstar Stephen Curry.
"Our next game, we are going to play a good team," Dragic said in a vast understatement. "But we're at home, so ... why not?"
Here's why not: Because Curry, who is averaging 24.6 points and 6.1 assists and was named the NBA's MVP in 2015 and 2016, may not even be the best player on the team this season.
The consensus opinion seems to be that teammate Kevin Durant, who is averaging 26.3 points, 8.5 rebounds, 4.7 assists and 1.7 blocks, is the Warriors' top player.
Golden State shooting guard Klay Thompson, who averages 21.1 points and is making 39.0 percent of his three-point tries, is another star. And Draymond Green leads the Warriors in rebounds (8.7), assists (7.7) and blocks (2.0) as one of the most unique talents in the league.
Forward David West (fractured left thumb) will be re-evaluated in two weeks, and that hurts Golden State's bench. But there are still some excellent reserves available such as guard Shaun Livingston and forwards Andre Iguodala, Ian Clark and JaVale McGee.
Livingston rested and did not play against Orlando, and Iguodala may get the same treatment at Miami.
In Sunday's win at Orlando, the Warriors played in their first Eastern-time-zone noon tipoff in 22 years, falling behind by 11 points to the lowly Magic.
But a 42-point third quarter in which Golden State outscored Orlando by 18 points broke open a game that had been tied at halftime.
Curry and Thompson combined to shoot 14-of-22 on three-pointers. All 21 of Thompson's points came on three-pointers.
Golden State settled down after giving away 11 turnovers in the first 15 minutes. In the final 33 minutes, Golden State was charged with just seven turnovers.
"I think we were on pace for 100 turnovers five minutes into the game," Warriors coach Steve Kerr told mercurynews.com. "Noon start after a big week, natural letdown ... You have to play through that and execute, and we did do that."
Green said the noon start on the East Coast was "brutal", but the team should have better rest for Monday night's game in Miami. Worst yet for the Heat, Curry should be relatively fresh after not being needed for Sunday's fourth quarter.
Indeed, the Heat's only shot at even keeping Monday's game close would seem to be getting big performances from its star players, including center Hassan Whiteside and Dragic.
In addition, Dion Waiters, who tied his career high with 33 points against the Bucks on Saturday, will be need to be on target.
Waiters said he's learning from Dragic, specifically when it comes to finishing at the rim for a high percentage.
"Goran is one of the best in the league (at finishing)," Waiters said. "I got some tips from him this past weekend, just being physical when you get there, lowering your shoulder.
"I get there (the rim) with the best of them. Now it's about concentrating when I get there."
Miami's backcourt took a hit on Saturday when reserve guard Tyler Johnson sat out the Bucks game due to a strained left shoulder. Even though he is a reserve, Johnson is fifth on the Heat in minutes, fourth in assists and third in points.
In addition, Johnson is among the league leaders in fourth-quarter minutes, and Miami would love to get him back in time for the Warriors.
On Sunday, Johnson did not practice but felt strong enough to lift weights, according to Anthony Chang of the Palm Beach Post.
Johnson, who is averaging a career-high 14.2 points, missed eight games last season due to a left-shoulder issue. He said this injury is not as serious.
"I'm not sure about Monday," Johnson told Chang about his ability to face the Warriors. "But it's not the same pain as it was last (time). It's just a strain. The swelling has gone down. It feels better."
---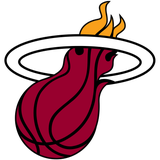 Get more from Miami Heat
Follow your favorites to get information about games, news and more
---