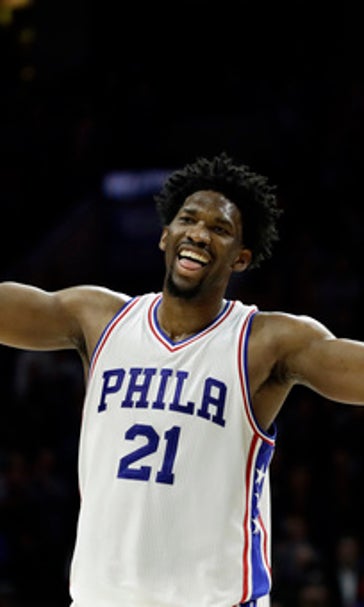 Embiid scores 26, 76ers beat Raptors 94-89 (Jan 18, 2017)
BY AP • January 18, 2017
PHILADELPHIA (AP) Joel Embiid cupped both ears, imploring fans to cheer even louder, and flashed a wide smile as he soaked in the ''MVP'' and ''Trust The Process'' chants.
With Embiid leading the way, the Philadelphia 76ers are no longer the laughingstock of the NBA.
Embiid scored 26 points, Ersan Ilyasova added 18 and the resurgent Sixers beat the Toronto Raptors 94-89 on Wednesday night for their seventh win in nine games.
''I'm trying to change the culture and I like to get the fans into it,'' Embiid said. ''I play better when the fans are chanting and cheering for us. That's what I love. The fans have been great.''
Embiid, who was questionable because of the flu, surpassed 20 points in fewer than 30 minutes in his 10th straight game.
The Sixers are only 14-26, but they have rejuvenated a city that has patiently waited for a winner through three miserable seasons.
''The fans are fantastic,'' coach Brett Brown said. ''We're all starving for success, some good feelings, some wins. And then to feel it, it's addictive. These fans deserve it. They're dying for us to get this right.''
DeMar DeRozan scored 25 for the Atlantic Division-leading Raptors, and Kyle Lowry had 24 points.
After DeRozan gave Toronto an 86-85 lead, Embiid made a tying free throw. Embiid then grabbed a rebound after DeRozan missed a jumper and T.J. McConnell's layup put Philadelphia ahead 88-86 with 1:09 left. Cory Joseph missed a 3-pointer on Toronto's ensuing possession and McConnell sank a pair of free throws.
Embiid then blocked Lowry's shot and sent fans into a frenzy.
Coming off a 36-point performance in a win at Brooklyn a night earlier, DeRozan missed his first six shots but finished strong with 14 points in the fourth quarter.
''We didn't play physical enough.'' Lowry said. ''They played with passion and energy. That's one thing they got us on.''
Embiid put all his skills on display on consecutive possessions early in the fourth quarter. He threw down a thunderous slam off a pass from Sergio Rodriguez and then nailed a 3-pointer from the top of the circle, earning a rousing ovation. Embiid opened his arms wide and raised them high in the air as fans went wild.
Dario Saric got the crowd on its feet screaming minutes later with consecutive blocked shots and then nailed a 3-pointer, pumping his fist twice as he went back on defense.
''I like to bring energy,'' Saric said.
SHADY'S BACK
Former Philadelphia Eagles running back LeSean McCoy, the franchise's career leading rusher, sat courtside and received a standing ovation when he was shown on the video screen. McCoy was traded to Buffalo in March 2015.
TIP-INS
Raptors: F DeMarre Carroll left after injuring his neck midway through the third quarter. It wasn't clear whether Carroll collided with a teammate or a Sixers player, but he stayed down for a couple minutes and needed help walking off the court. ... Coach Dwane Casey compared Embiid to Hall of Famer Shaquille O'Neal, adding that ''Shaq didn't shoot it like this young man.'' ... F Lucas Nogueria was out of the lineup after sustaining a concussion against the Nets. ... F Jared Sullinger (left foot surgery) returned after missing 41 games following left foot surgery.
76ers: Brown said there's ''no chance'' rookie Ben Simmons will be ready to play when the team hosts Houston on Jan. 27. Simmons, the No. 1 overall pick, hasn't played this season because of a broken right foot. The team never put a timetable on his return. He competed in 5-on-0 drills last week for the first time. ... The team must offer G Chasson Randle a second 10-day contract by Thursday or waive him. ... F Jahlil Okafor, the No. 3 overall pick in the 2015 draft, didn't play because of a coach's decision.
UP NEXT
Raptors: Visit the Charlotte Hornets on Friday.
76ers: Host the Portland Trail Blazers on Friday.
---
---