Joel Embiid
Joel Embiid
Embiid looms large as 76ers visit Nets
Published
Nov. 4, 2018 12:01 a.m. ET
NEW YORK -- After another dominating showing, Joel Embiid used the power of social media to poke fun at Detroit Pistons center Andre Drummond.
On Sunday, Embiid hopes to lead the Philadelphia 76ers to their first road win and possibly tweet about doing so when they visit the Brooklyn Nets.
Embiid torched Drummond and the Pistons for 39 points and 17 rebounds in a 109-99 victory on Saturday afternoon. He scored 32 points by halftime, and hit 10 of 18 field goals and 18 of 23 free throws, increasing his league-leading total to 99 free throw attempts.
Afterward, he poked fun at Drummond by tweeting "I own a lot of real estate in Andre Drummond's head and I'm on my way to building more houses."
Embiid owns plenty of dominating games as the Sixers are 6-4. He is averaging 29.6 points on 48.8 percent shooting and 12.4 rebounds.
He also owns nine double-doubles in the first 10 games of the season. According to basketball-reference.com, he is the first 76er to get at least nine double-doubles in the first 10 games of a season since Moses Malone also posted nine in 1984-85.
"He really does get excited to do that, doesn't he," Sixers coach Brett Brown said. When you look at his first half stats, to me he was having a good game then I look at his numbers at halftime and you're like 'wow.' To come in at the end of the game and have that 39 and 17, that is a dominant -- 23 free throws -- I think that's my favorite stat out of all that. That is a mentality that is a disposition."
Now the Sixers are hoping to experience some fun in a road game. They are 0-4 outside of Philadelphia, though their first four road games were in Boston, Milwaukee, Detroit, and Toronto.
Embiid is averaging 29.3 points and 12.8 rebounds in the first four road games and is going up against an opponent he has scored at least 20 points in five all-time matchups. He also is going up against a team struggling to contain opposing centers of late.
"He's a very talented player," Sixers guard Markelle Fultz said. "Joel is very talented."
In Wednesday's 120-119 overtime win over Detroit, Drummond torched the Nets for 24 points and 23 rebounds. On Friday, the Nets collapsed in the second half and allowed Houston Rockets big man Clint Capela to get 22 points and 13 rebounds in a 119-111 loss.
Brooklyn has lost four of its last five games since getting a 16-point victory in Cleveland on Oct. 22. On Friday, they were outscored 76-54 in the last 27-plus minutes after building a 14-point advantage while also getting torched by Chris Paul (32 points) and Carmelo Anthony (28 points), and enduring their worst third quarter of the season.
"Third quarter, that's where they got their break," said Nets coach Kenny Atkinson after his team was outscored 35-25 in the third. "We've had some issues there before. And felt like they came out more aggressive."
Caris LeVert continued his strong start with a career-high 29 points. LeVert has five games with at least 20 points and set a career high three times so far.
"Sometimes you can't control the offense if you make shots and things like that," LeVert said. "You can always control your defense and your effort. So I think that in those situations, we just have to focus on getting stops."
D'Angelo Russell was a storyline of Friday's collapse as well since he did not appear for the entire fourth quarter. He also did not appear in the final period of the season opener in Detroit, the last five-plus minutes of regulation and in overtime Wednesday, and also only 91 seconds in the win at Cleveland.
Philadelphia is 4-1 in the five games Embiid has appeared in against the Nets. The Sixers also have won eight of the last 12 meetings with Brooklyn since the start of the 2015-16 season.
---
---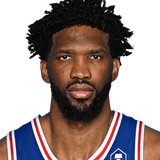 Get more from Joel Embiid
Follow your favorites to get information about games, news and more
---