Devin Booker
Devin Booker
Devin Booker drops 70 points on Celtics at Garden as Boston fans cheer
Published
Mar. 25, 2017 5:36 p.m. ET

Devin Booker became just the sixth player in NBA history to score 70 points or more Friday night at Boston, but he couldn't lift the Phoenix Suns to a win.

Booker's 70-point night was the highest-scoring game since Kobe Bryant scored 81 in 2006, and the most points ever scored against the Celtics. He joined an elite club including Elgin Baylor (who previously held the record with 64 against Boston), Wilt Chamberlain, David Thompson and David Robinson.

Booker told reporters he took a lesson from Kobe when it comes to scoring.

https://twitter.com/AdamHimmelsbach/status/845466219536826368

At 20, Booker's the youngest player to score 60 or more in a game, and he broke Tom Chambers' team record 27 years to the day that Chambers scored 60. Booker's previous high was 39.

Booker, who scored 51 in the second half as Celtics fans cheered him, hit 21 of 40 shots — just 4 of 11 on threes! — and 24 of 26 from the line. He added eight rebounds and six assists in the 130-120 loss.

"This doesn't happen very often especially against a really good defensive team like the Boston Celtics," Booker told reporters. "It's a zone. It's kind of hard to explain. I've been in those zones before, but never to this extent."

https://www.instagram.com/p/BSC84IlAiJW/?taken-by=suns&hl=en

Not all the Celtics were appreciative, including Jae Crowder — who traded taunts with Booker on Instagram — and Isaiah Thomas.

https://twitter.com/AdamHimmelsbach/status/845463465779232769

https://twitter.com/AdamHimmelsbach/status/845463659497340929

Suns coach Earl Watson wasn't apologizing.

"I'm not coming into any arena just happy to be there, trying to be liked. I don't care about being liked. I really don't care to be honest with you," he told reporters. "We're trying to build something with this young group. If people don't like us while we build it, so what? Do something about it."

Naturally, Twitter went nuts.

https://twitter.com/TrackLife_Zay/status/845461797029269504

https://twitter.com/rodger_sherman/status/845461793736679425

https://twitter.com/MoeAlayan/status/845461763164377088

https://twitter.com/gboone29/status/845461715311640576

https://twitter.com/DeionWilliams96/status/845461572814286848

https://twitter.com/tomhaberstroh/status/845460973968396288

https://twitter.com/1MrBigShot/status/845466423019290624

https://twitter.com/Max_Lederman/status/845470170915229697

https://twitter.com/CJMcCollum/status/845462905084526592

https://twitter.com/kobebryant/status/845475372065959936

The Associated Press contributed to this report.


---
---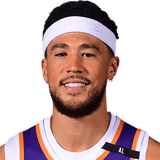 Get more from Devin Booker
Follow your favorites to get information about games, news and more
---