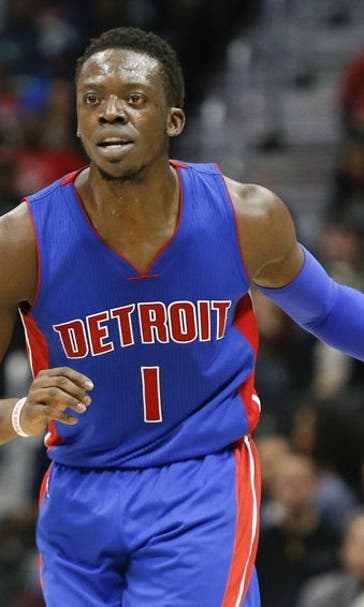 Detroit Pistons fall 105-98 to Atlanta Hawks despite late charge
December 31, 2016

Fansided, Brandon Marlow/FanSided via PistonPowered
Despite a fourth quarter fightback the Detroit Pistons have fallen short against the Atlanta Hawks on the road 105-98.
The Detroit Pistons trailed by as much as 17 points throughout the game, but were able to slowly chip away at the lead in the final quarter, trimming it back to just 5 points with three minutes to play.
More from PistonPowered
However, through mostly the Pistons poor execution down the stretch the Atlanta Hawks were able to hang on for a 7 point win.
It was an incredibly sloppy contest from both teams, as neither side shot over 44 per cent from the field and they combined for 17 of 56 from the three point line as well as committing 24 turnovers.
The Pistons struggled to contain Paul Millsap, who had 26 points, 6 rebounds and 5 assists, while Dwight Howard came in handy on the glass, pulling down 15 rebounds with 5 of them coming on the offensive end.
All five starters managed to hit double-digits in scoring, a serious improvement over the production from the starting unit recently.
Jon Leuer led the team in scoring with 22 and Reggie Jackson had one of his best games of the season as he finished with 20 points, 4 rebounds and 8 assists.
Unfortunately, with Marcus Morris due to injury the bench lacked firepower, combining for just 15 points compared to the 38 points Atlanta received off the bench.
Reggie Jackson
PG, Detroit Pistons
B+Reggie Jackson started off poorly against the Hawks, turning the ball over and taking ill-advised shots. However, he eventually found his rhythm and finished the game with 20 points, 4 rebounds and 8 assists. He was also the only starter to have a positive plus/minus (+1).
Kentavious Caldwell-Pope
SG, Detroit Pistons
D+Kentavious Caldwell-Pope was far from his best tonight. He managed to finish the game with 12 points, but on a horrendous 3 of 11 shooting. The highlight of his game was his ability to play the passing lanes, which saw him come away with 3 steals.
Tobias Harris
PF, Detroit Pistons
C-Tobias Harris looked like he was ready to carry his bench form over into the starting lineup as he made the first bucket for the Pistons, however he quickly become almost non-existent on the offensive end. He eventually found his footing again and ended the game with 14 points and 5 rebounds, however he shot just 35.7 per cent from the field.
Jon Leuer
PF, Detroit Pistons
A-Jon Leuer was the only player who shot over 50 per cent from the field for the Pistons on a night where both teams struggled to make shots. He had a team-high 22 points, while also contributing 6 rebounds and 2 steals.
Andre Drummond
C, Detroit Pistons
C+Andre Drummond looked disinterested in playing basketball during the first half, however after the break he came out with more fire and was part of the reason why the Pistons were able to come back and challenge the Hawks late. He finished with 15 points and 15 rebounds and also made 5 of his 7 free throws. His disinterest in playing defence and his 6 turnovers can't be masked by a strong second half though unfortunately.
Ish Smith
PG, Detroit Pistons
C-Ish Smith looked lively during his 25 minutes of court time and again got to spend some time in a dual point guard lineup with Reggie Jackson. Smith had 7 points, 4 rebounds and 3 assists, but was a game worst -13 in his court time.
Stanley Johnson
SF, Detroit Pistons
DStanley Johnson only took 4 shots during his 21 minutes of playing time and ended with just 4 points. The Pistons needed a far bigger contribution from him with Morris sitting out.
Aron Baynes
C, Detroit Pistons
D+Aron Baynes only played 13 minutes against the Hawks and as a result ended the game with just 4 points and 3 rebounds. However, there were a number of plays on offence where Baynes was sloppy, which could have seen him have a much bigger impact.Related Story: Stan Van Gundy shoulders blame for struggles
Stan Van Gundy
Head Coach, Detroit Pistons
CStan Van Gundy deserves some of the credit for the Pistons fourth quarter fightback, as he was able to get the team to kick into gear despite being mostly lifeless for the first three quarters. However, his use of an eight-man rotation was questionable as the bulk of the work was left up to the starters, while the Pistons' bench was dominated by the Hawks' reserves.This article originally appeared on
---
---