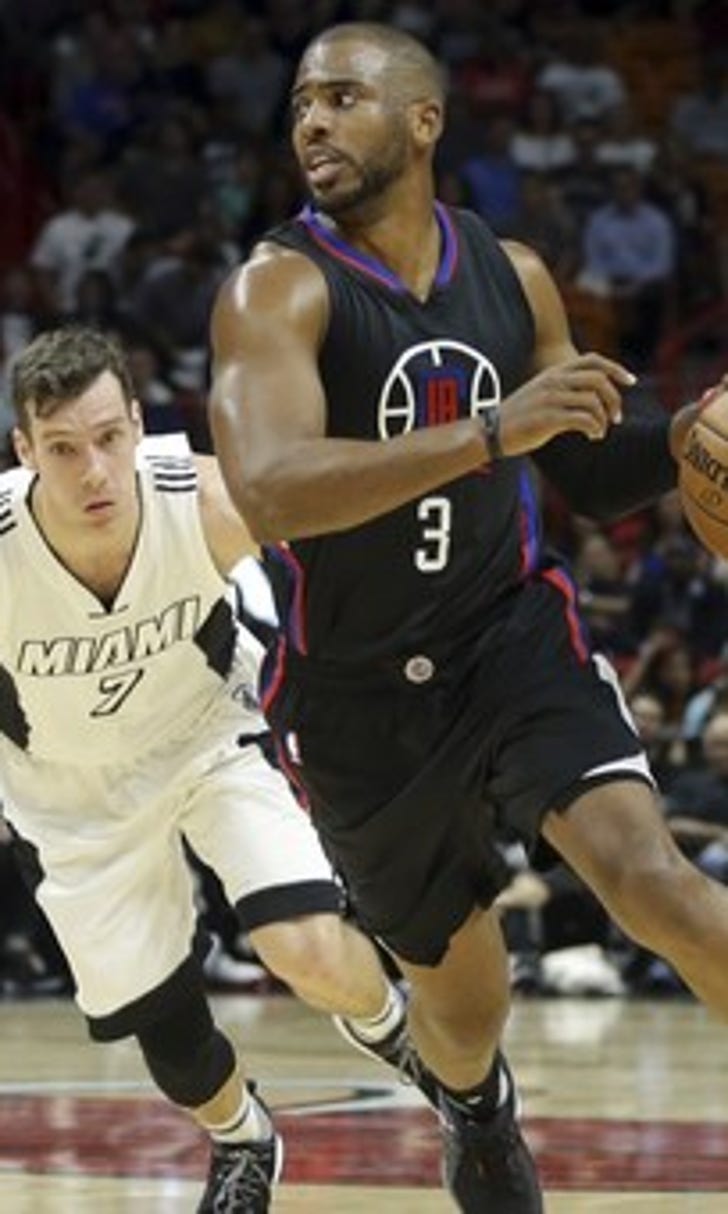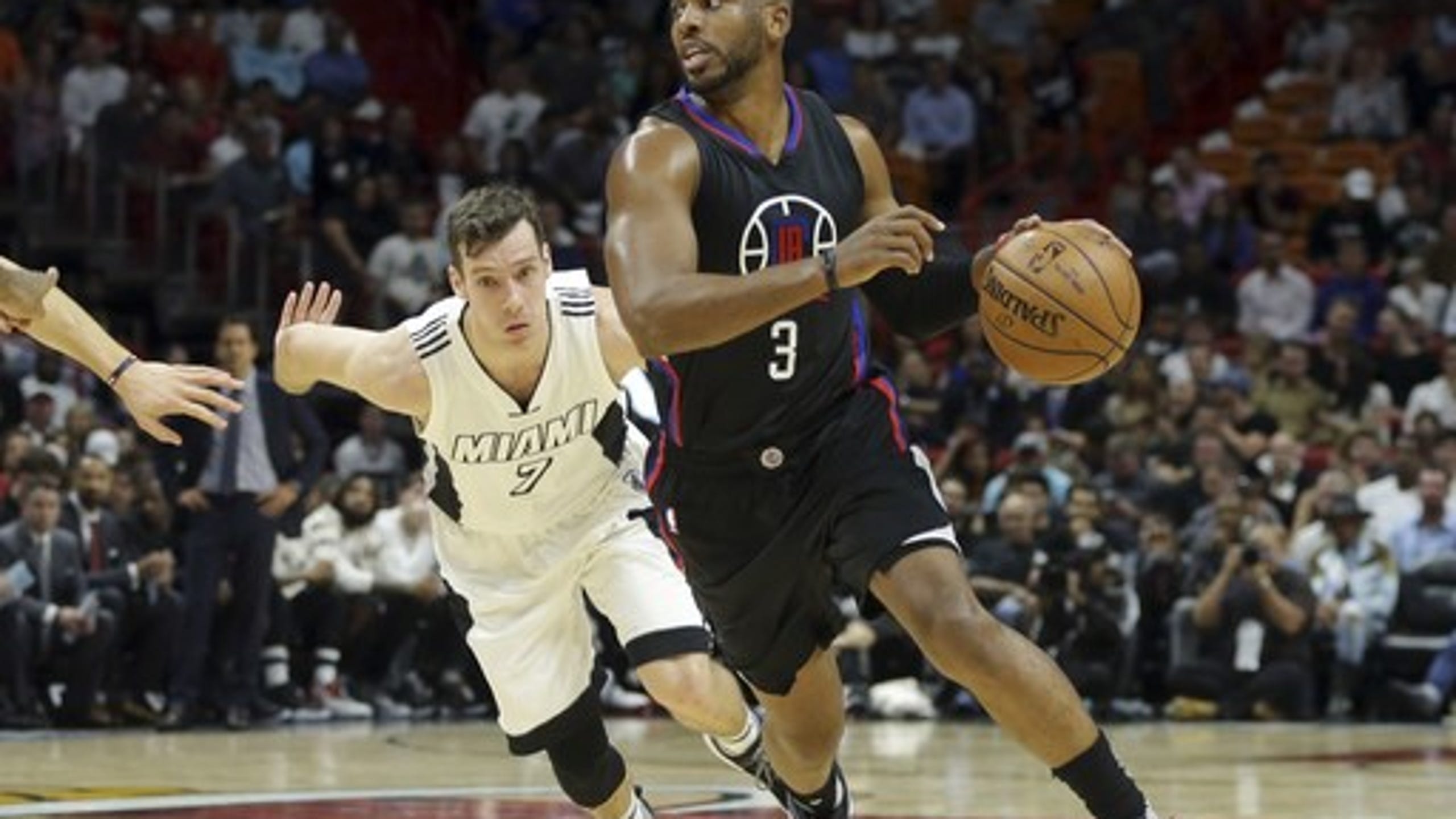 Clippers hang on and beat Heat for 4th straight win, 102-98 (Dec 16, 2016)
BY AP • December 16, 2016
MIAMI (AP) Turns out, DeAndre Jordan does more than catch lobs. Sometimes he grabs offensive rebounds and scores to clinch games for the Los Angeles Clippers.
And that was a most fitting ending on Friday night.
Blake Griffin scored 20 points, Chris Paul and J.J. Redick each added 17 and the Clippers held on to beat the Miami Heat 102-98 for their fourth consecutive win. Jordan had a putback of a missed free throw by Paul with 7.7 seconds left to seal the win for Los Angeles.
''That's what he does,'' Paul said. ''Rebound, get buckets, make shots.''
Jordan had 12 points and 19 rebounds, his big night coming a day after Heat center Hassan Whiteside said Jordan ''just catches lobs'' - a comment he would insist Friday was misconstrued.
''I just wanted to come out here and get a win,'' Jordan said.
Goran Dragic had 21 points and 11 assists, Justise Winslow scored 15 and Wayne Ellington added 13 points before leaving injured for Miami.
Whiteside had 11 points and 17 rebounds, and wasn't on the floor for Jordan's final rebound. Miami was going with a small lineup, guessing that Paul wouldn't miss from the line and trying to set up what it figured would be a 3-point shot for a tie.
''DJ took advantage of the size and then made the shot, which was even better,'' Clippers coach Doc Rivers said.
The Clippers led by 16 in the first half. Miami got within six before Los Angeles went up 16 again in the third quarter - then had to hang on.
''We lost this game in the first half,'' Dragic said.
A three-point play by Josh Richardson with 13.2 seconds left got Miami within three, and the Heat forced a turnover on the Clippers' ensuing inbounds pass. The Clippers didn't want to give up a 3 and fouled Dragic, who made both to make it 99-98.
''A terrific second half against a team that's obviously a championship-caliber team,'' Heat coach Erik Spoelstra said. ''But you have to play 48 minutes.''
TIP-INS
Clippers: Los Angeles had 60 points in the first half, 42 in the second. ... It was Paul's 800th regular-season game. No one in NBA history had as many points, assists and steals through 800 games, and only John Stockton, Magic Johnson and Oscar Robertson had more assists at this point in their careers. ... Luc Mbah a Moute (shoulder) missed his second consecutive game.
Heat: Tyler Johnson (illness) did not play. ... Ellington left in the third quarter with a right hamstring strain. ... Miami made 10 of its first 17 shots, then four of its next 17. ... Winslow met up with U.S. soccer star Jozy Altidore postgame, chatting and posing for photos.
SAGER TRIBUTE
The Heat had a pregame tribute video and moment of silence to honor the life of broadcaster Craig Sager, who died this week after a long fight with leukemia.
Rivers was a business partner of Sager's for about nine years in a sports bar called ''Jocks & Jills.''
''I didn't get any profits - I think Craig enjoyed himself quite a bit,'' Rivers said.
Spoelstra called Sager ''a pillar of greatness and character.''
PIERCE IN MIAMI
Paul Pierce didn't get in for the Clippers on Friday, meaning he's probably played for the last time in Miami. He has more regular-season points (1,205) against Miami than anyone in history, and no one has more than his 79 combined regular-season and playoff appearances against the Heat. Pierce has said he will retire after this season.
UP NEXT
Clippers: Visit Washington on Sunday, their last road game against an East team until Jan. 23.
Heat: Host Boston on Sunday, the second and final time the Celtics visit this season.
---
---