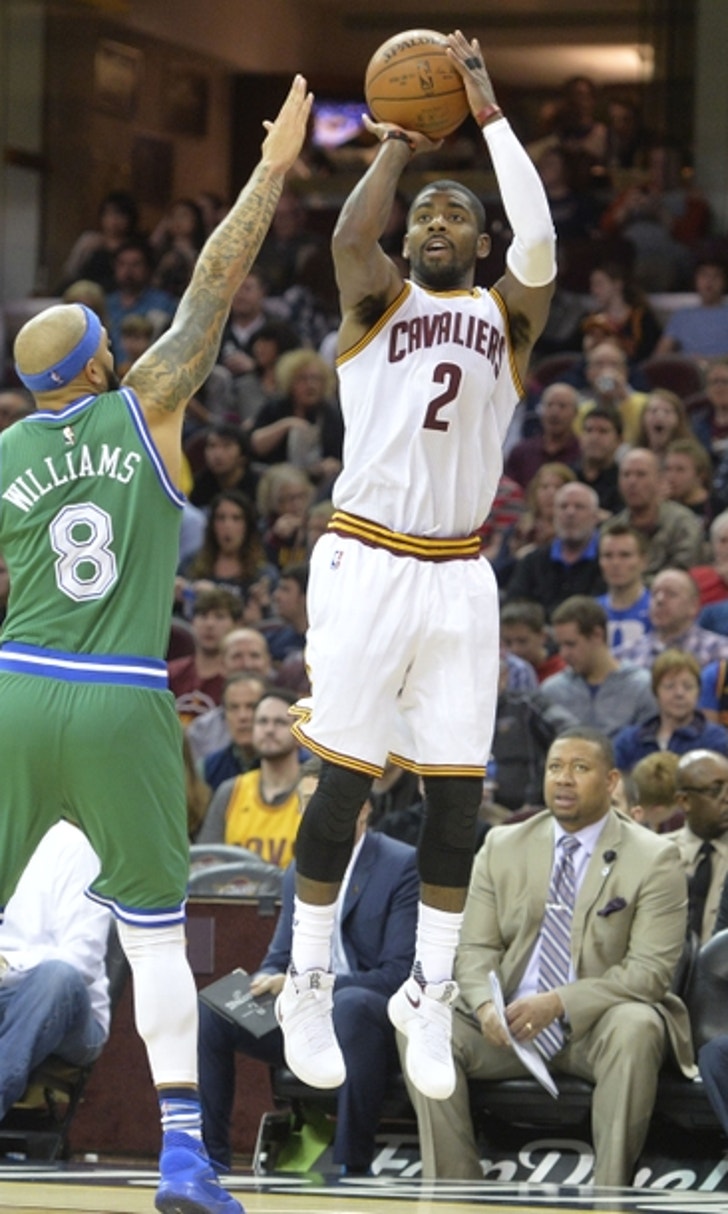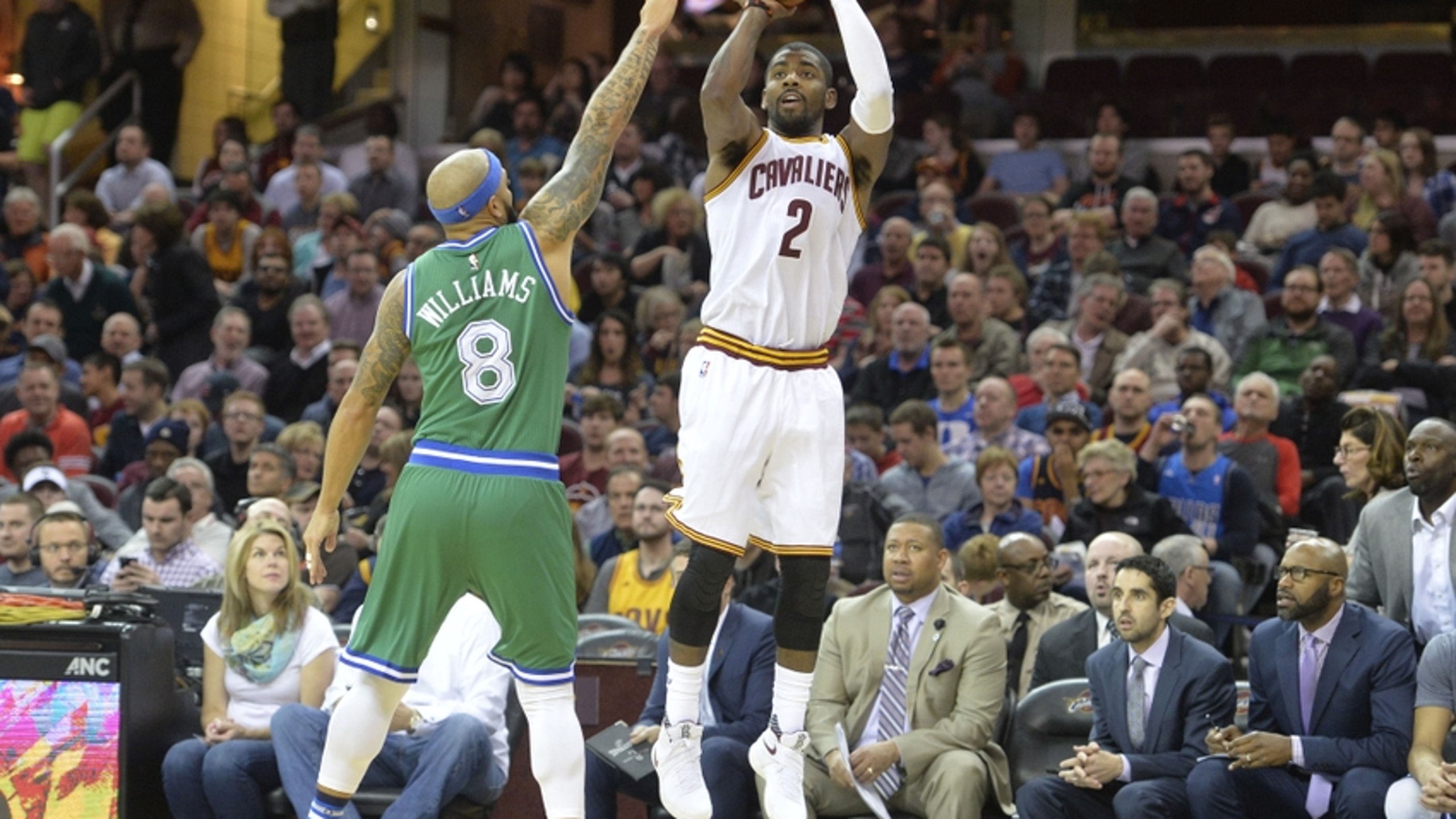 Cleveland Cavaliers: 3 Point Guards the Cavs Should Target
BY Fansided and Nathan Beighle/FanSided via King James Gospel • December 16, 2016
Mar 16, 2016; Cleveland, OH, USA; Cleveland Cavaliers guard Kyrie Irving (2) shoots against Dallas Mavericks guard Deron Williams (8) in the third quarter at Quicken Loans Arena. Mandatory Credit: David Richard-USA TODAY Sports
The Cleveland Cavaliers have stockpiled talent across every position, but they lack depth at the point guard position.
At this point in the season, most teams know how their season will go, and with that said, some teams will trade with more ease than others. The Cleveland Cavaliers could be in that market as they may try to solidify their backup point guard role.
Kay Felder, who the drafted with the 54th pick in the 2016 NBA Draft, was a standout at Oakland University, but his 5'9″ frame has caused him problems with the physicality of the NBA. The Cavs were hopeful that Felder would be able to come in and be that quality backup point guard.
But, after only playing eleven games and averaging less than ten minutes per game, it may be time for the Cavaliers to find a new backup point guard and give Felder more minutes when players are rested.
Want your voice heard? Join the King James Gospel team!
With that said, many teams are finding their season slowing slipping away from them, and it could be time for them to make a move to appease the fans, or it could be just a nice swap with a team.
So now the question arises: which five players are the Cavaliers most likely to target for this backup role?
Remember: If you any comments or concerning, drop a comment off after finishing the article!
Dec 14, 2016; Dallas, TX, USA; (From left to right) Dallas Mavericks guard Seth Curry (30) and forward Harrison Barnes (40) and guard Deron Williams (8) and guard Devin Harris (34) react on the bench during the second half against the Dallas Mavericks at American Airlines Center. Mandatory Credit: Kevin Jairaj-USA TODAY Sports
Could Deron Williams be an option?
Deron Williams this season and in several others season has just not lived up to his expectations. After his last year with the New York Nets, Williams has seen his numbers go down drastically.
More from King James Gospel
Now 32, the 11-year pro could be eyeing a championship run with the little time he has remaining.  He could make a perfect fit for this Cavaliers team, but he would have to humble himself and come off of the bench permanently which would be a new commodity for him.
Williams is on the Mavericks right now, and well the Mavericks are, to say the least, struggling. Sitting at the very bottom of the West at 6-19, the Mavericks would be more than likely to get the struggling Williams off of their team.
Williams struggles have been the past three season as he has failed to shoot better than 42% in those season, but he has played over 30 minutes per game.
The key to all this is usage. Williams would be asked to come in and prove a spark for the second unit which he would be easily capable of. Also, Williams would be another veteran presence in the locker room.  Williams would hopefully be a cheap buy for the Cavaliers. Hopefully maybe Mo Williams and a second rounder would help seal the deal, and the Mavs would most likely just waive Williams.
Is it possible? Yes. Is it probably? Most likely not. Either way, it would be nice to see Deron in a Cavs uniform.
Norris Cole Could Reunion with LBJ
Well, this happened earlier this month.
Norris Cole is now on the market after a brief stint with a Chinese club. His last NBA action was as a member of the New Orleans Pelicans in the 2015-2016 season.
cavaliers
King James Gospel 1 dFantasy Basketball: Does Trading LeBron James for Kristaps Porzingis Make Sense?
More headlines around FanSided:
15w - Cleveland Cavaliers Daily: Mo Williams, 2020 Olympics And More15w - What Players Might For USA Basketball In The 2020 Tokyo Olympics?16w - Cleveland Cavaliers Daily: Kyrie Gets Gold And LeBron's Spurs Talk16w - Kyrie Irving Adds Gold Medal To Loaded Trophy Case16w - Cleveland Cavaliers Daily: Point Guard Comparison, UFC And Olympics PrimerMore News at King James Gospel

Cole was a crucial member of the 2013-2014 Miami Heat which were led by LeBron to a devastating finals loss to the Spurs. Cole would be nice to have on the Cavaliers for an array of reasons. For starters, he plays hard defense. Several other important factors are his prior relationship with LeBron and his ability to shoot the deep ball.
Norris Cole would be a good fit behind Kyrie Irving just as he was a good fit behind Mario Chalmers during LeBron's time in Miami.
Oh, and not to mention that Cole could finally have a nice reunion with the city of Cleveland. For those that did not know, Norris Cole went to Cleveland State for college and left quite the impact there.
Cole could be the final piece for the Cleveland Cavaliers, and all the Cavs would have to do is send either Felder or McRae to the D-League to actually accumulate minutes. This deal could work out for virtually everyone.
Cole makes the most sense, but let's also take a look at a couple other more solidified point guards that the Cleveland Cavaliers may be able to go after.
Jan 27, 2015; Auburn Hills, MI, USA; Detroit Pistons guard D.J. Augustin (14) dribbles the ball against Cleveland Cavaliers guard Kyrie Irving (2) during the third quarter at The Palace of Auburn Hills. Cavs beat the Pistons 103-95. Mandatory Credit: Raj Mehta-USA TODAY Sports
D.J. Augustin and the Magic
D.J. Augustin is one player that has gone underrated and unappreciated his entire career. The man is a stellar backup point guard for any team. Right now he is backing up Elfrid Payton in Orlando, but he would also be a great fit in Cleveland.
After being signed to the Magic in the offense, DJ may finally find a permanent home after sadly being bounced around several teams in his unnoticed NBA career.
DJ would be a terrific fit for the Cavaliers for more than one reason. His ability to space the court would allow to him to play along side Kyrie and James at times or just James. Along with that, his pace is one which would flow with the Cavaliers nicely. He looks for transition opportunities and is wise when one is not open.
The Cavaliers might have to give up a little more for DJ. McRae and a second might be enough to get Augustin especially with a more-than-capable CJ Watson currently getting minimal minutes behind DJ.
The Cavaliers have a need, and here were three options that could help them be one of the deepest teams in the NBA.
---
---