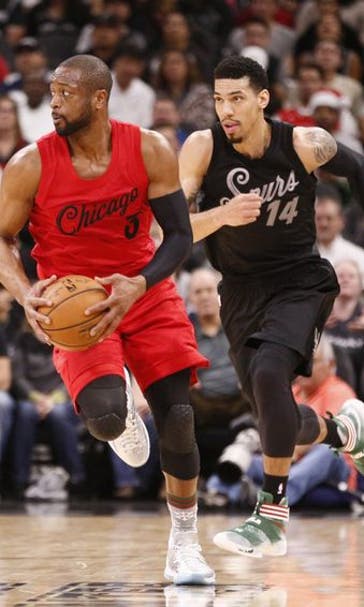 Chicago Bulls: Team Staying Positive, But Change Is Needed
December 27, 2016

Fansided, Allana Tachauer/FanSided via Hoops Habit
The Chicago Bulls are doing all that they can to remain positive during their recent slump, but changes still need to be made, in order to be successful moving forward.
Having lost six out of their last eight games, one could say that the Chicago Bulls are battling their way through a slump.
With a record of 15-16, they have fallen to seventh place in the Eastern Conference.
And beyond that, have continued to be one of the league's greatest mysteries. It seems that no matter how much goes right for the Bulls … drafting Derrick Rose, hiring Tom Thibodeau, making it to the Eastern Conference Finals, success never really finds its way to Chicago.
Even though the franchise houses the legacy of Michael Jordan. No matter that the front office is supposedly quite well-versed in the business. Despite the team now being led by superstars Dwyane Wade, Rajon Rondo and Jimmy Butler.
The Bulls' inconsistencies always get the best of them.
Now, every organization faces its fair share of adversity. From the best teams to the worst, they all undergo losing streaks, or even fall victim to a year (or more) or rebuilding.
More from Hoops Habit
And it seems like Chicago is very much in tune with that. Because Butler, for example, refuses to let a slump get the best of him.
"I want to win, as everyone does in here. But we have to stay high-spirited, man. If it gets gloomy in here, everything will go downhill very quickly. We have to keep our heads up and know brighter days are ahead. We're fine. We're in this together. We preach that to one another every single day. We're all we have, these coaches and players. We know what we're capable of and we have to get back on track."
With Rondo, echoing his sentiment.
"It's as good as it can be right now. It's a competitive group of guys. Personally, I hate losing. We have another quick turnaround. We have to wash this one away and figure out how to get a win at home, protect the crib."
Wade too, is trying to take the good, from the bad.
"I'm not mad at the shots we're getting. We're just not making enough of them. Some of them, yeah, are tough. Some of them are forced. Every team takes those. But I'm not mad, for the majority of it, the shots that we're getting, honestly we're just not making enough of them at this point in the season."
However, at a certain point, positivity can only can only take you so far. And major changes need to be made in order to see real progress.
Starting with trading for some help off of the bench.
bulls
All U Can Heat 5hDoes a Goran Dragic for Rajon Rondo deal make sense for the Heat and Bulls?
More headlines around FanSided:
8h - 2016-17 NBA Power Rankings: Playing Naughty Or Nice In Week 109h - Jimmy Butler Can't Close Out Games, Try Doug McDermott Please?10h - Chicago Bulls vs. Indiana Pacers: 3 Takeaways, Notes from Monday's Win12h - Chicago Bulls Should Trade Taj Gibson and Jimmy Butler21h - Chicago Bulls vs. Indiana Pacers: Instant Analysis, Highlights, ReactionsMore News at Pippen Ain't Easy

To put it bluntly: Nikola Mirotic has to go.
While the 25-year-old still has plenty of time to grow, unfortunately he is not fitting well into the Bulls' current system. Averaging only 9.1 points, 5.8 rebounds and 1.0 assist in 22.6 minutes, Mirotic is hardly contributing on either end of the floor.
Having him around is hurting Chicago, both in regards to his productivity while on the court, and by putting more stress on guys that need to cover for him after the fact.
And to be fair, him being on the Bulls is only stifling his own potential talent.
Doug McDermott has also not exactly panned out to the degree fans had hoped he would.
Although he has struggled with health concerns for a handful of games, his numbers are not so hot either. Averaging 9.7 points, 2.9 rebounds and 1.2 assists, Chicago is not getting a whole lot out of the 24-year-old currently.
Additionally, both Mirotic and McDermott were expected to turn into three-point specialists, only for the Bulls to be the worst in the NBA, in that category.
Which is something vice president John Paxson touched upon on Sunday.
"It's hurt us, there's no question about it. We're last in the league in 3-point shooting. We acknowledged that going in, that that would be an issue with us. We did think and still think that Niko, Doug, they have the capability of being 40-percent 3-point shooters. That's where they need to be."
However, head coach Fred Hoiberg may also be a large part of the problem, despite Paxson seeming confident in his ability to continue improving.
While Hoiball may have been effective in college ball, the same cannot be said of it so far for Chicago. The players are not necessarily young enough to run it efficiently, and more importantly, the lack of a defensive mindset cannot hold up against top-tier competition.
Nor should it really have any place in the league.
Unfortunately though, due to his personal connection to the front office, fans should not expect Hoiberg to go anywhere. And only time will tell if he will be able to adjust Hoiball in such a way to better fit the needs of a professional team.
The Bulls should certainly not give up hope on this season and they may finally have a win to celebrate, defeating the Indiana Pacers 90-85, at home on Monday night. However, nothing can change, if nothing changes.
---
---