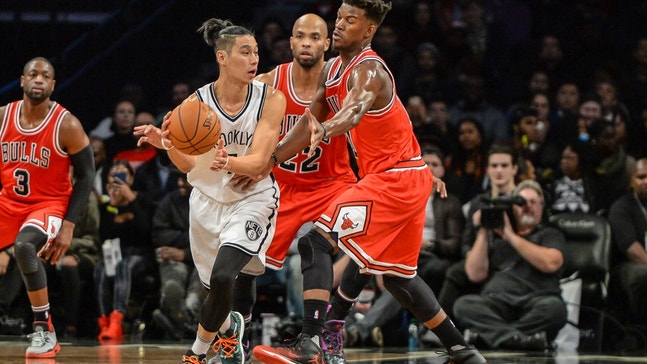 Brooklyn Nets vs. Chicago Bulls Takeaways and Player Grades
Published
Jun. 30, 2017 6:28 p.m. ET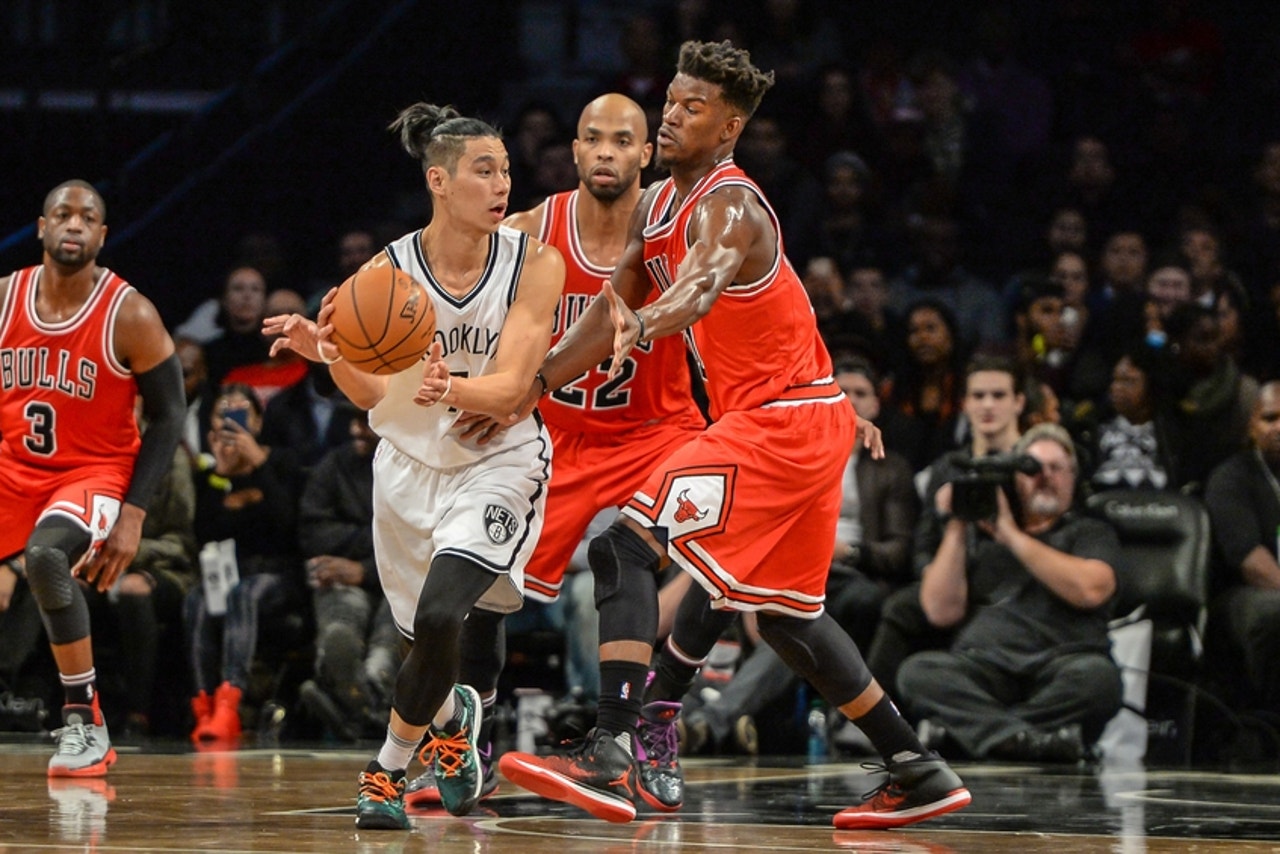 Oct 31, 2016; Brooklyn, NY, USA; Chicago Bulls guard Jimmy Butler (21) steals the ball from Brooklyn Nets guard Jeremy Lin (7) at Barclays Center. Mandatory Credit: Dennis Schneidler-USA TODAY Sports
The Brooklyn Nets had a scary night this Halloween. They got dismantled by the Chicago Bulls at home 118-88.
The Brooklyn Nets fell to 1-3 while the Bulls stay undefeated at 3-0. Jimmy Butler led all scorers with 22 points on 6-of-10 shooting and 8-of-9 free throws. Brooklyn, meanwhile, was led by their leading scorer on the year, Bojan Bogdanovic whom had 15 points.
Want your voice heard? Join the Nothin' But Nets team!
Brooklyn had a brutal night all-around as they shot a pathetic 34.4 percent from the field and 16.1 percent from three-point range. Brooklyn, yet again, shot over 30 three-pointers (31) and only made five of them. They really need to take better and smarter shots.
More from Nothin' But Nets
Chicago had the opposite night of the Nets as they shot a stunning 50.6 percent and 40.7 percent from long range. The Bulls dominated in rebounds and assists. Chicago grabbed 58 boards to the Nets' 45 and the Bulls dished out 26 assists compared to the Nets' 14.
There really is not much to say about the Nets tonight. They flat out stunk from the get-go.
Oct 31, 2016; Brooklyn, NY, USA; Chicago Bulls guard Dwyane Wade (3) shoots the ball as Brooklyn Nets guard Joe Harris (12) defends during the third quarter at Barclays Center. Mandatory Credit: Dennis Schneidler-USA TODAY Sports
Takeaways:
1. The Nets need big bodies that can grab rebounds
Brooklyn got out-rebounded by 13 boards by the Chicago Bulls even with Brook Lopez active and in the lineup. The Bulls do not have any big name big men, so this kind of differential is unacceptable. Trevor Booker has seemingly been the only Net that could grab boards, but even he could not produce like he has tonight as he grabbed only eight rebounds.
When your two starting big men combine for 10 rebounds, you have some serious issues.
2. The Nets really need to stop shooting three-pointers
This is the fourth straight game the Nets shot over 30 three-pointers; a franchise record. The previous three games, it was not as much of an issue as it was against the Bulls. When you shoot 31 three-pointers and make five of them — FIVE — You need to look in the mirror and figure out what else you can do because the three simply is not working.
Being down large early did not help the intrigue of shooting the long ball, but the Nets need to learn to contain themselves, move the ball, and look for better shots. This trend will bring this team down over the course of the season.
3. This kind of loss will happen a lot throughout the season
We all know that Brooklyn was projected at 20.5 wins total for the season by Las Vegas. While most fans and the team feel that is really low and unfair, it may not be too far off. Brooklyn will hit the over on the Vegas projection, but if things persist like they did tonight, it will be awfully close.
Being out-battled in the paint and on the glass like they were tonight will kill any team. Shooting this many threes will kill most teams unless you are last season's Warriors. Making less than 20 percent of said threes will kill a team even further.
Things are bound to improve as they cannot get much worse, but it is going to take time. Brooklyn will have a lot of blowout losses. They will have a lot of close, heart-breaking losses as well. It is about the process and patience. Nets fans have been patient thus far, but Sean Marks and Co. have this team looking bright for the first time in as long as many could remember. Look to the future, it is getting brighter.
Oct 31, 2016; Brooklyn, NY, USA; Brooklyn Nets guard Jeremy Lin (7) drives to the basket during the third quarter against the Chicago Bulls at Barclays Center. Mandatory Credit: Dennis Schneidler-USA TODAY Sports
Player of the Game:
Jeremy Lin
PG, Brooklyn Nets
BJeremy Lin was one of the few people that showed effort, yet composure on the floor tonight. He did not try to force things and shots with the large deficit. He fought hard on defense gathering up four steals. He was also one of the few Nets with a good shooting percentage as he nailed 6/10 shots on the night for a total of 14 points. Not a good sign when the player of the game is based purely off of effort nor when the grade is less than an A.
Wildcard:
Brook Lopez
PF/C, Brooklyn Nets
C-This was by far the hardest one. It hurts me to put him here but Brook Lopez is the only other Net that had a decent night. He shot 5-of-11 for 13 points and was doing what he could to help the team. He is still a work-in-progress in this system it is clear. The one thing that should aggravate fans is the fact that Lopez only grabbed two rebounds tonight. He is seven feet tall and he only grabbed two rebounds. Pathetic. Again, it was hard for me to put him here, but who else? Sean Kilpatrick shot 3-of-13 and 0-of-6 from three…
Up Your Game Please:
Rondae Hollis-Jefferson
SG/SF, Brooklyn Nets
Brooklyn now sits at 1-3 and the Nets stay at home to prepare for the Detroit Pistons Wednesday night. The Bulls are at 3-0 and travel to take on the Boston Celtics on Wednesday night.
This article originally appeared on
---
---