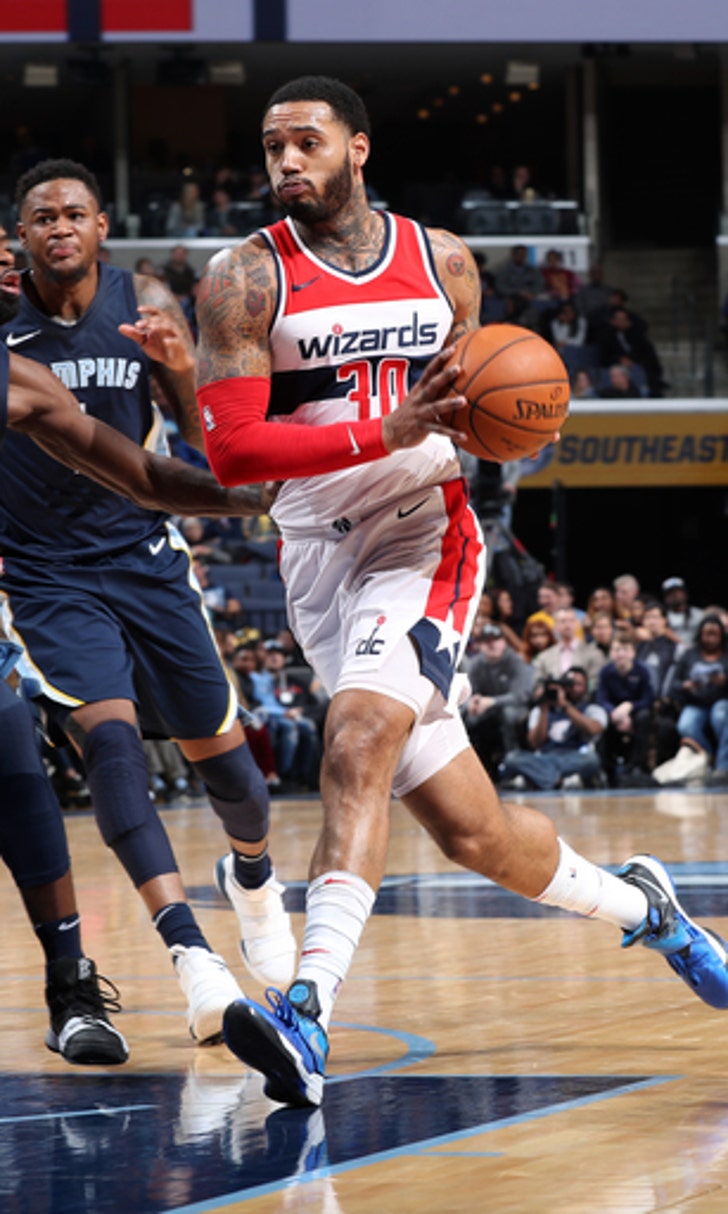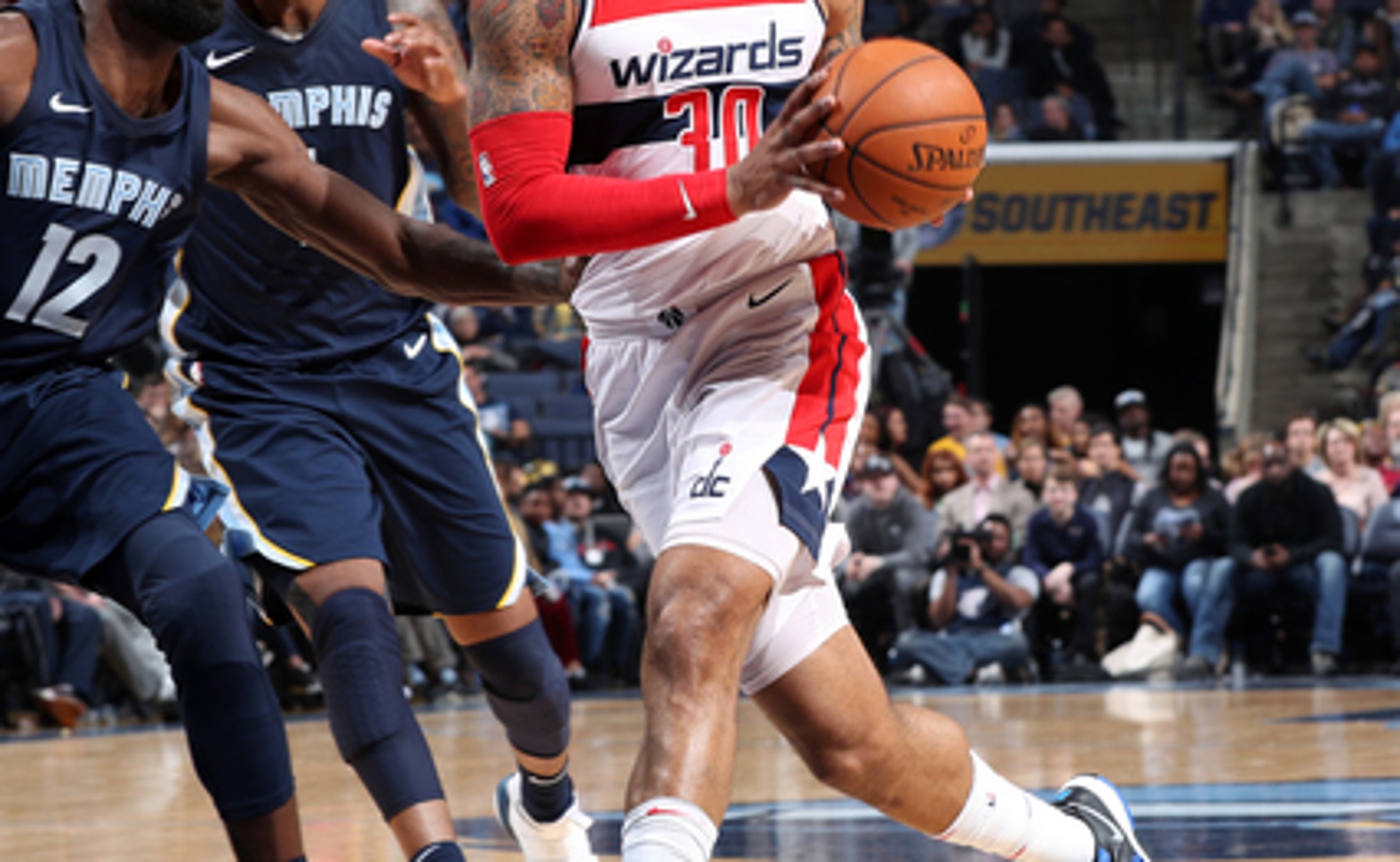 Beal, Wall lead Wizards to a 102-100 win over Grizzlies (Jan 05, 2018)
BY AP • January 6, 2018
MEMPHIS, Tenn. (AP) The Washington Wizards' 15-point lead in the fourth quarter was enough to claim their fourth straight victory.
Barely enough.
The Wizards weathered a late rally by Memphis to escape with a 102-100 win on Friday night. Bradley Beal led the Wizards with 34 points, while fellow guard John Wall added 25 points and nine assists.
''We stopped being aggressive, and I think we kind of slowed the pace down instead of pushing it,'' Beal said of allowing Memphis to get back into the game, adding: ''We settled for some tough shots, a lot of contested ones down the stretch versus getting out in transition and continuing to play the same way we had played the whole game.''
That change of pace for Washington came following an advantage that reached 17 in the third quarter and was still sitting at 15 with just under 9 minutes left. But Memphis used eight straight points to cut the deficit to seven points, then later crafted a 10-1 rally to pull within 98-97 on Tyreke Evans' 3-pointer with 18 seconds left. Meanwhile, the Wizards made only 2 of 16 shots in the fourth.
But Memphis couldn't overtake the Wizards the rest of the way, and a pair of free throws by Markieff Morris with 3 seconds remaining provided enough cushion for Washington to escape. Morris finished with 12 points and matched his career high with 17 rebounds.
''We've got to stop digging holes,'' Grizzlies interim coach J.B. Bickerstaff said. ''You've got to give the guys a ton of credit for continuing to fight and continuing to battle back. . But we have to correct the errors that put us in those holes. We shouldn't be down 15 at any point.''
Evans led Memphis with 26 points, while Marc Gasol finished with 17 points and 11 rebounds. Mario Chalmers had 13 points.
Despite Wall and Beal combining to connect on 17 of 34 shots, Washingston still shot 39 percent for the game.
''To win on the road shooting 39 percent means we played the defense it takes to win,'' Wizards coach Scott Brooks said.
TIP-INS
Wizards: F Mike Scott, who was shooting 66 percent (76 of 115) over the previous 14 games, made his first three shots and finished the night 4 of 6. ... Morris recorded his second double-double of the season. The first came in the Wizards' previous game Wednesday against the Knicks. ... Morris had 17 rebounds against Dallas on Dec. 6, 2012, when he was a member of the Phoenix Suns. ... Beal has recorded at least 30 points in seven games this season.
Grizzlies: Memphis finished a 10-game stretch in which it didn't play consecutive games in the same city. Seven of those were on the road. . Memphis is 1-12 against the Eastern Conference, with the only win coming Dec. 15 over Atlanta. ... G Andrew Harrison sat out with a left shoulder injury. ... Evans has 12 games scoring at least 25 points. ... Memphis had 21 fast-break points, the seventh game this season in which it recorded at least 20. The Grizzlies had only seven games of at least 20 in all of the 2016-17 season.
CONLEY STATUS
Memphis guard Mike Conley, who hasn't played since Nov. 13, said before the game there is no timetable for his return from a left Achilles tendon injury. He continues to work on non-contact drills ''to try and see how much the Achilles can take.'' Asked about whether he will return this season, he replied, ''I can't see how I wouldn't. I'm very confident I'll be suiting up at some point.''
JUMPIN' JOHN WALL
Chasing a loose ball near the end of the first half, Wall ended up having to leap seated photographers on the baseline and two rows of fans - a move that caused some to catch their breath since Wall has missed 10 games this year with a sore left knee. ''It wasn't a good sight for me to watch,'' Brooks said, adding: ''I am glad he popped up.'' As for Wall, he took the hurdling in stride. ''That's a little bit of my track in me,'' the guard said. ''(Brooks) was scared. I did long jump, so I think I'm all right.''
UP NEXT
Wizards: Host Milwaukee on Saturday.
Grizzlies: Face the New Orleans Pelicans at home on Wednesday.
---
For more NBA coverage: https://apnews.com/tag/NBAbasketball
---
---