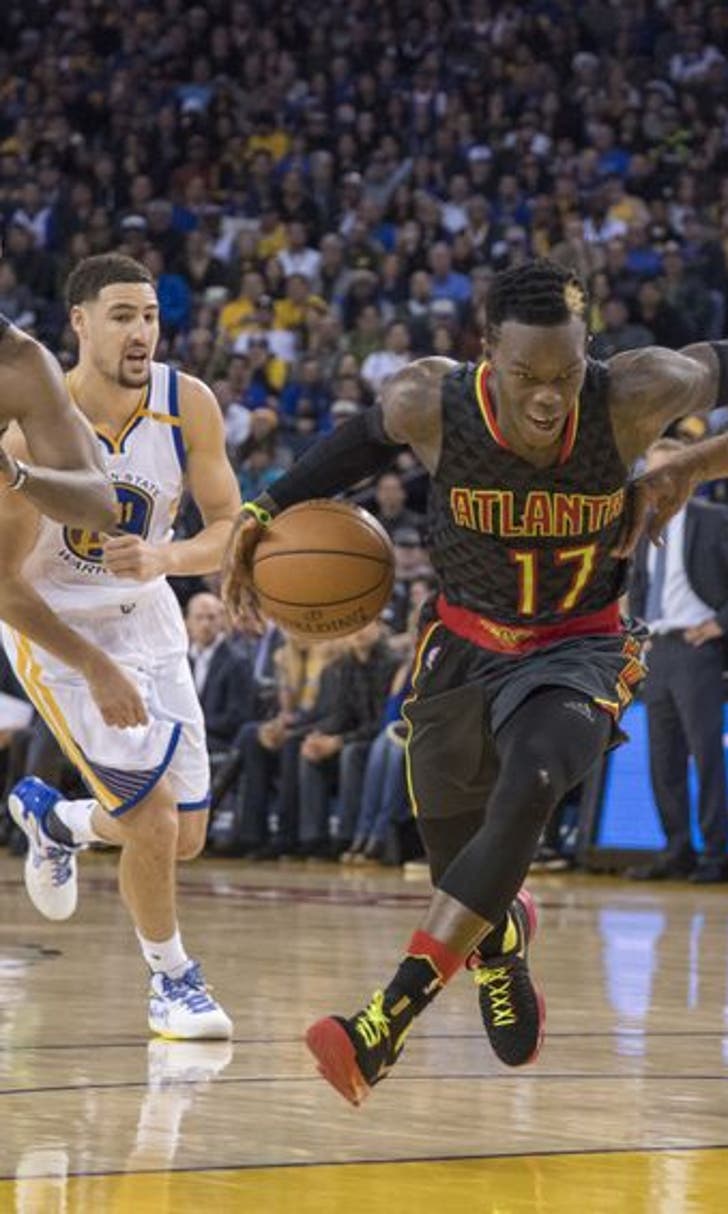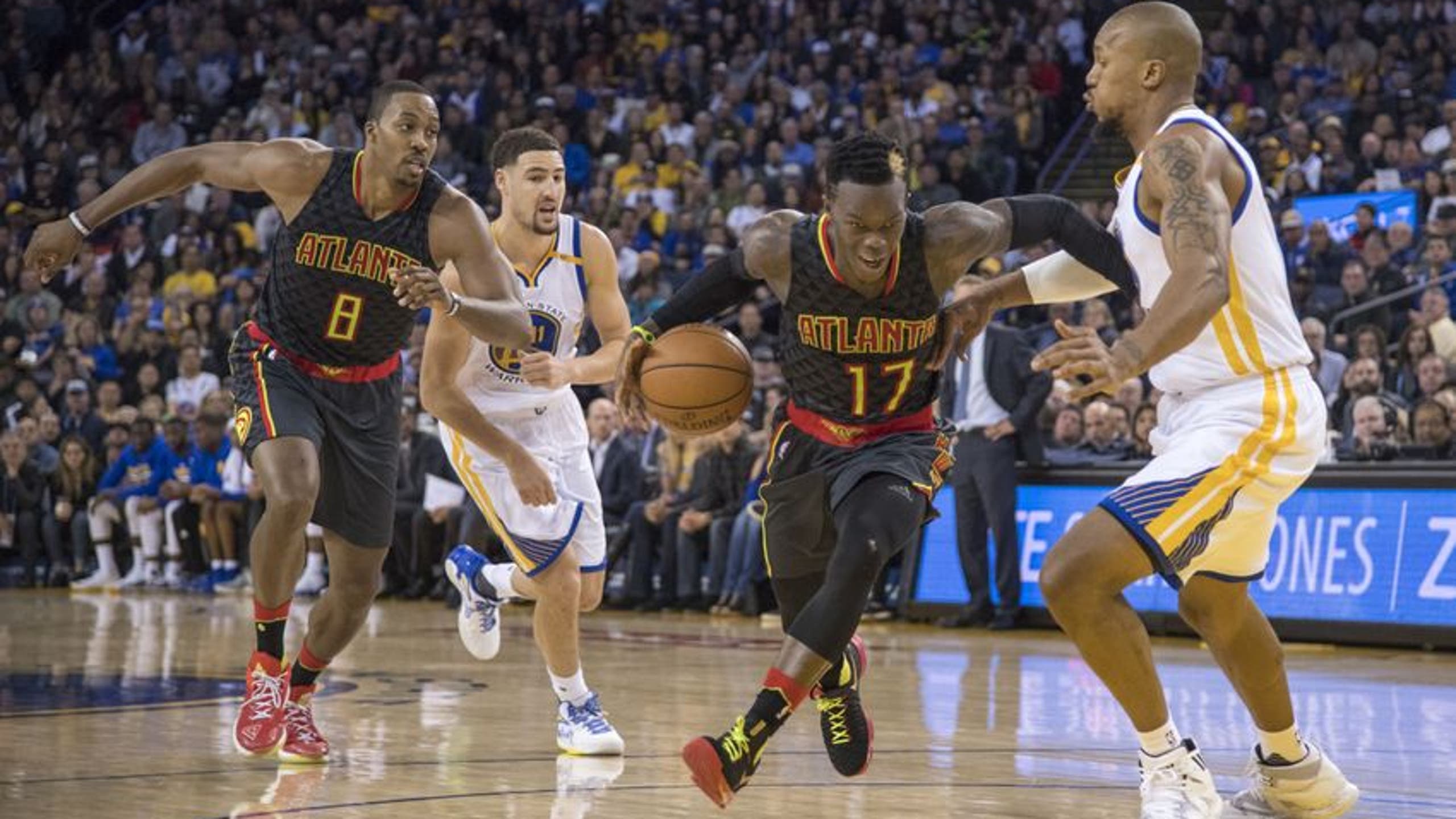 Atlanta Hawks: The Harder They Come, The Harder The Hawks Ball
BY Fansided and Xavier Cooper/FanSided via Soaring Down South • December 21, 2016
The Atlanta Hawks are now 8th in the Eastern Conference with a record of 14-14. On Monday night they defeated Russell Westbrook and his squad 110-108, in Oklahoma City. Many NBA fans would've picked OKC to win this game, but if you look at Atlanta's track record this season, you'll see that they've played well against the top teams in the league, and have fallen short against lesser teams.
It's no secret that the Atlanta Hawks are struggling this season. They've had a difficult time finding an overall identity, outside of their selfless culture that encourages ball movement. They're still near the top of the league in assist ratio at 17.9 , and they've increased their rebounding rate to 51 . It's great that the Hawks have kept this mentality, and added another weapon to their arsenal, but that hasn't been enough to win a significant amount of games.
If you were to circle the match-ups on your calendar that you expected Atlanta to lose before the start of the season, those games would probably include the following: Warriors, Raptors, Cavaliers, Rockets, and Thunder. The Hawks are currently 4-3 against those opponents. The Hawks won three of those four games on the road.
They have also beat a number of potential playoff contenders for example; The Bulls, The Bucks, and The Pacers. They've lost to the Magic, Wizards, Pistons, Lakers twice, Pelicans, and Suns. Those are all bad teams that the Hawks could've easily destroyed, had they played up to their potential.
So, what's the problem? Why does Atlanta show up for big games and fail to win the easy games? It's simple, the Hawks have a big three and don't even know it. The one consistent factor in the Hawks ability to win big games are the performances of Dennis Schroder, Paul Millsap, and Dwight Howard.
When those three players play at their best, the Hawks are a dangerous team. In all of the marquee match-ups Atlanta has won, either all of the big three had staggering numbers, or two out of the three had great performances.
In the win against the Cavaliers, the big three had phenomenal performances. Schroder had 28 points, and six assists, Howard had 17 rebounds, and Millsap had 21 points to beat the Cavaliers 110-106. The Hawks lost to the Warriors 105-100, but the game was tight due to the great individual performance of Schroder, who scored 24 points, along with a double-double from both Howard and Millsap.
Howard had a huge game against Toronto with 27 points and 15 rebounds. Dennis scored 24 points to complement Millsap's 14 points in a tough road victory. The big three also had outstanding performances against Dwight's former team.
They all had double-doubles, beating the Rockets 112-97. Monday, both Millsap and Schroder had high scoring nights with the absence of Howard. Paul had 30 points, and Dennis had 31 points in a 110-108 win against the Thunder. Millsap also played center in place of Howard, ending the game with 11 rebounds.
The reason the Hawks have stepped up to the plate in big games is because of the change in identity. The big three doesn't feel like they have to do much to win against an easier team so they are more willing to be relaxed. When going up against a better team, they feel as if it's their duty to put the team on their backs.
No knock against Jeff Teague, but Schroder has shown that he likes big moments, and doesn't back down from challenges. Schroder has an edge to him that was nonexistent in Teague. Teague didn't get into many scuffles with players, or trash talk with opposing guards.
Dennis has gotten into skirmishes with Isaiah Thomas, DeMarcus Cousins, and a few of the Cavaliers, just to name a few. Schroder isn't a laid-back type of guy. He wants to take over games and help his team by being aggressive. Schroder is a natural competitor.
More from Soaring Down South
Dwight Howard isn't the type to start any fights, but his physical presence frustrates opponents. He's a difference-maker in the paint. Howard can still bang with the best centers in today's NBA. Another thing people may not know about Dwight is that his level of play has always intensified against high-level opponents.
The biggest reason Dwight was in the Western Conference Finals two seasons ago was because James Harden was aggressive going to the rim, similar to Schroder, and Howard did his job by cleaning up on the boards and being an unstoppable presence in the paint when the attention was on Harden. Schroder isn't Harden, but the concept is the same. Schroder has learned that if he's aggressive, it opens up opportunities for everyone else, specifically Howard.
In an article I wrote in recent months, I showed the difference between a focused Dwight Howard, and a regular season"do what Howard's supposed to do" Dwight Howard.
Stats show that Dwight Howard takes his game to another level in the postseason. Howard averages 17.8 points per game, 12.7 rebounds, and 2.1 blocks for his regular season career. Howard averaged 19.1 points per game, 14.1 rebounds, and 2.6 blocks in the playoffs during his time in the NBA. This is a result of  Howard having deep playoff experience.
Despite all of the negative things that are said about Dwight Howard, he's a competitor when a huge game calls for it. Paul Millsap is also a competitor in the sense that he'll take what the defense gives him. If he's forced to pass, he'll make the right decision. If he has to score, he'll make it happen. Whatever the Hawks need from Millsap, he'll try his best to accommodate their needs.
These three players are the best isolation players the Hawks have. When they play well, it forces the opponent to take their attention off of guys like Kyle Korver, Tim Hardaway Jr, and Kent Bazemore. When the big three is rolling, no one is thinking about how good of a three-point shooter Korver is, or how crafty Hardaway is when he gets near the rim.
The deadlier Dennis Schroder's pick-and-roll game with Millsap and Howard gets, the more defenses have to pay close attention to it, resulting in another Hawk scoring an easy bucket.
Dwight is one of the best rim-runners in the game, Schroder is one of the quickest point guards in the league, and Millsap is one of the best passing big men in the NBA. This combination makes for an almost unstoppable offense when running the pick-and-roll.
Schroder, Millsap, and Howard are the key to the Hawks success this season, and they'll need to start coming with the same intensity they've shown against greater opponents when going up against the teams they should beat.
---
---